Indiana continues its pursuit of 2016 forward Lamar Stevens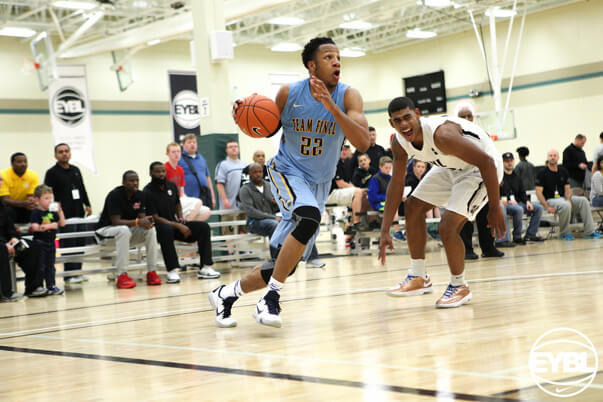 NORTH AUGUSTA, S.C. – The last time Inside the Hall spoke with high priority Indiana target Lamar Stevens, a Class of 2016 wing out of Roman Catholic (Pa.), he and his Team Final AAU teammates were in Lexington, Ky. trying to qualify for the Nike EYBL Finals at the Peach Jam.
"We're out here and we don't have the biggest name players, but we think we're all good and we think we can compete with all the best players around the country," Stevens said at the time. "So we're just out here to prove that we're also one of the best teams in the country."
A few weeks later, Inside the Hall caught up with Stevens again. This time, though, the discussion's setting was some 400 miles away in a crowded locker room area inside the basement of the Riverview Park Activities Center.
"It's always an accomplishment to get to Peach Jam," Stevens told Inside the Hall. "It's a tough road, so I'm just so proud of my team and coaches. We're excited to be here."
Unfortunately for Team Final, Tony Carr, a close friend of Stevens and the team's starting point guard, was unavailable for the tournament due to injury. Carr, who received an Indiana offer in mid-April, averaged 15.1 points and 3.6 assists per game for Team Final during the Nike EYBL regular season.
Without the 6-foot-4 guard, Team Final opened the tournament 0-2, including a 66-45 loss to Team Takeover and a 82-66 defeat at the hands of Arkansas Wings Elite.
Stevens was quick to point out there was no room for excuses regarding Carr's absence, but acknowledged playing without him was a tough transition.
"He's a great point guard, so it definitely changes things," Stevens said. "It's an adjustment because it's our first game playing without Tony. He's a big-time scorer and a big-time playmaker on our team, so that just makes everyone else's roles bigger. But we had our back-up point guard step up and play well and we fought, so we can't really be upset about it."
After the tough 0-2 start for Team Final, though, few could have predicted what Stevens and company had in store for the large Peach Jam crowds at the tournament's Friday session. Despite Carr's absence, Team Final rolled to an 81-69 win over Team CP3, led by Harry Giles
Stevens, the No. 77 prospect in the country according to 247 composite, helped lead the Team Final with 17 points and four rebounds. On the defensive end, he helped limit Giles to 14 points, his second-lowest output of the tournament.
"It just shows we're not scared of anybody and we can beat anybody," Stevens said of arguably the tournament's biggest surprise. "We were down our starting point guard but we still battled and were able to beat a loaded team. That just says a lot about our character and fight."
Despite the change of scenery since ITH last spoke with Stevens, there is one thing that certainly hasn't changed in the Stevens/Indiana saga – the high level of mutual interest shared by both sides. At the Peach Jam, Tom Crean, Chuck Martin, and Rob Judson all took time to watch Stevens and Team Final.
As for Stevens, who had high praise for Indiana following a weekend visit last November, Indiana is still as attractive as ever.
"It's such a great, historic program," he said. "They've had some great success in the past and Coach Crean is a great guy with great assistants. They get great players there. I like the fans and the city. There's just so much to like about it."
Now that the EYBL season is complete, Stevens says he's going to turn his attention to narrowing down his list of teams and making plans to get detailed looks at each.
"I'm kind of at a point where I need to start setting up officials," he said. "There's still a good amount of schools in the hunt and I'm just taking it day by day. I don't really have a timetable. When I take these visits, wherever and whenever I feel comfortable is when I'll make a decision."
Jacob Savage is a special contributor to Inside the Hall for this week's Nike EYBL Finals at the Peach Jam.
(Photo credit: Jon Lopez/Nike)
Filed to: 2015 Peach Jam, Lamar Stevens