Interest in 2016 wing Lamar Stevens continues to grow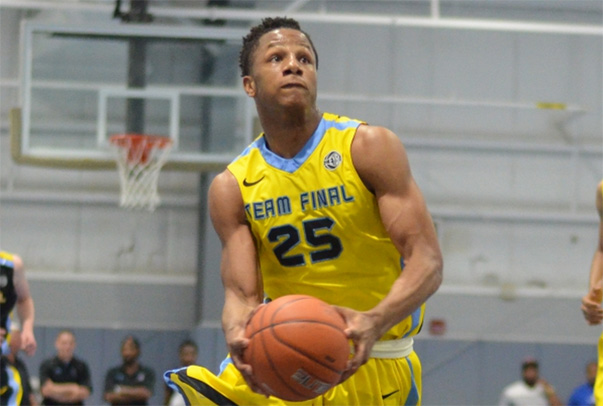 LEXINGTON, Ky. – Class of 2016 Roman Catholic (Pa.) wing Lamar Stevens, who took an unofficial visit to Indiana last fall, is having a strong spring for Team Final on Nike's Elite Youth Basketball League (EYBL) circuit.
The 6-foot-7 Stevens is averaging 16.4 points, 6.6 rebounds and two steals per game and Team Final is 6-2 through two EYBL sessions and on target to qualify for July's Peach Jam.
"We're out here and we don't have the biggest name players, but we think we're all good and we think we can compete with all of the best players around the country," Stevens told Inside the Hall over the weekend at the EYBL session in Lexington, Kentucky. "So we're just out here to prove that we're also one of the best teams in the country."
As for his play individually, Stevens is focusing on his effort and as a result, schools are taking notice.
In recent weeks, Maryland, Iowa, Georgia Tech, Pittsburgh, Xavier and Florida State have all offered scholarships, joining IU, Penn State, Temple and Villanova, four schools that have been involved in his recruitment for quite some time.
"I'm just trying to play as hard as I possibly can," Stevens said. "Get to the basket, draw fouls, hit midrange jumpshots and make all of my free throws. That's what I've been focusing on right now, being the best me."
Chuck Martin and Tom Crean both watched Stevens closely this past weekend in Lexington along with Team Final point guard Tony Carr. Stevens and Carr, who recently picked up an offer from IU, will be high school teammates next season at Roman Catholic.
Stevens previously played at The Haverford School, coached by Henry Fairfax, who played under Martin when he was an assistant at Drexel.
"We've got a really good relationship. We talk a lot and he talks to my parents a lot, also," Stevens explained. "It's been really good since we first talked. My head coach from my high school team, Chuck coached him while he was in college. So we immediately had something in common and just took our relationship from there. It's been really good so far."
Carr mentioned the possibility of playing with Stevens in college in a recent interview with Inside the Hall and it's an idea Stevens says he's open to exploring with his close friend.
"He's a great point guard," he said. "He's probably the best point guard that I've played with and we've been best friends since we were younger. We both just complement each other. I think we could really help a team go up in the right way."
As for his interest in Indiana, Stevens says that several factors are keeping the Hoosiers high on his list as his recruiting progresses.
"It's Indiana. They have a really good history, great tradition," he said. "They're offering a lot with good basketball within the Big Ten and great academics.
"We've talked about a plan for me. They want to develop me into a guard and be able to handle the ball and be on the perimeter a lot more. And also just be able to take advantage of smaller guards."
Filed to: Lamar Stevens