Lamar Stevens enjoys weekend trip to Bloomington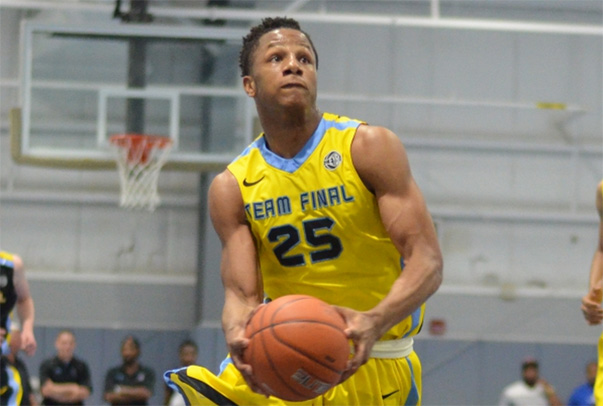 Lamar Stevens wanted to see something different.
The 6-foot-6, 215 pound forward had never visited a school outside of Pennsylvania until this past weekend when he and his parents flew in for an unofficial visit to Indiana.
With schools like Villanova, Temple and Penn State all pushing to keep him close to home, the four-star class of 2016 prospect has also taken a high level of interest in the IU program.
"I've talked with Tom Crean over the phone and from his resume, he's a very successful coach," Stevens told Inside the Hall. "I've always been interested in watching schools like Indiana. So I've always had an interest in watching them and I wanted to get a feel for a different school outside of Pennsylvania. So that's why we decided to take the trip. I'd never visited a school outside of Pennsylvania."
Rated the No. 71 player nationally by the 247Composite, Stevens, who plays at the Haverford School, received an Indiana offer in July. The Haverford School is a private, all-boys school just outside of Philadelphia.
Assistant coach Chuck Martin, along with Crean, have both taken an active role in his recruitment.
"Coach Martin is very cool with me and my family," Stevens explained. "He's a very fun guy to be with. He took us on all of the tours and pretty much hung out with us the whole time we were at Indiana. We have a pretty good relationship."
So what did Stevens see during his time in Bloomington?
Enough that he and his family didn't even get a chance to visit his uncle, who lives in Kokomo.
"I learned the history of Indiana from the beginning," he said. "When they first started winning championships and going to the tournament and what it takes to be at Indiana. I learned a lot about coach Crean's success.
"Everywhere you went, it was always Indiana basketball. Everywhere. I met a couple of people because they knew I was visiting. So I'd never seen a town rally behind a basketball program like I did at Indiana. So that was different. And also, just the history. The five national championships and all of the great players that have come through. The history is very different. It's a very successful program."
Stevens had a chance to watch IU's shoot around on Friday as well as it's season opening 116-65 win over Mississippi Valley State at Assembly Hall. He and his parents were seated directly behind the IU bench.
Indiana Game ???????? pic.twitter.com/y9g06HJmYk

— Scroo?? (@LamarStevens11) November 15, 2014
The player development in Bloomington is something Stevens said is a big part of Indiana's recruiting pitch.
"The development part is a big key because the ultimate goal is to play in the NBA," Stevens said. "Coach Crean sees my potential. It's a big part of the recruiting process with coach Crean because he sees a lot for me."
He said one of the biggest takeaways from the weekend was the chance to watch IU sophomore Troy Williams, who is eligible to return on Thursday for Indiana's game with SMU.
"I was watching Troy (Williams) play and was just watching how he can score on all three levels and watched how he crashed the boards," he said. "I saw him work individuals, too, and saw how he worked on his jump shot and handle. I can definitely see myself as the position as him. That was one guy I really looked at over the weekend at Indiana."
As far as a timeline for a decision, Stevens said nothing is set in stone at this time. He can begin taking official visits in January, but can't sign a National Letter of Intent until November of 2015.
"We're just waiting to see," Stevens explained. "We'll talk it over as a family about when we decide we want to commit. But we're just kind of playing it by ear and whatever happens, happens."
(Photo credit: Cityofbasketballlove.com)
Filed to: Lamar Stevens