Tony Carr on IU offer: "It means everything"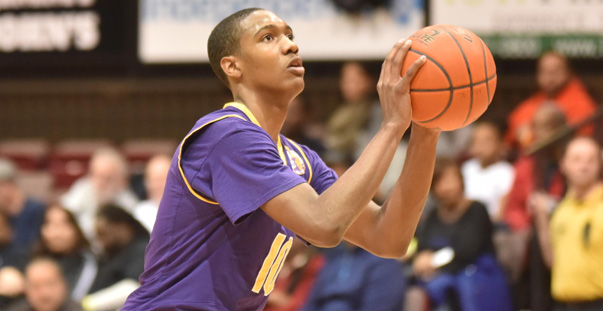 Throughout the 2014-2015 season, 2016 guard Tony Carr watched Indiana basketball on TV.
The Hoosiers had just started recruiting the 6-foot-4 guard, ranked No. 91 in the junior class by the 247Composite, and the Hoosiers had already extended a scholarship offer to his close friend, 6-foot-6 junior Lamar Stevens.
So on Saturday, when the Hoosiers finally extended an offer to Carr, the rising senior got exactly what he wanted.
"It means everything, man," Carr told Inside the Hall on Monday. "I've been watching Indiana all season on TV, and I just know it's a great school and they have great history, great tradition there. And once I heard I got the offer, I was just super excited."
But for Carr, Indiana's offer has extra significance.
Stevens has held an Indiana offer since last summer. And the two love to play on the court together. They are part of Team Final (Pa.), which just went 3-1 in the opening EYBL session in Hampton, Va., last weekend and Carr averaged 14.8 points and five assists in the event. Stevens will be transferring to Carr's high school, Roman Catholic (Pa.), this fall. And for college, Carr said the two would like to play together, as well.
At Indiana, the duo could do just that.
"We just always know where each other's at," Carr said. "Me being a point guard, I tend to know where he likes the ball and when he runs the floor where he's going to end up being so I can throw him an alley-oop or give it to him a little early so he can create looks for himself.
"But I just think about going to college with him because it would make the transition more comfortable and then also we would be able to do what we love, which is playing basketball on the same court."
And when Carr told Stevens — who visited Bloomington in November — about the Indiana offer, he said his teammate was just as excited for him, too.
"He's definitely excited for me," Carr said. "Every time we get mutual offers we get super excited for each other. That's another opportunity for us to go to the same school."
Indiana is not the only school to have offered both Carr and Stevens. The two also share offers from Iowa, Penn State, Maryland, La Salle, Rhode Island, Saint Joseph's, Temple and Xavier.
But when it comes to the individual school, Carr said Indiana is right in the thick of it.
"I definitely like their coaching style," he said. "They let their players play. They pretty much let Yogi (Ferrell) control the game and they have a great style of offense — great pass and cut. They just let their players play.
"They've just said they're going to make me a better player and help me off the court."
(Photo credit: MontgomeryNews.com)
Filed to: Lamar Stevens, Tony Carr