Indiana target Schnider Herard working to become total package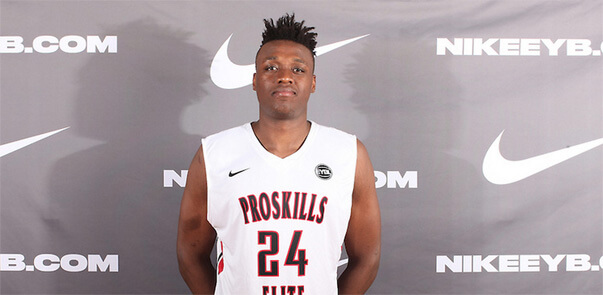 NORTH AUGUSTA, S.C. – At 6-foot-10 and 265 pounds, class of 2016 Plano (Tx.) and Nike Pro Skills Elite center Schnider Herard is already equipped with a college-ready frame, a fact that's obvious from the moment he walks into a gym.
Even when on the floor with the country's highest profile players at this week's Nike EYBL Finals at the Peach Jam, the native of Congo stands out among the crowd.
The focus for Herard, an intimidating post presence, has now shifted to molding his skills outside the paint and becoming a complete player.
"I've been working on my outside game, working on my jumpshot," Herard, the No. 84 player in the 247Composite, told Inside the Hall. "Trying to make that better and then learning to really run the floor as a big man."
So far, that focus is producing results.
Herard entered the Peach Jam averaging 8.4 points and 5.8 rebounds in just 17.5 minutes per game. Through his first three games in the EYBL Finals, Herard has increased those numbers to 12 points and six rebounds per game, including a 14-point, 11-rebound performance in an 84-76 win over Houston Hoops.
During Friday's morning session at the Peach Jam, Herard and his Pro Skills teammates engaged in a hotly-contested, physical battle with The Family, led by one of Class 2016's most sought-after recruits, Huntington Prep (W.V) forward Miles Bridges.
Pro Skills fell short, 66-58, but Herard finished with 12 points and four rebounds, including 8-for-11 from the free throw line, an indicator of his presence on the block and his ability to get to the foul line.
Mixing it up down low with the country's best is just fine with Herard, though. He wouldn't have it any other way.
"It's really competitive, he said. "There are some really, really good players, so going against them is really good for me. And a lot of these guys, I will play again in college, so it's good to play them now in the EYBL.
"I've been playing pretty good. I'm just trying to learn from mistakes I've made before to make sure I don't make them again. Just trying to take care of that."
Currently, Herard mentions Mississippi State, Arizona State, California, and Indiana (who recently offered a scholarship) as schools showing the most interest. He said the Indiana offer was a welcome addition to his list.
"I was really excited," Herard said of the Indiana offer. "That's a big-time basketball school."
Jacob Savage is a special contributor to Inside the Hall for this week's Nike EYBL Finals at the Peach Jam.
Filed to: 2015 Peach Jam, Schnider Herard