An early look at the 2014-2015 frontcourt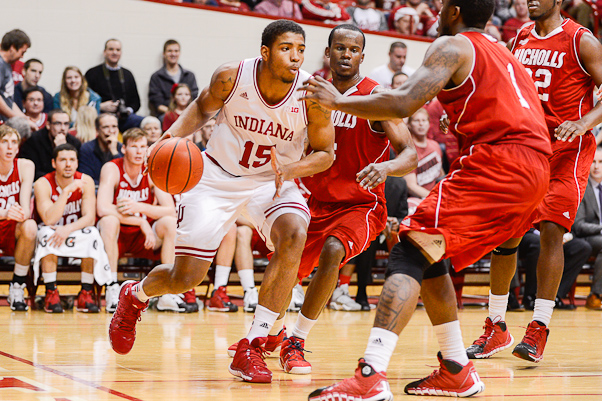 With the official start of practice a little more than a month away (Oct. 3), the 2014-2015 season is on the horizon. We'll have comprehensive player-by-player previews this fall, but here's an early look at some of the storylines to keep an eye on with this season's frontcourt:
· Whom can Indiana count on up front? Even after a five-game tour of Canada earlier this month, this is the biggest question that surrounds this Indiana team. And it's one that we may not have a clear answer to until the Hoosiers get into the meat of the non-conference schedule in late November. The need for additional help in the post was significant enough in the eyes of the coaching staff that Indiana went out and added Emmitt Holt last week.
"We are excited to bring Emmitt to Indiana at such a late date," Tom Crean said in a release earlier this week. "We determined that we needed another quality player up front and we were able to uncover Emmitt's potential availability."
With Holt's addition, Indiana now has three or potentially four options to log minutes in the post with Hanner Mosquera-Perea, Devin Davis, Holt and Jeremiah April. Of those four, we've yet to see either Holt or April in an IU uniform because neither played in Canada. Davis looked stronger and more confident in the five exhibition games and Mosquera-Perea missed the trip due to visa issues.
The question that looms, however, is whether IU can find the right combination to hold its own in terms of defending the rim and rebounding on both ends. The Hoosiers should have one of the best backcourts in the Big Ten, but piecing together a serviceable frontcourt could ultimately decide just how far this group can go.
· Is Hanner Mosquera-Perea ready to make a significant jump? Given his talent, size and experience, albeit limited, Mosquera-Perea seems to have the inside track on earning a healthy portion of the available minutes in the frontcourt. Crean has been direct in his offseason comments in regards to Mosquera-Perea by essentially saying that the time to step and perform is now.
But is he ready to do so?
Crean was complimentary of Mosquera-Perea when discussing him briefly in Montreal by saying that he's improved defensively, which besides rebounding, is really where Indiana needs him the most. Offensively, not much is going to be asked of the junior other than finishing the opportunities he receives around the rim, not turning it over and setting solid screens without fouling.
It's also important to caveat what a "significant jump" means in the case of a player who came in with a lot of recruiting accolades but has had a limited role to date. Given that he averaged just 7.7 minutes per game last season, if Indiana can get 20 to 25 productive minutes per game from Mosquera-Perea, it'll be hard to look at that as being anything less than successful.
· Who else steps up? Beyond Mosquera-Perea, Devin Davis is the next guy in line for a major increase in minutes. Crean has said this might be the most "position-less" team he's had, so Davis is a guy who could potentially play some as Indiana's tallest player like he did last season at Michigan or also alongside Mosquera-Perea. Much like Mosquera-Perea, the turnovers (25.8 TO%) and fouls (7.4 per 40 minutes) are two major areas for improvement for Davis, but he showed aggressiveness on the glass in Canada and also finished well at the rim.
After Davis, the numbers suggest that Holt has the best chance of the remaining freshmen (Max Hoetzel, Tim Priller and April) of making an immediate impact. While he was under the radar nationally, Holt's numbers in the Nike Elite Youth Basketball League (EYBL) combined with his reported wingspan of 7-foot-2 to 7-foot-3 suggest he's more ready to help right away than April. Hoetzel and Priller are more perimeter oriented at this point, despite being listed at 6-foot-9, which is probably a reason that Indiana felt it needed to add another frontcourt option.
· When the Hoosiers go small … Indiana will undoubtedly go small frequently this season and that could mean Troy Williams spends some of his time at the four. We saw it often in Canada with the absence of Mosquera-Perea and it's not unprecedented to play small on the frontline with success. Villanova does it often and Michigan won the Big Ten last season with Glenn Robinson III as its second tallest player in many situations.
So could it work for Indiana?
If Indiana shoots it well enough from the perimeter, gets to the line frequently (a staple of successful Crean teams), stops the turnover issue that was never solved last season and crashes the defensive glass as a cohesive unit, it's certainly a possibility.
Filed to: 2014-2015 season preview