The Inside the Hall Mailbag: August 4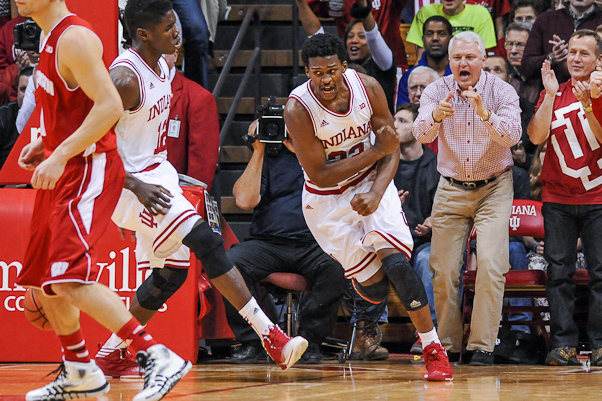 The Inside the Hall Mailbag is a collection of questions tweeted to us via Twitter (@insidethehall), submitted on our premium forum and sent to us via our Facebook page. Submit your questions and we'll answer as many as we can.
moanders on the premium forum writes: We've read about the kind of things fans and the coaching staff will be looking for in Montreal as a sign of progress, but what would be the most troubling thing you might see (or not see) as far as the development of the team or of an individual player?
I believe it's dangerous to draw too many conclusions one way or the other from a trip like this, especially with Indiana mixing in a ton of new players. However, one thing  to watch for is how IU takes care of the ball.
There are going to be some turnovers, of course, but will we see progress from returning guys like Yogi Ferrell, Troy Williams, Stanford Robinson, Hanner Mosquera-Perea and Devin Davis in that area? It's never too early to start setting the turnover tone, so it's a stat that I believe bears watching over this five-game trip. — Alex Bozich
motorcityhoosier on the premium forum writes: I'm sure we'll have a better idea after the Montreal/Ottawa trip, but who do you foresee will be the first man off the bench to sub in at the two spot? You have mentioned that you believe Robert Johnson will play the point behind Yogi, JBJ will likely start, and I assume Stan will play some time at the three. My impression is that Nick Zeisloft will get significant playing time at the two. Do you agree?
I would assume either  Johnson or  Robinson will be the first backcourt player off the bench, so I'd say one of them. I believe Johnson will get some reps at point guard, but with Ferrell likely getting 32-35 minutes per game, there's not going to be a huge necessity for backup point guard minutes.
I think you'll see two of Johnson, James Blackmon Jr. and Robinson playing frequently together along with Ferrell in the backcourt, so I'm not sure there's going to be a big difference between the two and three position this year. I haven't ever seen Zeisloft play, so I can't really speculate on what his role will be at this point, but I assume that he'll have a role in the rotation. — Alex Bozich
cdub76 on the premium forum writes: How much do you think Tom Crean will show during the games in Canada in relation to style of play and scheme? NFL teams keep it pretty "vanilla" during the pre-season and focus more on talent evaluation. With 10 practices and so many newcomers I wonder how much Crean threw at them?
That's an interesting point, but this is a pretty important season for Indiana given last season's results, so I'd say it is safe to assume that the staff is packing as much into those 10 practices as it can. With a lot of newcomers, this is a chance to get a head start on the season and a good base to build upon for the fall.
The other thing to consider here is that there's not going to be television of these games, so it's not an apples to apples comparison for a situation like the NFL where coaches are hesitant to show too much due to the fear of advance scouting. I don't think IU is going into this with the idea of using it as an experiment. I believe the staff wants to use it as a chance to get a look at where things stand and build on it going into the start of practice. — Alex Bozich
kevinrmarvin on the premium forum writes: What is your best guess as to the positional makeup of the 2015 recruiting class? Do we focus on bigs or take the best talent available and run a three guard offense for the foreseeable future?
I believe IU is going to look at adding as much frontcourt help as possible and with prospects like Juwan Morgan and Nick Marshall near the top of the 2015 recruiting board, the Hoosiers are in good position with a couple of post talents.
Additionally, I can see IU adding a combo guard who can play both backcourt positions and maybe a wing if the fit is correct. Personally, I like the approach of taking the best players you can get and figure out the position stuff later assuming there's some balance to the roster in terms of frontcourt versus backcourt players. — Alex Bozich
IU22 on the premium forum writes: What's your way to early B1G conference standings? Looks like Wisconsin is the favorite.
Wisconsin should be the heavy favorite. Beyond that, it's really tough to say. If I had to group it by tiers, I'd say:
Top tier: Wisconsin
Second tier: Michigan, Michigan State, Ohio State, Nebraska
Middle tier: Illinois, Indiana, Iowa, Maryland, Minnesota
Bottom tier: Northwestern, Rutgers, Penn State, Purdue
I don't really see a ton of clear separation at this point, though, besides Wisconsin at the top and Rutgers at the bottom. — Alex Bozich
RealAssemblyHall on the premium forum writes: Alex, what is your overall opinion of Indiana basketball and Tom Crean being more pro active this summer as far as putting more content out, videos, information, press conferences, and general outreach? I feel Coach Crean is being forward about taking responsibility and acknowledging where he has to improve as well. Do you feel the same, and do you think there is a new attitude about this coming out of Bloomington?
I think it's fantastic for fans as it gives them more what they're looking for, which is information. The press conference Crean did in early July went for 45 minutes and was very informative in providing fans and media with a look at how the team is progressing.
The videos on YouTube are very well done and also give fans an inside glimpse at how offseason workouts are run and also provide a brief look at some of the team building exercises this group is going through. In general, you're not going to find any media member who complains about access, so I've got nothing negative to say about any of it. — Alex Bozich
RaisedonCreanPeas on the premium forum writes: When recruits visit IU for the first time, is there one aspect of the campus that they all seem to be impressed with?
It has to be Cook Hall and Assembly Hall, right? We started this site back in the summer of 2007 and have spoken to hundreds of recruits over that span. Assembly Hall has always been one of the first things the recruits bring up and when Cook Hall opened, it was right there with it.
Overall, most recruits seem to be impressed with how the campus looks in general if they visit during a time of year when they're able to walk around (or ride in a golf cart) comfortably and get a close look at things. — Alex Bozich
ArchPuddington on the premium forum writes: I know that Juwan Morgan is listed as a PF, but I have read that he is more of a perimeter-oriented player than a genuine low post four. Based on what you have seen or heard, do you believe he would be able to shore up our thin front line's post defense and rebounding?
I think he'd be a positive addition, for sure. He's a top 100 kid with size and is improving rapidly as he won the most improved player in Nike's Elite Youth Basketball League (EYBL) over the summer. As to whether he's a true post player or not, he doesn't have to be a back to the basket guy to be effective. Cody Zeller wasn't a true post player and neither was Noah Vonleh.
If he can rebound and challenge shots around the rim, he can play in any system in the country. In a lot of cases, there's too much emphasis on finding a true center, which isn't always necessary to win in college basketball. If you have great guard play and a couple of big players who can defend and rebound, you can win. Just ask Connecticut and Michigan, as both did it last season. — Alex Bozich
iulaw79 on the premium forum writes: With the news that Shake Milton and Juwan Morgan will visit IU, it looks like we are the last of their visits (at least ones currently scheduled). I know in the past CTC has said he wants IU to be the last visit recruits take. Any thoughts on the viability of that strategy? I can understand that if you can "wow" them and they don't have any visits left, it can work, but is it worth the risk of them committing to someone else before they see IU (at least officially)? We've certainly seen that a lot lately with guys who say they are going to visit and then all of a sudden they've committed elsewhere.
If a kid commits on his first visit when he has others scheduled, that pretty much tells you how committed he was to the process of actually seeing things through. In those cases, what most likely happens is the kid falls in love with a school, gets caught up in it and commits on the spot or he already knew where he wanted to go and didn't want to tell the other schools he wouldn't visit, so he just put the school he wanted to attend as the first visit.
I think each situation is unique, so it's hard to generalize and say which visit position is preferred, but if a prospect is going to take all of his visits, I'd rather be towards the end rather than first.
With Milton, IU is second to last and with Morgan, it appears IU is the last visit unless he opts to add more at a later date. We'll see how much it matters, but I tend to believe that getting a late visit, assuming it goes well, is the preferred spot. — Alex Bozich
mdtreat on the premium forum writes: I read somewhere on this forum that IU has hired a new DJ for next season. Can you confirm or deny this, and, if it is true, what does it imply about CTC modernizing the program. Between a DJ, more social media and video releases this summer, and an "unconventional" style of play for next year, is he just trying to create some excitement for this year or is he moving the program forward so we can compete for more high level players looking for school that caters more to the modern athlete?
I am not aware of a new DJ being hired nor have I seen any postings about it. I believe DJ Unique (Matt Englert) will continue in that role before games as he has for the past few seasons.
I think his addition to the pregame routine at Assembly Hall has been fantastic. Essentially, he's setup in the south end bleachers of the Hall before the game and plays music selected by the players before games until there's 30 minutes to go on the warmup clock. After that, the band takes over. I think it's a solid mix of what the players want and tradition. — Alex Bozich
mcred24 on the premium forum writes: I'm getting a strong feeling CTC places more value on guard play than big play. Do you foresee a continued focus recruiting guards? I believe there is a definite maybe urgent need for quality bigs and I don't get the impression there is enough focus there.
I respectfully disagree on there not being enough focus. Indiana has recruited two lottery pick post players in its last four classes and another post player in Luke Fischer who projects to be a very good post player over his four-year career, which he'll finish at Marquette.
The early departure of  Vonleh certainly hurt for this season, but I'm not sure anyone had him pegged as a certain one-and-done when he was signed. Fischer was viewed by many, including myself, as a four-year player who had a chance to develop into an all-league player by the time his career was over.
The frontcourt situation for this season, as a result of the Vonleh and Fischer departures, is a bit clouded as IU had to go out in the spring and add players, which isn't the ideal way to do things. Had the staff known that both players would be gone, then you may have seen a different approach of pursuing bigs last fall. Every school in the country is trying for big men and there's a limited quantity, but overall, I think IU has done a pretty good job of bringing in frontcourt talent when you consider that Zeller and Vonleh were both top ten picks. — Alex Bozich
tpuch on the premium forum writes: One flaw in Yogi's game is the lack of a floater, given his size and his love of driving the lane if he mastered that shot he would truly become an elite guard. Do you have any feel if CTC is stressing the development of that shot?
That's one topic I covered a bit in the offseason storylines piece on Yogi last month. I think it's more the mid-range game in general than just a floater. The program obviously has access to even more data than you or I, so anywhere there's room for improvement, it's being emphasized. The floater is difficult to master for any player, but if Ferrell can just become consistent in the midrange (whether it be a pull-up or a floater), he becomes that much more difficult to guard. — Alex Bozich
RonB on the premium forum writes: Will results and box scores from the games in Canada be posted on the IU web site or on ITH?
I'm not exactly sure how that will work, but I assume the host schools for each game will have statisticians present keeping track and will provide to IU and the media covering the games. We'll be at all five games, so be sure to follow our Twitter account for pertinent updates. And, of course, we'll have coverage here on the site and in the premium forum. — Alex Bozich
Filed to: Twitter Mailbag