Where Noah Vonleh's been, and where he's going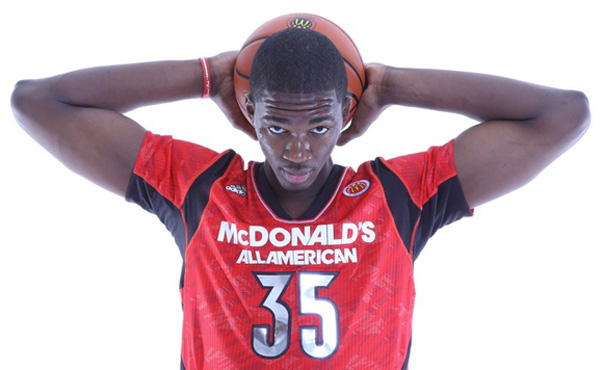 When Noah Vonleh, all of 17 years, two months and 20 days old, signed his letter of intent to play for Tom Crean and the Hoosiers on Nov. 14, 2012, a visit to Bloomington the previous weekend sealed the deal.
"Cody Zeller, he was doing a lot of the guard drills," Vonleh said at the time. "I want to do something similar like that. That just really stood out to me."
Three months earlier at the adidas Nations championship game, a sixteen-year-old Vonleh was doing plenty of guard work on the court for USA Red 2014, but with mixed results:
It wasn't until late in the game, when Vonleh stopped trying to dribble penetrate and went to the block for scores and rebounds, that he was able to force overtime, impose his will and bring his team a victory. He finished the game with 25 points and 16 rebounds.
This is the modern thought of talented teenagers at 6-8 or above with wingspans and size that once deemed them to the paint; they see Kevin Durant shining in the NBA, the positional revolution churning, and who can blame them for thinking: "I can do that … I want to do that, too?"
Tired of dudes that check in at 6-8, 220-pounds wanting to be perimeter guys. Get in the paint. There's only one Kevin Durant.

— Evan Daniels (@EvanDaniels) May 18, 2014
Between his adidas Nations play, seventeenth birthday and commitment to Indiana, Vonleh had reclassified from the 2014 to 2013 class, speeding up his basketball journey by a year; the groundwork of a fast track to the NBA had been laid. (The reclassification being a move du jour for recruits these days.)
After an 18-year-old Vonleh dominated in the preseason and saw mixed results as the Big Ten season went along for the Hoosiers (one that included an injury that questionably kept him out of two games late in the season) and no tourney appearance for the Hoosiers, Vonleh was reportedly leaning NBA after his draft stock continued to rise throughout the year. Another season in the candy stripes could have rounded out his game more and maybe even was expected when he came to Bloomington, but he would make an official declaration for the NBA draft on April 3.
It was the right choice.
Two months shy of his nineteenth birthday, with his former New Hampton School class of 2014 peers readying for college dorm life in the fall, Vonleh will be a high lottery pick in one the best NBA drafts in recent memory.
***
Vonleh wasn't a good free throw shooter in high school and missed his first eight attempts from the line during two exhibition games for the Hoosiers. After that first exhibition game against Southern Indiana and an 0-of-5 performance, Tom Crean was steadfast Vonleh would figure it out.
He was right. After the rough start, Vonleh would finish the season as an adequate free throw shooter (71.6 percent).
"If you noticed, I think most of them were long," Crean said after the game. "He's got such a long release because he's so long and tall. His hands are so big that we went back and looked and there's only one guy that's gone through the NBA pre-draft camp in the last 12 years that's got bigger hands all the way around and it's Kawhi Leonard. It's the only guy. We're not ready for Noah to go run up to pre-draft camp, but when you look at the measurements, you got to work with that."
But months later, there he was indeed measuring with the second-biggest hands on record, though that biggest hands distinction went to Greg Smith, not Leonard, according to Draft Express. Vonleh's measured hands and length have had teams drooling.
He also flashed range for his size. Vonleh made just one 3-pointer in the non-conference slate and didn't shoot it consistently. But by the time conference season rolled around, he became a threat from distance when he had time and space to get it off, finishing the year as nearly a 50 percent shooter from 3-point range (48.5%, 16-of-33).
According to Synergy Sports, Vonleh was an excellent catch and shoot player, scoring 1.464 points per possession in such scenarios and was also strong in spot up situations (1.161 points per possession), though neither made up the bulk of Vonleh's offensive work (just 13.9 percent of Vonleh's jump shots came off a catch and shoot and nine percent of his overall play types were spot ups).
He left Indiana as an improved shooter, though as Kirk Goldsberry at Grantland points out, his limited work as a shooter — and from an overall minutes perspective at just 26.5 minutes per game — still makes him a bit of an unknown commodity: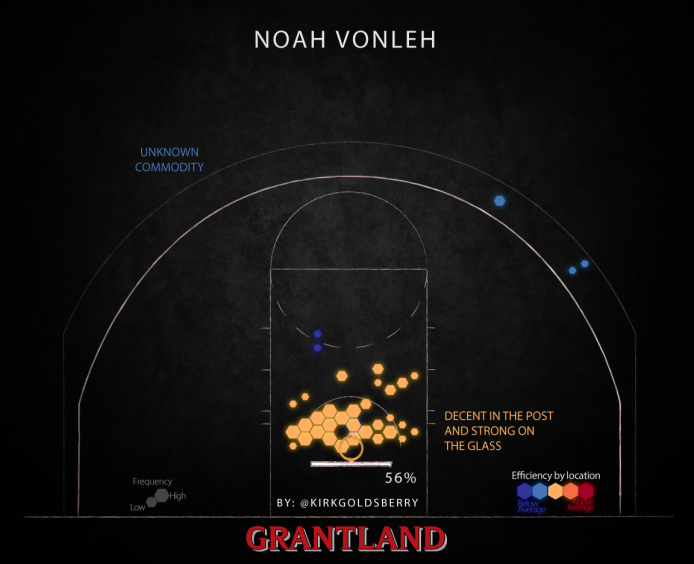 Early in the year, Vonleh would take a rebound and look to go coast-to-coast. And he was sometimes featured in Indiana's weave at the top of the key where he'd drive in the lane. But the bulk of Vonleh's offensive load was on the block (29.3 percent) and via offensive putbacks (16.8 percent). He was a big for the Hoosiers, not a guard-oriented perimeter player.
Vonleh's non-conference work around the basket was phenomenal. He showed a number of quick moves with ease over both shoulders and was flat out dominant, posting a double-double in his first four games and just a rebound shy of making it five straight out of the gate. Vonleh could also face up, make moves and score as well. He was best facing up off the left block for the season (1.188 PPP, according to Synergy).
But as the competition improved and the conference slate arrived, Indiana's offense continued to turn the ball over at a high rate and would be halted by zone defenses, often leaving a frustrated (and sometimes passive) Vonleh on the block, never to receive the ball. Against Michigan State at home in January, there was a concerted effort to get him the ball early, but it all faded as the game went along, and he'd end up with just four field goal attempts.
Foul trouble would crunch his time on the court in some Big Ten games as well, another factor in his overall minutes for the season.
***
So what exactly is Vonleh going to be at the next level? It's a good question. Right now, the 18-year-old, who has leapfrogged Julius Randle and Aaron Gordon on draft boards since the end of the college season thanks to Randle's injury and some strong workouts, is mostly potential. His offensive versatility and measurements make him a tantalizing prospect. It's all there for him to blossom into a special player, but he's so young and has so much to learn that it's no sure thing.
Apparently he's still got wing dreams:
#TyrusThomasSyndrome MT @Lockedonsports: according to @914big123 Vonleh says he is a 3 in the NBA.

— BullsBlogger (@BullsBlogger) June 25, 2014
It's not inconceivable, and he's certainly got the size and length for it, but I'm not sure if Vonleh has the lateral quickness or elite athleticism needed to coral the likes of LeBron James, Paul George and others on the wing night in and night out in the league. An early NBA comp for Vonleh was Chris Bosh and I think it still makes a lot of sense at this juncture with him still growing into his game. Bosh, before he turned into a corner 3 specialist this season in Miami's pace and space offense, wasn't the most athletic 4 in the game, but he was a strong rebounder and 20-10 type guy in Toronto, where he made his living on the block. Vonleh has the rebounding prowess (maybe his first skill that will immediately translate to the league, remember some of these?) and lower body for that kind of game.
But there's no reason Vonleh couldn't turn into a corner 3 threat like Bosh, either. As noted above, he showed some solid range in limited attempts from 3-point distance as a Hoosier. The shorter corner 3 has become increasingly valuable in the NBA, a league searching for offensive efficiency at the rim or from 3-point land and avoiding the mid-range jumper and long 2 like the plague. He could stretch the floor in that regard and be an option if his man cheats in off the corner to try and stop any pick-and-roll action that has found it's way into the paint and to the rim.
What's so interesting about Vonleh is that there's no clear idea of exactly he's going to be in the league quite yet. Is he destined for life as more of a stretch 4, a tweener, a pick-and-pop guy, a traditional power forward? Or will his ball skills, shooting and defensive skills improve enough where it can no longer be denied that a spot on the wing is his best NBA fit? Some combination of all this?
It'll depend on a few factors: Team, system and coach, his work ethic and understanding of the game. Vonleh could be so much; we'll have to wait and see where it goes.
Filed to: Noah Vonleh