Vonleh's coach talks about decision to reclassify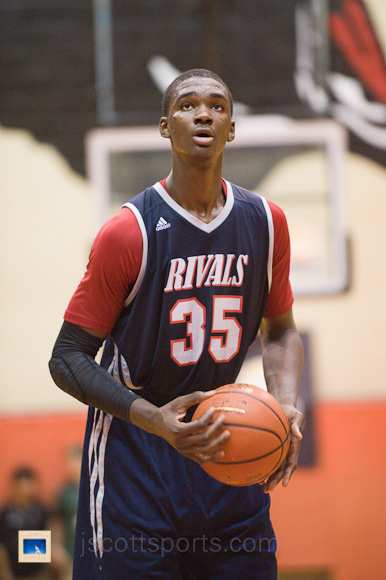 Indiana's pursuit of Noah Vonleh began in the spring shortly after the hiring of new assistant coach Kenny Johnson.
In that short time, the Hoosiers have quickly prioritized the five-star forward, who is now a member of the class of 2013.
"Indiana has probably done the most thorough job of recruiting him thus far since they started recruited him when Kenny Johnson took the job," Vonleh's high school coach at New Hampton Prep in New Hampshire, Pete Hutchins, told Inside the Hall on Monday afternoon.
Vonleh, who turned 17 in August, will be eligible to take official visits after he receives the results of his SAT, which he will take on Oct. 6.
Academics are a strong suit for Vonleh, making it easy for him to slide into the 2013 class.
"He's a good student. There were minimal changes that needed to be made to his course load," Hutchins said. "We just kind of made an easy decision in that he's certainly talented enough. I think academically, it just made it that much easier to make that decision."
Multiple reports this afternoon pointed to IU, North Carolina, Ohio State, Boston College and Kansas as some of the schools in the best shape to land Vonleh, but his coach said he's yet to begin narrowing down his list.
"It's not really fair to list," Hutchins said. "There's a long list of schools interested in Noah and he has yet to narrow that list down in part because he just reclassified and I don't think he has a firm grasp of which schools are going to want to pursue him and what those rosters look like."
In a statement released by the New Hampton School, Vonleh said Indiana, North Carolina and Ohio State are recruiting him the hardest and also talked about his decision to move to 2013.
"When I left Haverhill High after my sophomore year, I wasn't sure how my game would develop and how much I would mature physically and emotionally," he said. "I thought going to 2014 would be the best thing for me as I went off to boarding school and enrolled at New Hampton. My mom and I have continually tracked my progress. This summer we looked at things from an NCAA eligibility status, and it was easy. With one change to my schedule, an English class, I am able to graduate with the class of 2013.
"I'm ready academically. I'm more mature now in so many ways. I'm a different person and player. From a basketball standpoint, I'm working harder than I ever have. I've come a long way physically and emotionally since I arrived at New Hampton. After this year, I will be ready to really contribute to a top program next year. I'm in the gym every day, working really hard now to be ready."
Noah Vonleh Video
Filed to: Noah Vonleh