Vonleh makes it official: He's a Hoosier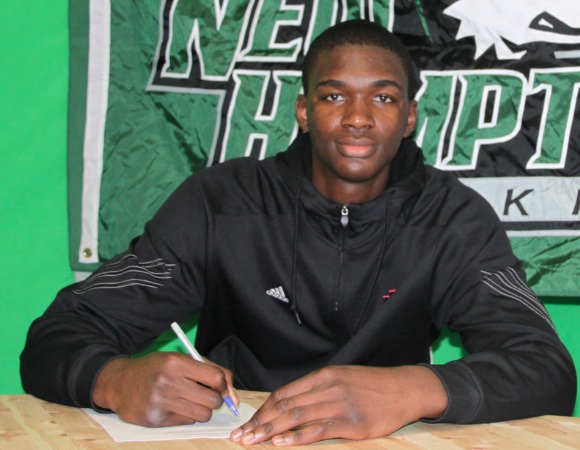 (Photo courtesy of the New Hampton School)
Noah Vonleh, the No. 8 player nationally in the 2013 class according to ESPN.com, made his plans for next season official earlier today. He'll be an Indiana Hoosier.
In a ceremony at the New Hampton School in New Hampshire, Vonleh inked his Letter of Intent and talked on a live webcast about why he decided to commit to Indiana on his official visit last weekend.
"They were recruiting me the hardest. I was talking to Coach [Tom] Crean and Coach Kenny [Johnson] almost every day," Vonleh said. "And they were telling me how I would fit in perfect to their style of play and how I would fit into their system. They were pushing the hardest and that just stood out to me. I went on the visit and liked everything I saw and I thought it was the right place for me."
After trimming his list to six schools — Connecticut, Georgetown, Indiana, North Carolina, Ohio State and Syracuse — Vonleh moved quick to begin setting up official visits. He had planned to also visit Georgetown and Ohio State, but says he's happy to have the decision out of the way so he can focus on his high school season.
"It feels really good to get everything done and out of the way," he said. "So now I can just focus on the season and try to win a lot games and tournaments and show that I'm one of the best players in my class and get ready to go to Indiana next year."
Vonleh had long cited player development to prepare him for the NBA as being a key factor in his decision and after watching Indiana practice, he was sold on that aspect of IUs program.
"In practice they did a lot of drills where he does pick and roll, pick and pop, pick and slip and things like that," Vonleh said. "I feel like doing those things in practice will help me get ready for the next level. Doing a lot of guard work will separate me from other players my size."
While he doesn't like to label himself as being slotted into one particular position, the 6-8 forward with a 7-4 wingspan anticipates having a big role in Bloomington from day one.
"If [Cody] Zeller and [Christian] Watford leave, the coaches tell me I'll have a big role so I have to get prepared for that," he said. "The goals will be to win a national championship and try to get myself high in the mock drafts and see if I'll be able to go high or stay a few more years."
The fan support was also an important factor for Voneh as he witnessed a sold out crowd in Assembly Hall for the Hoosiers' season opening win over Bryant.
"The fans made me feel really welcome," Vonleh said. "They were chanting my name, 'We want Noah,' so I was really happy about that and how their fans make the recruits feel welcome at their school."
Indiana is expected to sign a six-man recruiting class and as of 4:30 Thursday afternoon, Collin Hartman, Devin Davis and Stanford Robinson had also signed with Luke Fischer expected later today. Troy Williams will sign on Monday afternoon. Vonleh said he knows Davis from AAU and Robinson and Williams from the NBPA Top 100 and LeBron camps.
The highest rated IU signee to-date of the Tom Crean era ended his comments today with a message for the fans.
"I'm happy to be a Hoosier, and I can't wait to see you all in Bloomington next year," Vonleh said.
Filed to: Noah Vonleh