Goodluck Okonoboh to visit Indiana next weekend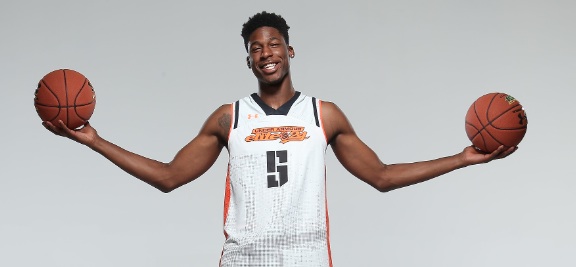 One of Indiana's top recruiting targets in the class of 2014, Goodluck Okonoboh, will take an official visit to Indiana next weekend.
It will be the first official visit for Okonoboh, a 6-foot-9 center who plays at Wilbraham and Monson Academy, which is just outside of Springfield, Mass.
Okonoboh confirmed his visit plans late this afternoon via his Twitter account:
Guess Where I'll Be Taking My First Official Visit Next Weekend (Sep 13-15) ? …. Indiana It Is #IUBB

— Goodluck Okonoboh (@Goodlucko_12) September 7, 2013
The premier shot blocker in the class of 2014 and a close friend of current IU freshman Noah Vonleh, Okonoboh has been a steady target for Indiana for several months.
Tom Crean and Kenny Johnson visited him last April at Wilbraham and Monson to offer him a scholarship in person and the IU staff tracked him closely throughout the July evaluation periods.
In July at the adidas Invitational in Indianapolis, Okonoboh said he talked to Vonleh frequently about the possibility of playing together in Bloomington.
"He's always in my ear about IU," Okonoboh said of Vonleh. "The most humble kid you'll ever meet. He's one of the top players in the country, but he's just a great kid. He knows he doesn't have to talk to me like anybody else would talk to me. We just keep it real with each other."
In August, Okonoboh trimmed his list of schools to five finalists: Florida, Duke, Indiana, Ohio State and UNLV. His interior presence makes him a potential game changer at the next level.
"He's the best shot blocker in the country and he protects the basket better than anybody, I think that's a given," Vin Pastore, Okonoboh's AAU coach with the Mass Rivals said. "He's 6-9 with a 7-3.5″ wing span, but he's got impeccable timing. That's a gift from God. He's got great instincts. Natural instincts."
Related:
· 2014 forward Goodluck Okonoboh trims list to five
· Goodluck Okonoboh's recruitment following similar path to that of Noah Vonleh
· Goodluck Okonoboh on shot blocking: "It's an art"
(Photo credit: Kelly Kline/Under Armour)
Filed to: Goodluck Okonoboh