2014 forward Goodluck Okonoboh trims list to five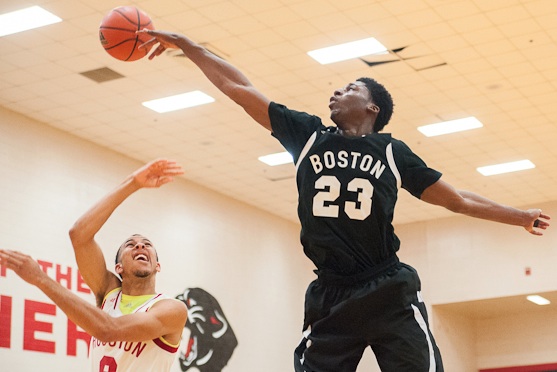 Class of 2014 forward Goodluck Okonoboh has trimmed his list of schools to five.
Mass Rivals AAU coach Vin Pastore confirmed to Inside the Hall Tuesday afternoon Okonoboh is still considering Duke, Florida, Indiana, Ohio State and UNLV (in no particular order).
Okonoboh also confirmed the news on his Twitter account:
I Have Officially Cut My College List. Florida, Duke, Indiana, Ohio St, & UNLV !(in no particular order) #IFeelGood&Blessed

— Goodluck Okonoboh (@Goodlucko_12) August 20, 2013
At 6-foot-9, 220 pounds, Okonoboh is known as one of the class's top shot-blockers and is ranked as the No. 19 recruit in the country and a five-star prospect, according to ESPN.com. 
He plans on taking official visits this fall with the expectation of making a decision by the November early signing period.
Indiana has been in good shape with Okonoboh since offering him in April, and his friendship with incoming freshman Noah Vonleh, a former AAU teammate, has been called significant.
A comprehensive scouting video of Okonoboh from July is available after the jump.
Related:
· Goodluck Okonoboh's recruitment following similar path to that of Noah Vonleh
· Goodluck Okonoboh on shot blocking: "It's an art"
Filed to: Goodluck Okonoboh