Film Session: Losing 3-point shooters
Jacksonville was hot from beyond the arc in the first half (5-of-9) in their loss to Indiana on Friday night, and it's a theme that continued until the final buzzer (10-of-17, 58.8 percent).
The Dolphins did hit a few of the contested variety, but some defensive miscues by the Hoosiers also gave them open looks. A look at four such miscues in the latest edition of Film Session.
I. We start this sequence with the Hoosiers on offense. Jacksonville is applying a little pressure in the full court. Yogi Ferrell has the ball and Tom Crean — as you can hear in the video — yells "Get it down to Jordan!" to Ferrell. Hulls is down on the right wing unguarded: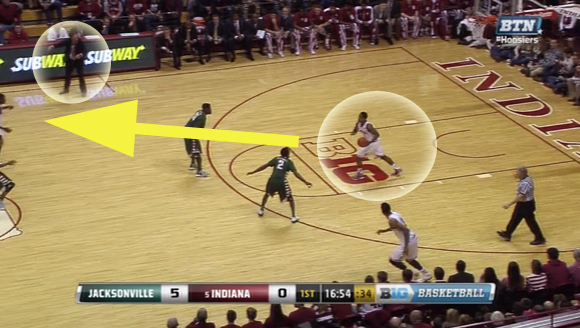 Hulls — as he did five times in the first half — hits the three.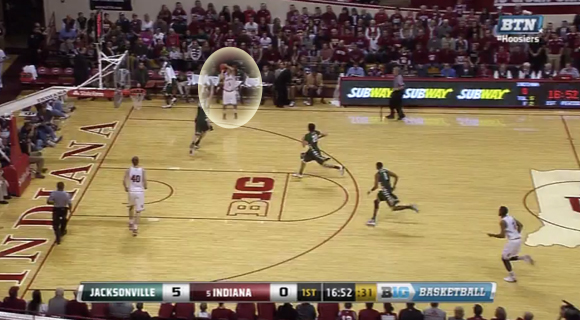 But Jacksonville turns it right back around and gives the Hoosiers a taste of their own medicine. Both Ferrell and Hulls are calling for someone to pick up Jeremy Bogus, as he's left unmarked. (For the record: Christian Watford — the last one across the timeline — had been checking Bogus during this stretch of the game):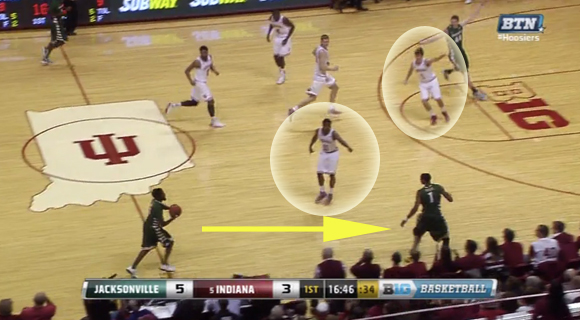 Bogus has plenty of space once he receives the ball: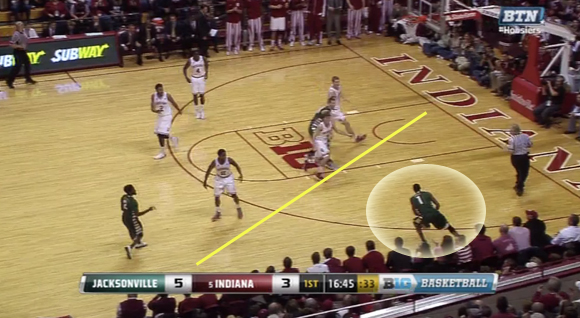 And hits: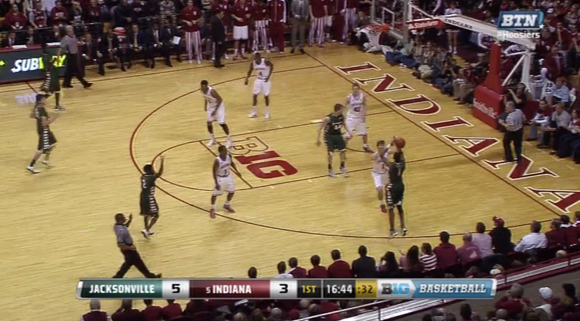 Video:
II. Indiana applies some full-court pressure with Sheeladipo putting two bodies on Marcellous Bell: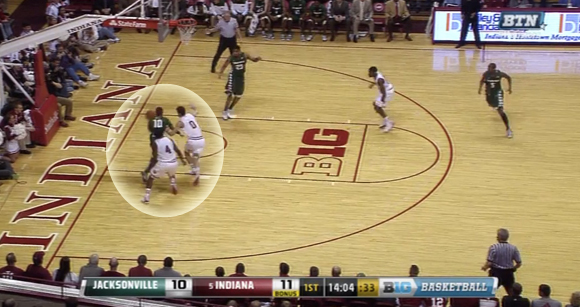 Jacksonville is able to get the ball over the top of Sheehey, Oladipo and Remy Abell to Evin Graham: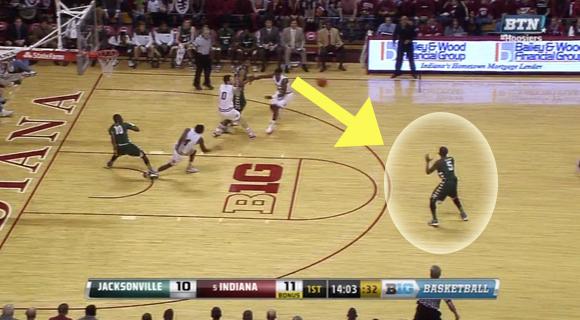 From there, the Dolphins have a 3-on-2 scenario across the timeline. Graham passes it to Dylan Fritsch on the left wing: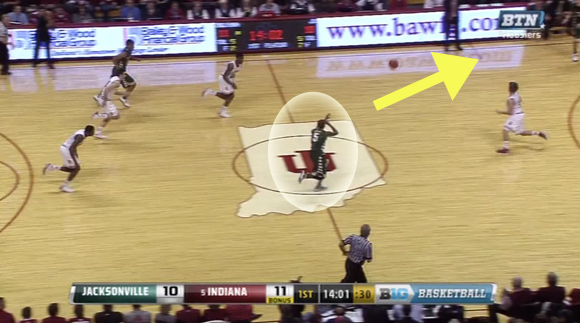 Who connects on the 3-pointer: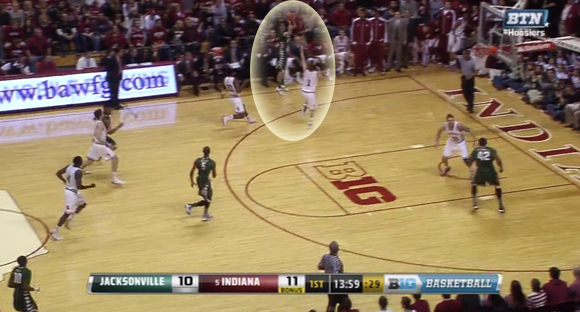 Video:
III. Bogus throws an entry pass to Tyler Alderman: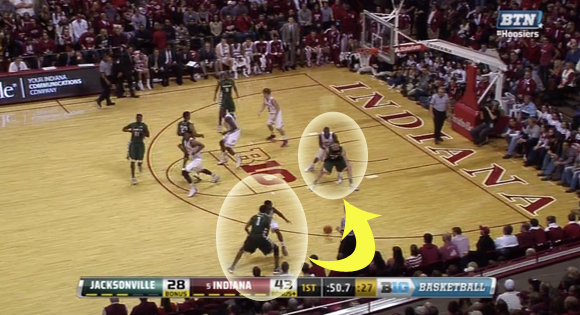 Ferrell sinks down into the lane to apply some pressure to Alderman. As he does this, Bogus has left his spot on the right wing: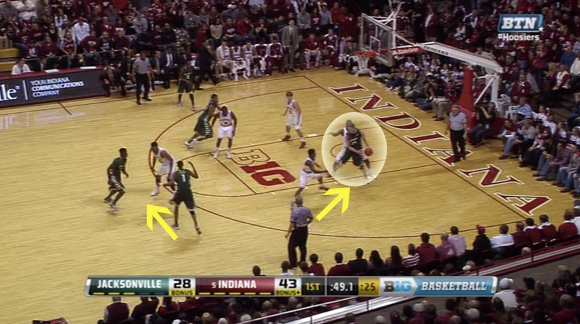 Ferrell loses Bogus in the mix as Alderman passes out to him at the top of the key: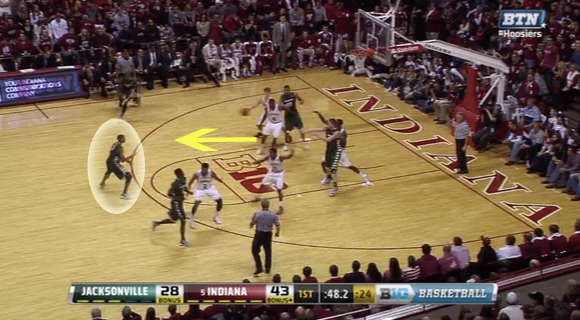 It's another three for the Dolphins: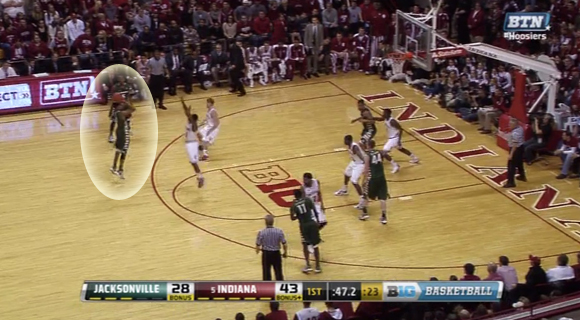 Video:
IV. On an inbounds play, Fritsch sets a screen for Kordario Fleming: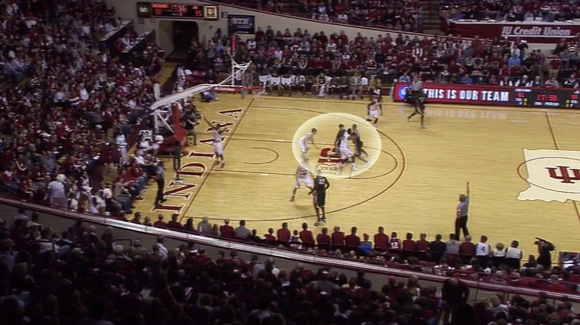 Fritsch keeps moving and gets a screen of his own from Glenn Powell: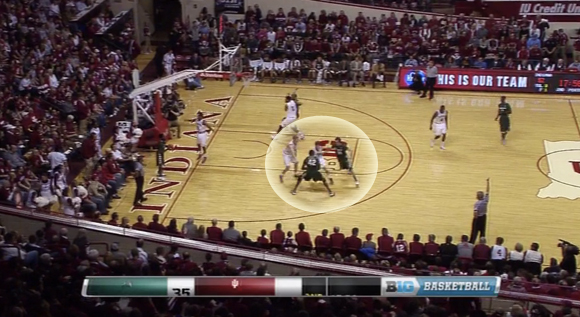 Fritsch catches just inside the 3-point line: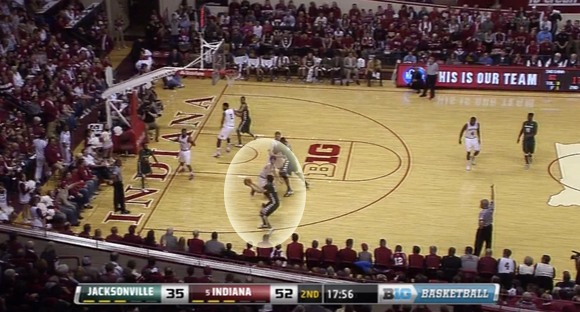 He steps back and shoots and connects over Hulls, who is giving up several inches to him: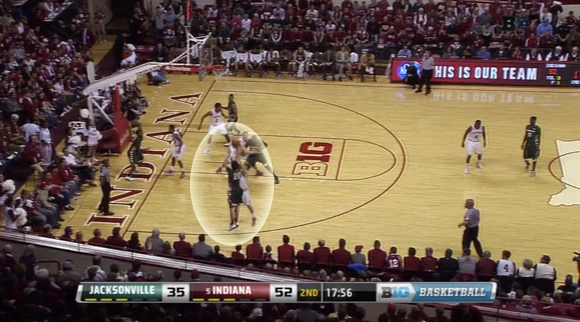 Video:
Filed to: Jacksonville Dolphins