An early look at the 2011-12 frontcourt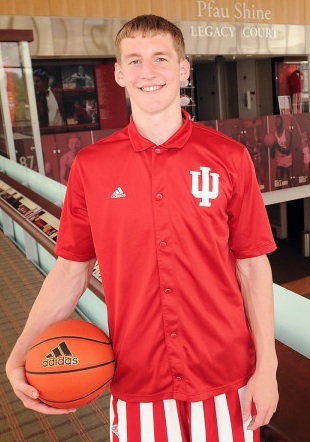 We detailed a few early backcourt storylines on Monday. Today, a look at the frontcourt:
— Cody Zeller's arrival: Fresh off a summer where some veteran players appear to have taken an important step in maturity and leadership, Zeller's inclusion should do much to keep the good vibes going in Bloomington. It's been said before, but the Washington native's ability to do a lot of fundamentally sound and smart things on both sides of the ball will not only give Indiana a high-level frontcourt talent for the first time in the Tom Crean era, but it's likely the other four guys on the court with Zeller will reap the benefits of his game, something that should translate into the ultimate goal: more wins.
— What will we see from Tom Pritchard?: After averaging almost 10 points a game as a freshman, Pritchard's offensive game the last two seasons has suffered. Last season, he used the least amount of possessions– garnering a "nearly invisible" tag from KenPom — of any player getting rotation minutes. Pritchard also made just 34.8 percent of his free throws in 2010-11. The addition of Zeller could allow Pritchard some more confidence in a secondary frontcourt role. Additionally, Derek Elston noted in comments he made to the media earlier this month that "the free-throw thing is not a big issues anymore" for Pritchard. And if Pritchard can show this kind of swagger and fire alongside Zeller consistently this season, his senior year could be one in which he rebounds a bit.
— Can a three-man rotation get it done?: After Zeller and Pritchard, Elston — who may be in for a bit of rebound himself if he's back to full health this season — could exist as a sound third option in the frontcourt. But with the Hoosiers losing out on Garrett Green, Bobby Capobianco's transfer and Jeff Howard not seeing much time in 2010-11, depth may be a concern for the Hoosiers. It's likely Christian Watford will be called upon to play the 4-spot at times next season, though it would probably benefit the team more to keep him out on the wing as much as possible.
— Fouling: It's no secret Indiana fouled far too often last season, which kept them from having more success on the court. After Capobianco (10.7 fouls per 40 minutes), Pritchard (6.5) and Elston (5.7) ranked as the biggest culprits. If Elston and Pritchard are able to flash more improvement in this area by moving their feet and playing straight up, it'll make the aforementioned depth issues less of a concern. But should fouling keep these two off the court on a consistent basis, Zeller may have to shoulder more of the load at times.
(Photo credit: Tom Crean on TwitPic)
Filed to: Cody Zeller, Derek Elston, Tom Pritchard