An early look at the 2011-2012 backcourt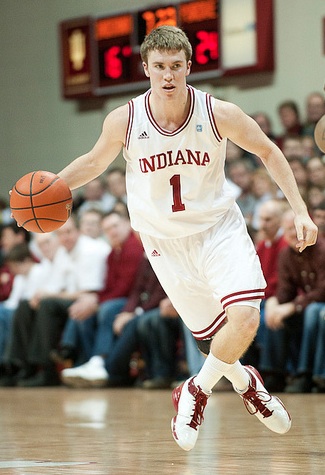 It's been a quiet couple of weeks since the conclusion of the July evaluation period, but it's time to ramp back up once again as the official start of basketball practice is less than eight weeks away.
We'll have comprehensive player-by-player previews as the start of the season grows closer, but here's an early look at some of the storylines to keep an eye on with next season's backcourt:
— A battle for minutes: Of the twelve scholarship players on Indiana's roster, eight will fight for minutes in the backcourt rotation. And for the first time since his arrival in Bloomington, Tom Crean should have enough depth to allocate minutes to those will defend the best on a consistent basis. An inability to stop penetration from the perimeter or close out on shooters were two of the many reasons the Hoosiers finished as the worst defensive team in the Big Ten last season. If Indiana hopes to climb out of the conference cellar in season four of Crean's tenure, progress will be largely determined by an improved defensive presence in the backcourt.
— Will Jordan Hulls take the leadership reigns? Recent comments by Derek Elston suggest that the junior guard from Bloomington is taking on the role of team leader this offseason and if that spills over into the season, it will be a huge positive moving forward. The Hoosiers have been without a player that the coaching staff can rely on as an on-court extension of themselves the past three seasons. Many believed Jeremiah Rivers might develop into that role upon his arrival from Georgetown, but that never materialized. In Hulls, the Hoosiers might finally have that guy.
— Last call for Verdell Jones: It was a mixed bag of results for the Champaign native in his junior season in Bloomington. On one hand, Jones became the 33rd player in school history to surpass the 1,000-point barrier. On the other hand, his 83 turnovers were a team-high and Jones struggled from both the foul line (67.2 percent) and the 3-point line (29.8 percent). The 6-foot-5 guard has been at his best in an IU uniform when he relies on his solid mid-range game. The scoring and ball handling burdens may lessen on Jones as a senior, but improved efficiency and better decision making will go a long way in defining his final collegiate season.
— Maurice Creek's health: Injuries have cost the junior guard significant portions of his first two seasons, but will this be the season Creek returns to the form he displayed during that brilliant 12-game stretch as a freshman? No one knows yet. Updates on Creek's progress have been scarce as he recovers from surgery on a stress fracture suffered in his right patella during last season's 80-61 home win over Michigan. If Creek can return to play major minutes, his presence could significantly alter the course of Indiana's success in 2011-2012.
— The other guys: Besides the aforementioned Creek, Hulls and Jones, five guys — Austin Etherington, Matt Roth, Remy Abell, Victor Oladipo and Will Sheehey — will all be in the mix to play a role. Both Oladipo and Sheehey have, based on reports from the Indy Pro-Am League, made important strength and conditioning gains. Both should play major roles. Abell, the final addition to IU's 2011 recruiting class, is an adequate ball-handler that excels at getting to the basket. And Etherington and Roth, depending on who has the hot hand, should get looks when the Hoosiers need a shooter.
Filed to: Jordan Hulls, Maurice Creek, Verdell Jones