2011 Indiana Basketball Recruiting Board
The 2011 Indiana Basketball Recruiting Board, inspired by the Football Recruiting Board on mgoblog and the Hotboard on UMHoops, is a collection of information on recruits that Indiana is believed to be recruiting for its 2011 class.
Information that appears on school lists is collected from public recruit profiles on ESPN, Rivals, Scout and various news outlets. School lists only denote reported interest, not offers. The board should not be considered a complete list of prospects being recruited and is not endorsed by Indiana University. No premium information is used.
If there is a prospect we should consider adding, please drop us an email at [email protected].
Last Updated: Final
Projected Class Size: 2
A total of three scholarships are available and the Big Ten allows an oversign by one scholarship. Jeremiah Rivers is the lone senior, but Guy-Marc Michel's scholarship also becomes available, leaving a total of three scholarships to use. (This, of course, assumes that no transfers take place.)
The Board: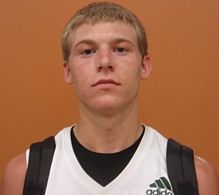 Austin Etherington (Committed on August 3, 2009, Signed LOI on November 10, 2010)
Guard/Forward, 6-6, 190-pounds, Hamilton Heights (IN), Indiana Elite
Rivals: 3-star (unranked); Scout: 4-star (98)
ITH Video
ITH Video 2
Video Interview
Video Interview 2
Notes: Etherington, who battled a back injury during the spring, is now 100 percent and finished the summer with an impressive July. Known primarily for his shooting prowess, Etherington also has the ability to finish at the rim, but told Inside the Hall he'll need to improve upon his ball-handling and upper body strength before arriving in Bloomington.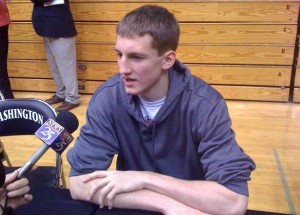 Cody Zeller (Committed on November 10, 2010, Signed LOI on November 10, 2010)
Forward, 6-10, 210-pounds, Washington (IN), Indiana Elite
Rivals: 5-star (20); Scout: 5-star (16)
Video of Zeller's commitment
ITH Video
ITH Video 2
State Finals Postgame
Video Interview
Video Interview 2
Video Interview 3
Notes: A skilled big man with a knack for rebounding, Zeller is Tom Crean's signature recruit to-date at Indiana. His commitment led to a subsequent pledge from his friend and 2012 point guard, Yogi Ferrell. He put together an amazing 20-point, 26-rebound effort in leading the Washington Hatchets to a Class 3-A state title last spring.