Cody Zeller leads Washington to 3A title, 65-62 in OT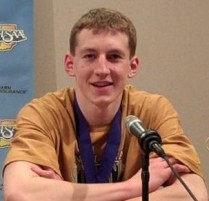 In what will go down as one of the most exciting state final games in recent history (and maybe ever), Cody Zeller and the Washington Hatchets knocked off Gary Wallace, 65-62 in overtime, to win the Class 3A state title.
Zeller scored a team-high 20 points and grabbed 26 rebounds, tying the 3A title game rebounding record set by Gerry Hall of Muncie South in 1999. The 6-9 junior hit just 4 of 15 field goals, but made 11 of 17 free throws.
The win gave Washington its third state title this decade.
Branden Dawson, a junior wing for Wallace with an offer from IU, scored a game-high 22 points to go along with 11 rebounds, but missed two 3-pointers in the closing seconds that would have tied the game.
Video of Dawson and Zeller from the postgame press conference after the jump.
Filed to: Branden Dawson, Cody Zeller