2010-2011 Player Profile: Bobby Capobianco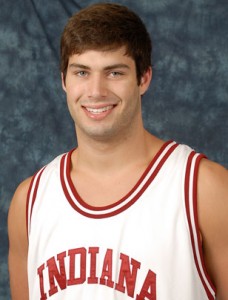 It's time for Inside the Hall's player-by-player breakdown of the 2010-2011 Indiana Hoosiers. Today: Bobby Capobianco.
What did we learn about Bobby Capobianco in his freshman season of 2009-2010?
Like all youngsters, there's room for improvement.
Capobianco provided some nice energy in a reserve frontcourt role, but his turnover percentage (22.1 percent), free-throw shooting (11-of-24, 45.8 percent) and two-point shooting (22-of-52, 42.3 percent) could all stand an upswing.
Capobianco averaged a shade under 12 minutes a game last year, and whether he sees more playing time this season could be largely dependent on just how much progress he shows heading into his sophomore year.
The good news? Capobianco, like seemingly all his second-year Hoosier counterparts, has added some bulk to his frame this summer. It could very well help him bang in the paint better on both sides of the ball.
The bad news? Capobianco will likely have some competition. If Guy-Marc Michel proves to be the defensive presence we continue to hear he can be, he'll get more minutes than Tijan Jobe or Bawa Muniru did last season, which could squeeze Capobianco out of seeing an uptick in minutes. And with Christian Watford and Derek Elston, both players who are shaping up to be a big part of this season's rotation, having the ability to play in the frountcourt as well, Capo will need to prove he deserves to be a part of the rotation.
Bottom line: With a year of Big Ten play under his belt and some added bulk, Capobianco has nowhere to go but up. But just how far he advances this season will be largely dependent on proving to Tom Crean and the coaching staff he's ready for the leap.
Quotable: "For me, the way I look at weight and the way I look at strength, I just need to find something that I feel comfortable with. So I can feel something that I am running with but so that I am not getting thrown around. All these guys have numbers that they are looking for and I am just looking for a weight that I feel good at. We are definitely an up and down team and running is a huge aspect of it so if I'm running and doing the things I need to do my weight will just be where it needs to be." — Bobby Capobianco
Previous Player Profiles: Victor Oladipo, Tom Pritchard, Jeremiah Rivers, Christian Watford, Verdell Jones, Maurice Creek, Derek Elston, Jordan Hulls, Guy-Marc Michel
(Photo Courtesy of Indiana University)
Filed to: Bobby Capobianco