2010-2011 Player Profile: Maurice Creek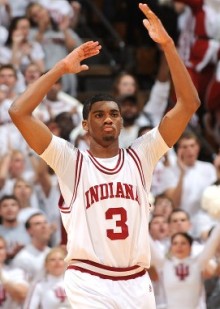 It's time for Inside the Hall's player-by-player breakdown of the 2010-2011 Indiana Hoosiers. Today: Mo Creek.
I'll be honest: It wasn't until working on my piece for Maple Street Press' Hoosier Tip-Off 2010-11 — available now! — and chatting with the Big Ten Geeks that I fully appreciated just how stellar Maurice Creek's cut-short freshman campaign was, and how much the team could have used him during Big Ten play.
Creek appeared in all 12 non-conference games; his season-ending knee injury occurred in the second half against Bryant on Dec. 28, the last game before IU started their conference slate against Michigan on New Year's Eve.
Now, it's likely Creek's numbers would have taken somewhat of a hit had he played all season and competed in the Big Ten against overall tougher competition. But stick with me here: For players with a minimum of 12 games last season, Creek's effective field-goal percentage of 64.12 percent was good for 26th in the country. Not for freshman. For all of Division I.
Creek shot 52.7 precent from the floor, and nailed an impressive 44.8 percent of his threes. He also averaged 1.4 steals a game, showing he can be an agitator on the defensive end. If kept up for the whole season, he would have led the team. (Jeremiah Rivers finished the year with 1.3 steals per game, the team's leader otherwise.)
Perhaps nowhere was Creek's shooting acumen more on display than IU's Dec. 12 loss to Kentucky, where he poured in 31 points in a losing effort against the Wildcats (9-of-14 from the floor, 5-of-8 from distance, 8-of-8 from the line).
Creek proved to be a highly efficient scorer last season, something IU sorely lacked as they trudged through that 10-game in-conference losing streak. A healthy Mo Creek gets this team more victories last season.
So what to expect from Creek this season? Well, as the Geeks told me, it's probably too much to expect Creek to match his stellar numbers from a year ago. And really: That's OK. Even if Creek's percentages aren't quite as high, a drop likely still keeps him as IU's most prolific offensive weapon. And if defenses are showing him more attention, that should open up things for his teammates.
High-usage players who are offensively efficient make those around them better. If the Hoosiers are to push — or perhaps even surpass — the .500 mark, Creek has to be a big part of the equation.
Of course, there still might be the lingering doubt in the back of Hoosier Nation's mind surrounding his durability after such a long-standing injury. It's been a long, steady recovery for Creek, but according to the Herald-Times, Tom Crean indicated Wednesday that he's back scrimmaging fully with his teammates. But Crean is also preaching patience with his recovery — an indication he's not 100 percent out of the woods just yet.
Bottom line: Creek is IU's most talented offensive player heading into 2010-11. Even if he doesn't match what he brought to the table last season, his mere presence on the court will have this team looking more competent on the offensive side of the ball. If Creek stays healthy and plays at a high level, W's should be easier to come by for the Hoosiers.
Quotable: "The great thing about high-usage players is they generally bring up the efficiency of everyone around them. That's because, intuitively, the defense is showing them more attention and paying less attention to other guys on the floor. A guy like Maurice Creek can really stretch the defense. Now suddenly you've got some lanes, and I think it's going to help the offense in a lot of ways." — Josh Reed, Big Ten Geeks, as quoted in Hoosier Tip-Off 2010-11
Previous Player Profiles: Derek Elston, Jordan Hulls, Guy-Marc Michel
Filed to: Maurice Creek