2010-2011 Player Profile: Guy-Marc Michel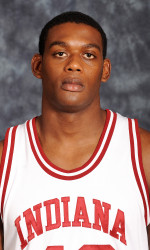 It's time for Inside the Hall's player-by-player breakdown of the 2010-2011 Indiana Hoosiers. Today: Guy-Marc Michel.
Last week during IU's media training session, the Hoosiers talked about their desires to no longer get bullied by their Big Ten opponents.
Will Guy-Marc Michel be part of the solution for that?
The jury is still out.
Best-case scenario: The 7-1 transfer from Northern Idaho College makes the likes of Bobby Capobiano and Tom Pritchard better by battling them in practice, while providing a legitamate defensive presence inside who blocks shots and throws his weight around in the paint, something we've yet to have during the Tom Crean era.
If Michel fulfills such a role, he'll be an important part of the rotation this season. This is basketball: size and defense matter. A lot.
But there is that worst-case scenario lurking about in Hoosier Nation, the thought that for all his physical gifts, Michel might be another Bawa Minuru — a kid with size and strength, but unable to harness it all into significant playing time.
Will Michel start and be the bully?  Will he provide some defensive energy in a key reserve role? Or will he find himself seated at the end of the bench, another big man lacking the talent to play at a Big Ten level?
We shall soon see.
Bottom line: The Hoosiers finished second to last in defensive efficiency in the Big Ten last season, and Michel's presence has the potential to help strengthen IU's D. Add in a summer in which several players seem to have added some bulk (and another year of Big Ten experience), and the Hoosiers could be set up to flash their best defensive effort under Crean.
Quotable: "I think for me, I can bring a presence inside, block some shots, grab some rebounds and help the team defensively." — Guy-Marc Michel
Filed to: Guy-Marc Michel