2010-2011 Player Profile: Victor Oladipo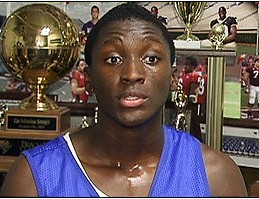 It's time for Inside the Hall's player-by-player breakdown of the 2010-2011 Indiana Hoosiers. Today: Victor Oladipo.
Victor Oladipo arrives in Bloomington via DeMatha Catholic High School in Hyattsville, Maryland. For those unfamiliar with DeMatha, let me enlighten you with a few fun facts:
1. Morgan Wootten, widely considered one of the best high schools coaches of all-time and also the all-time wins leader for basketball on any level, coached there from 1956-2002. Wootten has 1,274 wins.
2. The school has produced several notable alums, including current Notre Dame coach Mike Brey, Hall of Famer Adrian Dantley, current N.C. State coach Sidney Lowe and CBS broadcaster James Brown. And this is an abbreviated list.
3. The basketball program is mentioned annually as one of the best in the country and has 34 Washington Catholic Athletic Conference titles. Oladipo starred on two of those title teams.
I present these facts not as a history lesson, but as a brief perspective on the background Oladipo is coming from prior to his arrival in Bloomington. It's a background of winning. And it certainly jives with Tom Crean's stance that he'll make it a focus to recruit talented players from winning programs.
Oladipo brings a unique mix of talents that were noticeably absent from Crean's first two Indiana teams. He is, by far, the most explosive finisher to arrive in recent years not named Eric Gordon. Fans saw a brief glimpse of his freak athleticism at last Friday's Hoosier Hysteria when he dominated the dunk contest. He will, undoubtedly, bring Assembly Hall to its feet several times in the next four years.
But more important than his finishing ability is Oladipo's ability to defend and rebound from the guard position. It's no secret that IU's defense the past two seasons left plenty to be desired. Opponents were stronger, quicker and tougher on the perimeter. Oladipo has the tools to provide an immediate upgrade as a perimeter defender. It's also no secret that Crean wants his guards to rebound. Oladipo, from all accounts, will help immediately there as well with his length and toughness.
The questions surrounding Oladipo's game seem to center around his ability to shoot from the perimeter and handle the ball. His perimeter shot is very sound mechanically, but he admitted in interviews last spring that he was working to gain more confidence in that area. Ball handling is another area where Oladipo should steadily improve as his career moves along.
Bottom Line: Crean has emphasized the point that he's not interested in the incoming group of players waiting their turn for playing time. That means Oladipo, provided he enters each practice with the competitive spirit Crean is seeking, should get every opportunity for significant early minutes.
Quotable: "We targeted Victor as a young man that we wanted to pursue as a part of our restoration of the Indiana program. He comes from two great programs in DeMatha Catholic High School and Team Takeover, and has been well-coached and more importantly well-raised. We feel Victor will provide athleticism and skill, but most importantly a toughness and will to compete that enhances our program from the moment he steps on campus." – Tom Crean
Previous Player Profiles: Tom Pritchard, Jeremiah Rivers, Christian Watford, Verdell Jones, Maurice Creek, Derek Elston, Jordan Hulls, Guy-Marc Michel
Filed to: Victor Oladipo