Tharpe picking up offers, IU still keeping tabs on him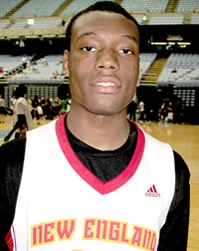 The summer is winding down for Naadir Tharpe, though you wouldn't know it by the recent flurry of activity that's marked his recruitment.
After Tharpe's New England Playaz took home top honors at the West Virginia Hoop Group Jam Fest last week, Tharpe revealed to Inside the Hall that he's picked up a trio of recent offers.
Virginia, Marquette and Minnesota have all now extended a scholarship to the Class of 2011 point guard, who backed out of his verbal commitment to Providence earlier this year and has started to tally an impressive list of suitors.
Thus far, however, Indiana has not decided to write its name on that list, though Tharpe said the Hoosiers are keeping the lines of communication open.
"Coach (Tim) Buckley and I, we communicate a lot," Tharpe said by phone Sunday night, adding, "I just know basically offensively, they get up and down pretty fast, and that's the game that I play."
Indiana is paying close attention, according to Tharpe, who said he feels his best basketball has come recently, coinciding with his team's improved play.
"What got us going was our defense," Tharpe said of his squad's performance in the Jam Fest event. He said he's worked hard to improve defensively and involve his teammates whenever possible.
"I've been playing a lot better."
Tharpe's whirlwind summer is nearly over. The Playaz will go to the adidas Super 64 in Las Vegas and then stop in Phoenix for the Desert Duel. The second July evaluation period starts this week, putting the ball in IU's court once more regarding Tharpe. The 5-foot-11 floor general certainly has plenty of respect to send the other way.
"I know that they have a great program," he said.
Related:
+ Naadir Tharpe confirms IU interest, keeping options open
+ Naadir Tharpe picks up interest from Indiana
+ Meet Brewster Academy point guard Naadir Tharpe

(Photo credit: Rivals.com)
Filed to: Naadir Tharpe