Naadir Tharpe picks up interest from Indiana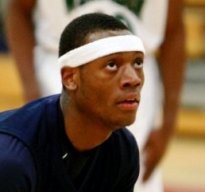 Naadir Tharpe, Scout.com's No. 12 point guard nationally in the 2011 class, has a new school expressing interest: Indiana.
Assistant coach Tim Buckley watched the 5-11 point guard work out a couple of weeks ago at Brewster Academy in Wolfeboro, New Hampshire and Jeff Goodman of Fox Sports tweeted last week that the Hoosiers were coming on strong.
"It seems like we're going to start building a relationship together," Tharpe said. "I haven't spoken to Coach Crean yet, but I was talking to one of the assistant coaches and he said that Coach Crean was going to come back up to Brewster to see me. So we'll just see how that goes."
Tharpe, who listed Arizona as his top school over the summer, appears to be wide open and is looking forward to learning more about the IU program.
"I really don't know a lot about the program, but something I do know is that usually it's a really good, winning program," he said. "I know that Coach Crean is a really tough coach and he works his players hard to strive to be the best. I want to know more about Indiana, that's why I'm going to keep on talking to the coaches."
After playing his first two high school seasons at St. Peter Marian in Worcester (MA) and racking up 1,000 career points, Tharpe transferred to Brewster Academy. And though he's more than capable of putting up points, his focus remains on being a point guard.
"The best part of my game is passing," Tharpe said. "I can see the floor real well. I'm always able to hit the open man off the dribble. I've improved my jump shot a lot. It's much better than what it used to be."
Scout's take: "Tharpe brings a confidence to the court that I love. He isn't a big guy, but he uses his body to control space, has a burst, maintains vision and has the ball on a string. I'm not certain at this point how well he shoots the ball, but regardless of how well he shoots it, he projects as at least a top-50 prospect nationally." – Rivals.com analyst Jerry Meyer to GoAzCats.com.
Filed to: Naadir Tharpe