Naadir Tharpe confirms IU interest, keeping options open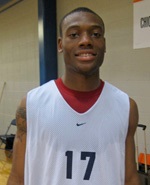 After assistant coach Pat Skerry left Providence College in late May to take a similar position at Pittsburgh, 2011 point guard Naadir Tharpe decided to re-think his verbal commitment he'd made to the Big East school less than three months earlier.
As a result, the 6-0, 160-pound Tharpe, who plays at Brewster Academy in Wolfeboro (NH), has picked up interest from several schools, including Indiana.
"I talk to Coach (Tim) Buckley a lot," Tharpe told Inside the Hall. "Basically we talk about how they see me fitting in their system. It's all good stuff. I'm just waiting to see if they give me an offer."
Like several other IU targets and commitment Austin Etherington, Tharpe was invited to last week's NBA Top 100 Camp in Charlottesville (VA). He said the experience was an opportunity to go head-to-head with some of the best point guards in the country.
"The NBA Camp went well because there were a lot of point guards there that were highly ranked and the best players in my class," he said. "It was a great experience for me. Last summer I had a problem with my ankle. This summer and spring are going well so far."
Having just opened his recruitment up earlier this month, Tharpe has yet to put together a definite list of schools that he'll consider and said he's open to any school that shows interest. And while he hasn't talked with the Indiana staff about a trip to Bloomington, it's not out of the question.
"Yeah, I would definitely want to go out there and take a visit," Tharpe said. "I'm just going to play the summer, see how I do and then take it from there this fall once I get back to school."
(Photo credit: Scout.com)
Filed to: Naadir Tharpe