And finally, they've all surfaced, let's move on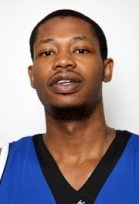 Despite the fact that nearly everybody associated with the Indiana program is moving on to the future, we've still received a few requests for updates on the departed from last season.
We've tracked Kelvin Sampson, Brandon McGee, Jordan Crawford, Eli Holman, Armon Bassett, DeAndre Thomas and you can all sleep easy now that Jamarcus Ellis has surfaced at Oklahoma City University.
As much as I'd like to keep an eye on the progress of these fine young men at their new institutions, they're no longer a part of the IU family and will be treated as such on this very blog.
Translation: Unless you hit up the archives, you won't be reading about McGee, Crawford, Holman, Bassett, Thomas or Ellis around these parts. Sampson is a different story because we'll always welcome opportunities for cheap shots until the NCAA dust settles. (We'll also welcome your attempts at heckling him when he returns for the Bucks and Pacers later this season in Conseco Fieldhouse.)
Filed to: Jamarcus Ellis