Together at last: Armon Bassett and Mike Davis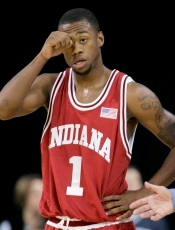 Armon Bassett will finally suit up for the coach responsible for bringing him to Bloomington – Mike Davis – as the former IU guard announced his intentions to transfer to UAB in today's Birmingham News.
"I'm good friends with Robert (Vaden). Coach Davis put Robert in a good situation and he'll probably be a top 20 pick next year. Seeing that put me over the edge (toward UAB)."

Bassett was one of two players dismissed from Indiana's team by former interim head coach Dan Dakich in April for missing an appointment and refusing to run laps as punishment. Current Indiana head coach Tom Crean upheld the dismissal after taking over.

"Its tough, man, but going through that makes you stronger. Things happen for a reason. When God closes one door, he opens another."
Most people I've talked to insist that Bassett isn't a bad guy — but his extracurricular activities weren't going to fly under the new coaching staff. And they shouldn't have. Solid pickup for Davis, as he'll be able to pair Bassett with 2009 recruit DeMarcus Cousins. Whether or not that turns into on the court success remains to be seen.
Filed to: Armon Bassett, Mike Davis, UAB Blazers