The Morning After: Minnesota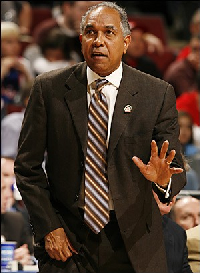 In the days leading up to the Minnesota game, it seemed fashionable to proclaim Minnesota IU's first road loss. It was an understandable diagnosis; The Barn is an historically difficult place to play, Minnesota has been playing well, and the common perception (a correct one, might I add) was that the competent coaching of Tubby Smith would be the difference in the game. Everyone convinced themselves of this, to the point that it became some kind of non-intuitive general consensus that IU would lose last night.
Am I the only one annoyed by these snowballing alternative consensuses? They happen every March, too. Some ESPN pundit or sportswriter somewhere or — heaven forbid, blogger! — says: Hey, watch out for Team X! And then a hundred thousand of us put Team X in our Final Four. (Not that it matters, but Team X usually flames out in the Sweet 16.)
So, for once, it's nice to be on the side of the general consensus that should have been: That the Hoosiers are so much better than Minnesota that they can play the worst game of their season and still win in a tough road environment. Consensus or not, that was right. (Oh, and props to Big A, who put his nuts on the line a day early.) Onward:
— In many ways, the Gophers betrayed a blueprint for how to beat IU last night. That blueprint? Pressure defense to produce harried guard play; double-team D.J. White and force jump shots; tweak or otherwise bother Eric Gordon and get him in foul trouble early; hang on and hope for the best. The Gophers did each of those things last night, preying on erratic guard play and Gordon's proclivity for silly fouls. It helped, of course, that the Hoosiers gave up 26 — 26! — turnovers, thanks to the lack of a true point guard on this team (more on that below) and the pressure defense. It's hard to tease out how much the pressure defense had to do with it, and how much was just a bad performance by IU's guards … either way, the turnovers kept Minnesota in the game for all 40 minutes.
— Oh, the point guard spot. I'll admit I was convinced by Armon's steadying influence in the second half against Illinois; if not for him, the Hoosiers might have lost last week. But last night, he showed why he really isn't a point guard — his ballhandling still isn't ideal, he's prone to errors in judgment, and he gets caught moving side to side against pressure defense too often. Bassett's still better than the other point guard option right now, though, which is Jordan Crawford. God bless him — Crawford's shooting kept the Hoosiers in a solid standing in the first half. But he is even more turnover- and judgment error-prone than Armon. What he is now is a scorer, and little more.
Which gets us back to one of this very talented team's killer flaws: point guard play. Right now, this team has no true point guard. They have a menagerie of guards who occasionally bring up the ball, and against half court pressure this isn't a problem at all. In the half court, I love looking at Armon, Jordan, and Eric effing Gordon; that's a guard combo that can score in droves. But in other facets of the game — or against heavy, constant pressure — those three are worth worrying about.
— Speaking of Eric Gordon: I think we witnessed his first genuinely bad game last night. And it was still a pretty good effort, given the killer free throws he hit down the stretch and his defense in the closing minute. Good to know away wins are possible when Gordon has his rare off nights.
— Speaking of the closing minutes (I promise I won't use this lame transition device anymore starting … now), this marks two games in a row when IU, having played a sub-standard 35 or so minutes, was able to lock in, get stops, make free throws, defend on key closing possessions, and most importantly, come up with loose balls. The game is 40 minutes long, and each possession should be valued evenly, but those late minutes are where teams' mettles are tested. The Hoosiers are 2-0.
— Anyone catch the lame Pizza Hut voting commercial last night? In the midst of a crapload of bad commercials, this one really takes the cake. Here it is:
OMG BRO! Don't steal my delicious Pizza Hut pizza! In the meantime, bro, you should totally go vote! Unless you don't live in a swing state, in which case, don't bother! Political efficacy, bro! YEAH!
If this is what Pizza Hut thinks college students sound like, they really don't know their primary pizza-loving demographic. And here I thought everyone that worked at an ad agency was a female living on the North Side of Chicago, ages 22-27. Apparently it's all old people. Who knew?
— I'll say it, and please don't hate me: I thought Doris Burke was kind of good. She wasn't needlessly screamy or over-the-top, she offered actual micro basketball knowledge, and she often seemed more on top of things than her play-by-play pal, Dave O'Brien. I think Burke might have a job as a play-by-play person herself, actually, if she wants it. She wasn't perfect — her comment about IU's offense in the first half was kind of egregious — but cheers to ESPN for at least trying it out. I think it worked.
— One more note on IU's performance. Too much settling. I trust most jump shots, and Minnesota did well to prevent penetration at all costs, but IU seemed far too eager to settle on mid-range jump shots early in shot counts. Even E.J. — someone hell-bent on penetration — looked more passive. Here's hoping that's an aberration just like those turnovers.
Still, all things considered: Good win. I'll take it. And I'll rest assured that IU defied the general consensus when it shouldn't have been there in the first place. Feels good, doesn't it?
Filed to: Armon Bassett, D.J. White, Eric Gordon, Jamarcus Ellis, Jordan Crawford, Minnesota Golden Gophers, Tubby Smith