Live report from IU's open practice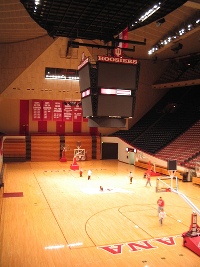 Yesterday, Big A solicited a request for any details surrounding Friday's open practice to those in attendance. Ask and you shall receive.
ITH reader Tim threw down a solid report in the comment section of the aforementioned post and we thought it would be a good idea to highlight it. So, here it is for each and every one of you out there.
I went to the the open practice on Friday, the drills were nothing interesting but the team scrimmaged for over a half hour. It confirmed some things we already knew, like DJ and EJ are awesome. The starting five for crimson was DJ, EJ, Armon, Lance, and JaMarcus so read whatever you want into that. They pulled out to a big lead before they switched the teams up and the DJ led white team made it closer.

I gathered that there is a quite clear first seven with the starting five and DeAndre and Jordan being the first two subs. Eric looked just amazing, his three pointers are frickin beautiful and he had some drives to the basket where he made it look like he was on an empty court. DJ's play and especially energy was great, since he will probably take his energy level up a notch in real games, he might be unstoppable. In other good news, Lance hit some threes, Armon played well, and JaMarcus made some great plays.
Crawford looked both great and lost at times during the scrimmage and the matchup between him and Armon was outstanding to watch. My biggest complaint about Jordan was that he didn't appear at all interested in running the offense for his team as the point guard. He often just dribbled around until he threw up a bad shot that missed. Eventually, KS snapped at the Crawford led white team yelling, "No more bull shit shots!" That drew a pretty good round of applause from the crowd.

In curious news, AJ Ratliff was nowhere to be seen. Taber had a brace on his wrist and did little more than shag balls.

On the coaching front, Sampson is pretty loud and active. Ray McCallum and Jeff Meyer are very active as well but much less loud. Senderoff was nowhere to be seen, hopefully he wasn't off violating any rules. Dakich sat in a chair with his legs crossed the entire practice but had a couple long chats with Eli and than Brandon when they were out of the scrimmage for a while. The coaching staff and other personnel looked like glorified cheerleaders at times, constantly clapping and cheering on the players.

Overall, I was glad I went and pleaded at my own personal restraint when I didn't chuck my cell phone onto the court. I'm now more excited about the start of the season than ever.
So yes, there you have it. Interesting that Ratliff wasn't around and neither was Senderoff. (Sampson refused to talk about Senderoff's absence when asked about it at Big Ten media day today.) I doubt there's really anything major going on to account for Senderoff not being around — unless he was making some phone calls, lolz — but we'll see if it's a trend that continues in the near future.
(Photo via bruuuce2003 on Flickr.)
Filed to: A.J. Ratliff, D.J. White, Eric Gordon, Rob Senderoff