2009 forward Derek Elston talks IU commitment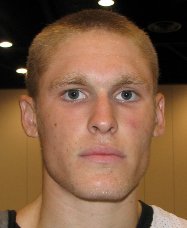 Tipton's Derek Elston is first member of Kelvin Sampson's 2009 recruiting class. Inside the Hall recently caught up with the 6'8″ forward for a quick Q & A.
Inside the Hall: Why did you decide that IU was the right place for you?
Derek Elston: I wanted to stay close to home and my friends and family. I just knew that playing for the Hoosiers was the place for me.
ITH: What was it about the way IU recruited you that set them apart from other schools?
DE: The coaching staff, definitely. They treated me like I was already there, like I was already a Hoosier.
ITH: Position wise, how do yourself fitting in at the college level?
DE: I'll probably play the 3 or the 4, like a wing man. If I get any bigger I'd like to play in the post, but 3 or 4, definitely.
ITH: You've visited Bloomington several times. What do you like most about the campus?
DE: I really like the area and it's probably the best campus I've ever seen. It's really beautiful.
ITH: I got a chance to see you play in July at the Kentucky Hoop Fest and you looked like a player that loves to do the little things. Is that something you pride yourself on when you get on the court?
DE: I really don't notice it but my coach always tells me I do the little things, but for me it's just something that I like to do. I'm always after the loose ball. I really don't see that as a big thing to me, but my coach always tells me I'm always doing it so it just comes natural.
ITH: What areas of your game are you working on the most right now?
DE: My jumpshot definitely. I don't want to say it needs a lot of work, but I'd like to get it to where I could get some perfection on the 12 to 15 footers.
ITH: You're a junior this year at Tipton. Talk a little bit about your expectations for the upcoming season.
DE: To go far. I don't know how far. Definitely a sectional victory, hopefully a regional victory. We've got a senior point guard coming back, Matt Hodges, and the rest of us are people I've been playing with for all my life. We have the best chemistry and we've never had a losing record before in our lives. I think we're going to go real far this year.
ITH: Your father, Darrell, played for North Carolina. Was North Carolina a factor in your recruitment and how much did you think about going there?
DE: Yeah, definitely I always wanted to go to North Carolina but my Dad always told me that he, you know, wanted to come and watch the games and never wanted me to follow in his footsteps.
ITH: Last question: Who was your favorite player growing up and why?
DE: Definitely Michael Jordan just because everytime he stepped on the floor and I'd turn on the TV it was just amazing to see what he could do. You can't even explain it. I always wore his clothes ever since I was 6 or 7, I've always been wearing his stuff just because he's amazing.
{For those of you who are new visitors to Inside the Hall, check out our interviews from earlier in the summer: Lance Stemler, Jamarcus Ellis and Armon Bassett.}
Filed to: Derek Elston