What are realistic expectations for Eric Gordon?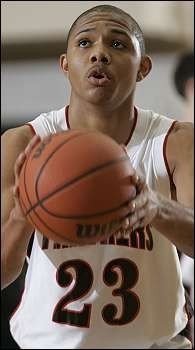 I caught a bit of flack for not including Eric Gordon on my preseason All-Big Ten team and quite frankly, I expected it. That's what is so great about us, the IU fanbase: we're passionate about our love for the program and the players.
I wasn't saying that Gordon won't make the All-Big Ten team because it's certainly a possibility that he will. I just didn't agree with handing out preseason accolades to a player that hasn't played a single minute of college basketball.
So that got me thinking, what are realistic expectations for EJ?
I've talked to people who think he can come in and average 18-20 points per game right off the bat. I've talked to others who think he could struggle early on adjusting to tougher defenses.
The most optimistic of opinions I've heard on Gordon's impact include comparisons to the impact Kevin Durant had at Texas last season.
I bounced this question off of Dave Telep of Scout.com the other night when we chatted and asked him if a Durant like impact was possible for the IU freshman.
"First of all, Kevin Durant and Carmelo Anthony are pretty much the two guys that had the biggest impact on their respective teams in the last ten years," Telep said. "That's asking a lot of a guy. I think Eric Gordon is a good enough and talented enough player that he's going to find his way on to one of those All-Big Ten teams. If he can do that as a freshman, he had a major impact on the conference."
My personal opinion is that Gordon is a special talent that doesn't come along very often. He's a unique blend of finesse and power. I've followed high school basketball in Indiana for quite some time and I don't remember any player comparable to him. That said, it'd be unrealistic to expect no bumps in the road and a flawless freshman campaign for Gordon.
I'm interested in hearing what you are expecting out of Gordon and the impact you think he'll have. Drop a comment and give me your take.
Filed to: Carmelo Anthony, Dave Telep, Eric Gordon, Kevin Durant