Hoosiers in solid standing with Tyler Zeller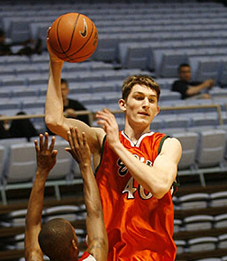 Many of you who've read ITH since it launched in June may remember a post in early July talking about IU and their chances to land Washington (IN) big man Tyler Zeller.
At the time, it was uncertain whether IU would even make Zeller's final list, but I said not to count the Hoosiers out just yet. All of the buzz at that time was pointing Zeller in the direction of Purdue.
Since that time, Zeller trimmed his list of schools to four as he eliminated Kansas and Kentucky among others. Zeller then visited IU to meet with representatives from the Kelley School of Business and his friend and AAU teammate Matt Roth committed to the Hoosiers.
And now we have a report this morning, according to Jeff Rabjohns of the Indianapolis Star, that Zeller now plans to major in business rather than engineering.
I'm no brain surgeon, but all of these factors seem to add up to the presumption that IU is in very good shape with Zeller. Tyler will begin taking his official visits this weekend, as he'll visit Chapel Hill and coach Roy Williams.
The thought of adding Zeller to Devin Ebanks, Bud Mackey and Matt Roth should have Hoosier fans ecstatic about the current recruiting situation in Bloomington. Can you say: second straight top five recruiting class? There's still a long way to go here folks, but expect IU to be in this until the end.
Filed to: Tyler Zeller