Around the Hall is recommended reading from the Inside the Hall crew. So go ahead, get your read on.
+ Chris Sheridan of ESPN.com writes that Eric Gordon might have earned himself a spot in Team USA's starting lineup after scoring 21 points in a 92-57 win over Tunisia.
+ Gordon is a guest blogger for the Los Angeles Times from Istanbul and weighed-in with his thoughts following today's win.
+ Clips Nation recapped Team USA's win over Tunisia and noted that at the conclusion of pool play, Gordon is the team's second-leading scorer at 10.9 ppg. Impressive when you consider that many believed Gordon was near the cut line for the final roster.
+ In totally unrelated news to Eric Gordon's budding stardom, former IU guard and radio color commentator Todd Leary was arrested for allegedly stealing appliances from foreclosed homes in Hamilton County.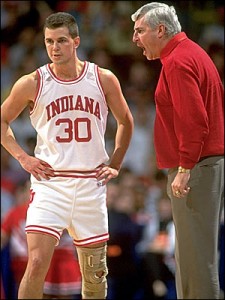 The Associated Press reports on Friday that Todd Leary has plead guilty to charges associated with the mortgage fraud scheme he was charged in.
Thirty-nine-year-old Leary of Carmel pleaded guilty in court Thursday to a felony charge of misappropriating title insurance escrow funds. His agreement with Allen County prosecutors calls for him to face up to three years in prison, with that cut in half if he pays nearly $295,000 in restitution before his October sentencing hearing.
If Leary faces jail time in the coming months, it stands to reason he won't return as a radio analyst for IU next season, if that decision hasn't already been made.
Related:
+ Leary enters plea of not guilty, surrenders passport
+ IU releases statement regarding Leary matter
+ Leary faces 17 felony charges in real estate scheme
We're a bit late on this one, but Todd Leary, the ex-IU guard and radio commentator who was arrested last week at Assembly Hall on 17 felony charges related to a scheme to misappropriate title funds, appeared in court on Tuesday. A judge entered a plea of not guilty for Leary, according to the Associated Press:
A judge has made a preliminary not guilty plea for a former Indiana University basketball player charged in connection with an ex-business partner's multimillion-dollar fraud scheme.The plea was entered for 39-year-old Todd Leary of Carmel during an Allen County court hearing Tuesday.
Meanwhile, Rebecca S. Green of the Fort Wayne Journal-Gazette, who has been all over this story, reports that Leary surrendered his passport:
A clean-shaven Leary, 39, of Carmel, stood next to his Indianapolis-based attorney, Ginny Maxwell, in a dark suit with his hands in his pockets as Allen Superior Court Magistrate Robert Schmoll asked him whether he understood the charges.

Allen County Deputy Prosecutor Tim McCaulay asked Schmoll to order Leary to surrender his passport while the case is pending. Schmoll granted the request.
Leary remains free on $60,000 bond.
UPDATE (10:05 a.m.): The Hoosier Scoop has the mugshot and probable cause affidavit. Meanwhile, Rebecca S. Green of the Ft. Wayne Journal-Gazette reports that Leary was transported to Allen County and later released on $60,000 bond Friday evening. He's due in court Tuesday.
UPDATE (5:49 p.m.): Bob Agramonte, vice president at Learfield Sports, just left a voicemail on my cell phone saying that the statement released by IU also reflects Learfield's current stance on the matter, and that they have "no further comment at this time on the Todd Leary situation."
Per J.D. Campbell, assistant athletic director for media relations and head of men's basketball media relations:
"Indiana University Athletics and Learfield Sports, the Hoosiers' multimedia rights holder which oversees the Indiana University Radio Network, recognize the recent events involving color analyst Todd Leary. Clearly, both parties are concerned for Todd and his family as he deals with this matter. We will continue to move forward with the current broadcast team of Don Fischer and Joe Smith calling IU basketball games through the remainder of the season."
The statement also goes on to say that any future inquiries should be directed to Learfield Sports. At this point, however, what that future holds is unclear. Again, we'll have more for you as this story develops.
This has been a season devoid of predictability for Indiana on the court, but nothing could compare to this.
Former Hoosier Todd Leary, a color commentator on IU's radio broadcast team alongside play-by-play man Don Fischer, was arrested Thursday evening on 17 felony counts "in connection with a scheme to misappropriate real estate title funds," according to the above-linked report from the Fort Wayne Journal-Gazette.
I'm not great with the legalese, I just got home from a Notre Dame game and it's my birthday, so I'm just going to quote heavily from this report, which would frankly be a better plan of action no matter the circumstance:
Leary once worked for former title insurance broker Joseph Garretson, who pleaded guilty this week in Allen Superior Court to conversion or misappropriation of title insurance escrow funds, corrupt business influence and unlawful loan origination activities in a scheme that court documents say totaled $2.7 million in losses.

IU police arrested Leary – an analyst for the Indiana University Radio Network – on Thursday evening, and he was booked into the Monroe County Jail in Bloomington about 6:45 p.m., 15 minutes before IU's home game against Purdue.

Leary, 39, of Carmel, is accused of conspiring with Garretson between July 2008 and February 2009 to commit a variety of felonies, including conspiracy to commit conversion or misappropriation of title insurance escrow funds, conspiracy to commit theft and conspiracy to corrupt business influence. The majority of the charges are Class C felonies, with penalties of up to four years in prison each.
So yea, not good. Not good at all. I take from the report — though this isn't a claim to fact, I'm just surmising — that Leary was actually arrested at Assembly Hall, since it apparently happened close to game time and IU police were the ones who actually took him in, according to the report.
That same report also states that former Hoosier Brian Evans, who is a co-owner of the Uncle D's franchise on Kirkwood Avenue in Bloomington, cooperated with investigators in some fashion.
I won't opine too much on this; it's radioactive on its own, just read the report for yourself. I would imagine we'll have more for you as this story develops.