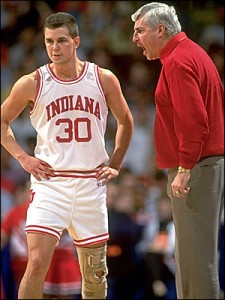 The Associated Press reports on Friday that Todd Leary has plead guilty to charges associated with the mortgage fraud scheme he was charged in.
Thirty-nine-year-old Leary of Carmel pleaded guilty in court Thursday to a felony charge of misappropriating title insurance escrow funds. His agreement with Allen County prosecutors calls for him to face up to three years in prison, with that cut in half if he pays nearly $295,000 in restitution before his October sentencing hearing.
If Leary faces jail time in the coming months, it stands to reason he won't return as a radio analyst for IU next season, if that decision hasn't already been made.
Related:
+ Leary enters plea of not guilty, surrenders passport
+ IU releases statement regarding Leary matter
+ Leary faces 17 felony charges in real estate scheme
Filed to: Todd Leary