Mississippi Valley State Archive
If you've been reading Inside the Hall since last season, you know we made an effort a year ago to dive into the four factors to winning the game of basketball: effective field goal percentage, turnover percentage, offensive rebounding percentage and free throw rate.
The four factors, established by Dean Oliver, are building blocks for Ken Pomeroy's efficiency formula, which we'll also be using as the season moves along. It's important to mention, as noted by Stat Sheet, that the factors are not weighted equally. Research shows the best way to weight the numbers is as follows: shooting (40 percent), taking care of the ball (25 percent), offensive rebounding (20 percent), and getting to the line (15 percent). That said, here's a look at the four factors in last night's 71-54 win:
Free throw rate: The Hoosiers did a solid job of getting to the line (29 attempts), but left nine points there as well. Nonetheless, close to a 50 percent free throw rate is a very good number and came close to matching the output for the Wright State game, where the Hoosiers had a free throw rate of 52.5 percent.
Turnover percentage: The 23.3 percent mark here was IU's best performance of the young season. Making it more impressive was the helter skelter style of play that the Delta Devils tried to employ which many believed would give IU ball-handling woes. Through IU's first two games, only eight teams ranked worse nationally in turnover percentage, so this is a number to keep close tabs on as the season moves along. The Hoosiers must get better here, period.
Effective field goal percentage: This was a mediocre performance by both teams, but for IU, it's nice to see a blowout win despite the woeful shooting. In the first two games, the Hoosiers were remarkable in this category — 64.9 percent against Florida Gulf Coast and 65 percent against Wright State. That won't happen too often. Bottom line here is that while IU didn't shoot well, it was negated by the fact that MSVU shot even worse (41 percent effective field goal percentage).
Offensive rebounding percentage: A very solid performance here — 38.1 percent — but just 11 second chance points is a bit low. This was a strength for IU a season ago (35 percent, 89th nationally), but it was also a bit negated by the fact that the Hoosiers allowed opponents to rebound at a 35.4 percent clip.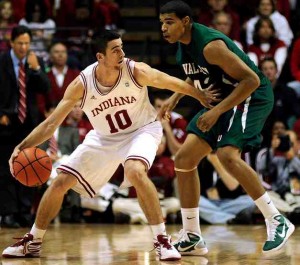 Notes on a 71-54 win over Mississippi Valley State:
There was trepidation among the ITH faithful before this one.
We worried Sean Woods, a Rick Pitino disciple, would have his Delta Devils — about as fantastic a team nickname as they come, by the way — running up and down the court, taking it to the Hoosiers, a group playing its third game in five nights.
It wasn't always a sure thing. IU, against a controlled full-court defense from Mississippi Valley State to start the game, were taking contested threes too early in the shot clock, and turnovers created some issues in the first half as well. But it's beginning to become clearer and clearer that these Hoosiers are too experienced, too talented, give too much effort and have too much heart to let some team from the SWAC give them serious trouble inside Assembly Hall.
Tonight's win was grabbed on the strength of a second half where IU clamped down hard on D and got out on the break. (Defense creating offensive!) The Hoosiers scored 32 points off turnovers tonight.
IU now stands at 3-0, the first time its found itself at such a mark in the Tom Crean era. And with another three games against more-than-beatable opponents looming, it would be a letdown if IU didn't head into the ACC-Big Ten Challenge against Boston College at 6-0.
It's not always perfect. It's not always pretty. There will be tougher tests ahead, especially when Big Ten play rolls around.
But it's taking care of business when business should be taken care of — something this team in Crean's third year is proving we should come to expect, not see as a pleasant surprise.
Thanks to James Brosher for this fantastic set of photos from tonight's 71-54 win:
Comments from head coach Tom Crean following IU's 71-54 win over Mississippi Valley State on Tuesday night at Assembly Hall. The comments are from Crean's postgame radio interview with Don Fischer:
On the win:
"It was really was (a good win), especially on the defensive end. They got off to a good start and our guys just held in there. And that's one of those games that a year ago, we could have been down 10 or 12 at halftime, the way we were missing shots. But we just kept guarding and when you look at the last 45 seconds of the first half to the 10:15 mark of the second half, we were on a 27-3 run. And that's really, really, really good defense. We had 44 deflections on the night. We won the field goal percentage defense battle, we won the rebounding battle, we won the points off of turnovers battle and that's the kind of stuff we have to do to be successful."
On being able to hold Mississippi Valley State scoreless for such a long stretch:
"That says a lot about our team because we have a ways to go on the offensive end as far as the synergy of playing together and working things out. And they were a good team, I don't think we were wrong on that at all. But the bottom line was the guys really, really followed the scouting report and they knew it began and ended with defense and rebounding. And those are the things that are really big for us. I think something I've never seen, Victor Oladipo was plus 30 on the plus-minus tonight and only played 15 minutes. That says a lot. We had a lot of guys that were real high. Jeremiah Rivers, again, at plus 11. Bobby Capobianco and Christian plus 14, Jordan Hulls plus 11, Verdell plus 10. But for Victor to be plus 30, my goodness, that's excellent."
On the three things the team can control each night:
"The thing that was said in the pregame. No matter how we play or no matter what the style of play is that we're facing, three things we have to control every night. Number one, we have to control our attitude. We have to control our mindset. And we have to control our unselfishness. And I thought we did a pretty good job in all three of those areas."
Player postgame interviews: