The Minute After: Mississippi Valley State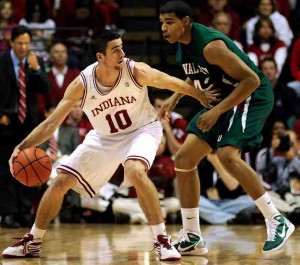 Notes on a 71-54 win over Mississippi Valley State:
There was trepidation among the ITH faithful before this one.
We worried Sean Woods, a Rick Pitino disciple, would have his Delta Devils — about as fantastic a team nickname as they come, by the way — running up and down the court, taking it to the Hoosiers, a group playing its third game in five nights.
It wasn't always a sure thing. IU, against a controlled full-court defense from Mississippi Valley State to start the game, were taking contested threes too early in the shot clock, and turnovers created some issues in the first half as well. But it's beginning to become clearer and clearer that these Hoosiers are too experienced, too talented, give too much effort and have too much heart to let some team from the SWAC give them serious trouble inside Assembly Hall.
Tonight's win was grabbed on the strength of a second half where IU clamped down hard on D and got out on the break. (Defense creating offensive!) The Hoosiers scored 32 points off turnovers tonight.
IU now stands at 3-0, the first time its found itself at such a mark in the Tom Crean era. And with another three games against more-than-beatable opponents looming, it would be a letdown if IU didn't head into the ACC-Big Ten Challenge against Boston College at 6-0.
It's not always perfect. It's not always pretty. There will be tougher tests ahead, especially when Big Ten play rolls around.
But it's taking care of business when business should be taken care of — something this team in Crean's third year is proving we should come to expect, not see as a pleasant surprise.
Other thoughts:
+ Will Sheehey played the Victor Oladipo role tonight. (Though Vic was solid too, of course.) Sheehey was active, flashed some athleticism and just seemed to always be there. Highlights included his steal for a breakaway lay-up in the second half and his kinda-sorta alley-oop for IU's last score of the evening.
He finished with nine points (4-of-7 shooting, 1-of-3 from the line) five boards and two steals in 11 minutes.
+ As mentioned above, the turnover bug infected the Hoosiers tonight. But there was progress. Only 17 overall, instead of the 20-plus we saw in the first two contests of the season. But Verdell Jones III continued to have issues with the ball in his hands. He finished the night with seven turnovers, matching the total he had in his debut Sunday night against Wright State.
In the second half, Crean favored Jordan Hulls with point-guard duties, and it was more poetic and less erratic — that behind-the-back dish from Hulls to Oladipo for an and-1 was pretty.
Hulls finished with only one turnover on the evening.
It'll be worth monitoring ball-handling duties in IU's next contest.
+ Tom Pritchard stayed out of foul trouble tonight, and against a team that didn't overpower him with size, was active and effective for much of his run.
He may not have flashed much offense, but if he can continue to do the other things with vigor — setting screens, defending the paint, grabbing boards, altering shots — it'll soften the blow with Guy Marc-Michel's return still a mystery.
(Photo credit: James Brosher)
Filed to: Jordan Hulls, Mississippi Valley State, Verdell Jones, Will Sheehey