The Minute After: Louisville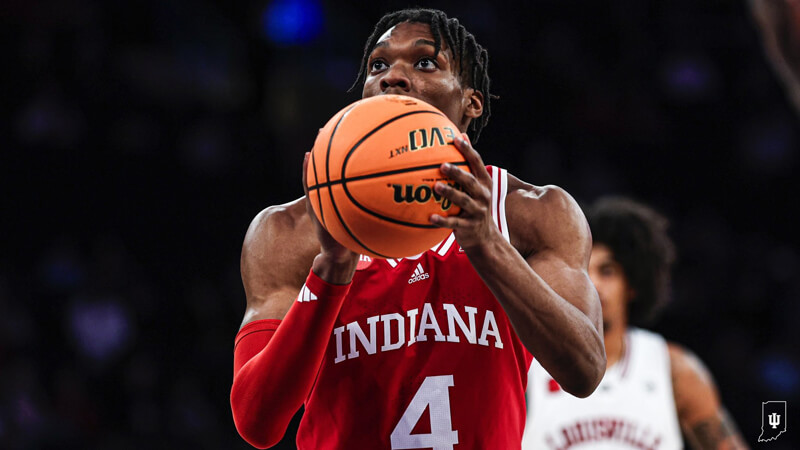 Thoughts on a 74-66 win against the Cardinals:
Did you have a 2-3 zone saving the day for the Hoosiers in this one? Because that's exactly what happened.
We'll get to that. But first: Indiana actually put together its most competent stretch of basketball on the defensive end over the first 25 minutes of the contest. The sloppy principles and miscommunications weren't as glaring this evening. And for a team that has struggled to contain their opponent on the offensive glass, Louisville presented a huge challenge in that department. The Cardinals entered the game with an offensive-rebounding percentage ranking 16th in the country. But from the onset, Indiana was much more locked in there, too. Late in the first half, Kel'el Ware even picked up a foul looking for box-out position.
By the game's end, the Hoosiers held the Cardinals to just .90 points per possession and an offensive-rebounding percentage of 20. Those are season bests. That's progress. You'll take it.
And yet, after amassing a nine-point lead with 14:44 to go, things started to fall apart. That's because Louisville freshman Ty-Laur Johnson started to carve up Indiana's defense off the perimeter. He got into the lane with ease. He found Tre White for a 3-pointer. A missed lay-up by Ty-Laur Johnson turned into an offensive-rebound putback for JJ Traynor. He assisted on a Mike James dunk and then a Kaleb Glenn lay-up. A jumper from Ty-Laur Johnson put the Cardinals on top by 1. Another assist for a Glenn dunk gave Lousiville a 3-point lead. Louisville and Ty-Laur Johnson kept coming. After Ty-Laur Johnson was fouled by Xavier Johnson and made both his free throws on a one-and-one, all of a sudden the Cardinals had a seven-point lead with 9:04 to go. In 5:40 of game clock, Lousiville had ripped off a 21-5 run and looked unstoppable.
After a Trey Galloway bucket, Ty-Laur Johnson got fouled by Ware, sending both teams to their benches for the under-8 media timeout. It was here where Mike Woodson had seen enough of Ty-Laur Johnson and Indiana's inability to stop him. After he knocked down both free throws on the one-and-one to punch Lousiville's lead back out to seven, Indiana went to a 2-3 zone. It knocked the Cardinals completely out of their rhythm. They looked lost.
"We started playing a little too tentative," Louisville guard Skyy Clark said post-game.
So tentative in fact that the Cardinals only mustered six points the rest of the game. Indiana, meanwhile, ended the game on a 20-6 run to close this thing out. Malik Reneau, saddled by foul trouble in this one, came alive late, scoring 10 of Indiana's final 19 points. Xavier Johnson made 5-of-6 from the line at the end of the game to seal it. Reneau also stole the ball and passed it ahead for a Xavier Johnson score in transition during the final run.
Before Reneau and Xavier Johnson closed this one out, Indiana's bench played well. With Reneau and Ware in some foul trouble, Payton Sparks helped steady things inside. The Ball State transfer used his size to muster an efficient 4-of-5 shooting performance for nine points. He also chipped in three rebounds in his 14 minutes of action. Kaleb Banks played within himself, made hustle plays and stuffed the stat sheet (four points, eight rebounds, three assists, three blocks, three steals). Anthony Walker also played more in control and scored 11 points on 3-of-7 shooting, including a 5-of-5 mark from the line. Overall, the Hoosiers had a good night from the charity stripe, making 25-of-34 (73.5 percent).
The 3-point shooting, however, remains poor. IU actually got more attempts in the flow of the offense and had some really good looks, but the Hoosiers just couldn't convert. Galloway went 0-of-4 and started to look tentative to shoot as the game progressed. Mackenzie Mgbako worked through early foul trouble on his way to getting three looks from distance, but he missed them all. Walker missed two. Reneau missed one. Xavier Johnson made Indiana's lone 3-point bucket on a night the Hoosiers shot just 1-of-11 (9.1 percent).
"We really hadn't practiced it a lot, but I thought our guys were in the right spots, were after the shooters and then when the ball went up we were able to rebound the ball," Woodson said on the post-game radio show of Indiana's zone.
Credit Woodson for making the adjustment when things were slipping away. While it's not his preference — and was a sign of a team in desperation — it saved the Hoosiers from a disastrous loss.
(Photo credit: IU Athletics)
Filed to: Louisville Cardinals