Five takeaways from Indiana's exhibition win against Marian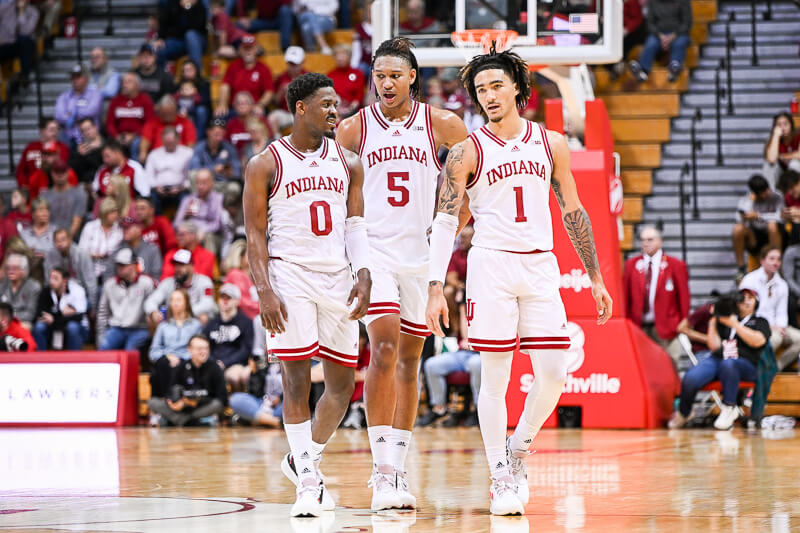 Indiana won its first of two exhibition games comfortably on Saturday afternoon. The Hoosiers raced to an 11-0 lead and easily defeated Marian University, 78-42.
Here are five takeaways from the exhibition win against the Knights:
Race Thompson didn't hesitate from the perimeter
Improving its 3-point shooting percentage is important for Indiana.
The Hoosiers have been a middling 3-point shooting team since Tom Crean was fired in 2017. Last season, Indiana shot only 33.3 percent from distance, which ranked 200th nationally.
On Saturday, Indiana connected on eight of its 21 attempts from the perimeter. Three of those eight makes came from Race Thompson, who shot only 15-of-55 from distance last season.
If Thompson – along with Miller Kopp – can help space the floor around Trayce Jackson-Davis this season, it could lessen the number of double teams IU's All-American sees.
Saturday's numbers won't mean anything once the regular season starts, but it was nonetheless encouraging for Thompson to knock down 3-point shots with confidence.
Malik Reneau's footwork and post-moves are college ready
Freshman Malik Reneau isn't getting the same preseason notoriety his close friend and teammate Jalen Hood-Schifino is receiving.
On Saturday, however, Reneau looked like an instant impact contributor.
In just under 19 minutes, Reneau went seven of 10 from the field for 14 points. He also grabbed 11 rebounds and had a blocked shot.
The way Reneau scored is what stood out from his performance on Saturday. Marian doesn't boast the athleticism or size Indiana will see during the regular season.
But this wasn't Reneau simply overpowering an interior opponent. When he caught the ball in the post, he displayed advanced footwork and post-moves that should serve him well against any opponent. His presence on the roster is a significant upgrade from what Indiana had last season behind Jackson-Davis and Thompson.
Xavier Johnson struggles from the field
It was an afternoon to forget offensively for Xavier Johnson.
The fifth-year point guard shot only 2-of-11 from the field, including an 0-of-3 performance from beyond the 3-point line.
Johnson finished with four points, four rebounds, three assists, two steals and two turnovers in 23 minutes.
Even though he struggled with his shooting, Johnson found other ways to impact the game. His ball pressure was excellent. Mike Woodson repeatedly barked at him to pick up the ball near half-court and Johnson's pressure was relentless.
Postgame, Woodson said he was happy with his team's defense. Despite his offensive struggles, Johnson's work at the point of attack defensively showed how valuable he is even when his shots aren't falling.
CJ Gunn shows off 3-point stroke
Freshman CJ Gunn came to Bloomington billed as a capable perimeter shooter.
While it may take a season or two before Gunn plays major minutes, his ticket to playing time this season is defending and making open 3-pointers.
On Saturday, he showed off his effortless 3-point stroke. Gunn's release is quick and efficient. And on two of his three attempts, he found the bottom of the net.
It's hard to know what Gunn's role might look like once Tamar Bates is healthy. But for a program that hasn't been able to make 3-pointers consistently for years, Gunn may be hard to keep off the floor.
Defense locks up overmatched Marian
Indiana had the Big Ten's best defense last season in year one of the Woodson era.
Woodson admitted postgame that his team still has a long way to go, but Saturday was a nice start defensively. The Hoosiers limited the Knights to only .65 points per possession and an effective field goal percentage of 32.
Indiana recorded five blocked shots to go along with 11 steals. Most of what Marian managed offensively was off one-on-one plays late in the shot clock.
"Our defense, in terms of how we communicated (impressed me), Woodson said postgame. "You know, it's tough when you add your young guys to your team, and they have to be a big part of it this season and I'm on them constantly. You guys have to be a sponge. You have to absorb everything that we are trying to get done on both ends of the floor.
"I thought tonight they did a hell of a job in terms of our switching. We got beat a few times but for the most part, they were competitive, and that's all I can ask."
Filed to: Marian University Knights