6-Banner Sunday: Blue Ribbon, Lindy's Sports pick Indiana to win the Big Ten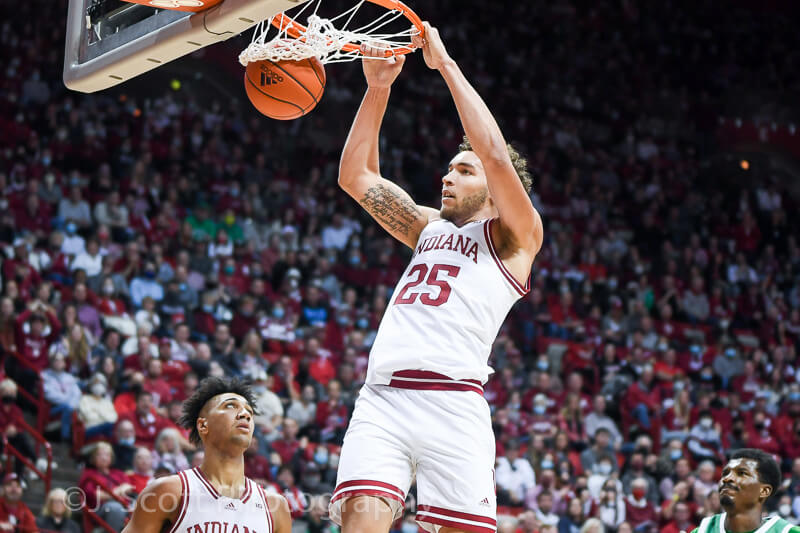 6-Banner Sunday is Inside the Hall's weekly newsletter in partnership with The Assembly Call. More than 9,000 Indiana fans receive the newsletter each week. In addition to appearing each week on the site, you can also opt to receive 6-Banner Sunday by email. A form to subscribe via email is available at the bottom of this week's 6-Banner Sunday.
Welcome to another edition of 6-Banner Sunday, a joint production between The Assembly Call and Inside the Hall where we highlight the five most essential IU basketball stories of the past week, plus take a look at how the other IU sports programs are doing.
While the news for Indiana basketball was not quite as big as last week when the schedule was released, there were nonetheless some noteworthy items to come up from the preceding days. Joining what several other big-time programs have done, IU announced an upcoming pro day to coincide with the weekend of Hoosier Hysteria.
Also, the hype and pressure continue to build as two more preseason publications picked the Hoosiers to win the Big Ten. Looking further off into the future, IU's top remaining target for 2023 has announced the final four schools he is considering and the Hoosiers made the cut. Also, Assembly Call had new shows on Wednesday and Thursday.
Outside of basketball, it was a really good week for IU athletics in general with solid wins in several sports.
• IU basketball announces first ever Pro Day
• Indiana picked to win the Big Ten by Blue Ribbon, Lindy's Sports
• IU's top 2023 recruiting target announces final four schools
• AC Radio and Doing the Work
• IU football comes back for thrilling win over Western Kentucky
• Hoosier Roundup
Banner #1 – IU basketball announces first ever Pro Day
It has been known for weeks that Hoosier Hysteria would be on Friday, October 7. However, that is not the only big-time event to take place for IU basketball now on that date as a Pro Day will take place a few hours earlier.
This has been done by several top schools in the last few years and the cream and crimson are now joining in on doing it. There will be invites for all 30 NBA teams to have scouts in attendance. Star center Trayce Jackson-Davis is the obvious candidate for a career in professional basketball but a few others including Tamar Bates, Jordan Geronimo, Jalen Hood-Schifino, and Malik Reneau could also play beyond college.
Banner #2 – Indiana picked to win the Big Ten by Blue Ribbon, Lindy's Sports
Despite the tough schedule released last week, two more preseason publications picked the Hoosiers to come in first in the conference joining several others that have hyped up the team for 2022-2023. The two sources to do so were the Blue Ribbon College Basketball Yearbook and Lindy's Sports and both named Trayce Jackson-Davis as the player of the year in the Big Ten.
Despite so many picking the cream and crimson to be the best team in the league, Inside the Hall's William McDermott looks at how realistic this is given IU's schedule is harder than other competitors.
Banner #3 – IU's top 2023 recruiting target announces final four schools
After several high-profile recruiting misses for 2023, the Hoosiers are down to one top target in big man Arrinten Page. While IU seemed like the front runner for him for weeks, three other schools (Cincinnati, Miami (FL), and USC) may have closed the gap.
Page announced he is considering all four and should make his decision soon. IU has two recruits for 2023 already with Gabe Cupps and Jakai Newton and may turn to the transfer portal for more regardless of Page's decision. This is because several players (Xavier Johnson, Miller Kopp, and Race Thompson) will graduate after 2022-2023 and will exhaust their college eligibility. Also, Trayce Jackson-Davis is likely to head to the NBA with a degree in hand.
Banner #4 – AC Radio and Doing the Work
Assembly Call had two new shows this week with both an Assembly Call Radio episode Thursday and Doing the Work on Wednesday. AC Radio discussed recruiting and took a detailed look at all the Big Ten coaches.
Meanwhile, Doing the Work had a special guest in Amanda Foster to talk about last week's schedule release. Foster, who plans to increase women's basketball coverage for Inside The Hall for this upcoming season also had an article Tuesday on the site about the three impact transfers (Alyssa Geary, Sydney Parrish, Sara Scalia) joining the team.
Banner #5 – IU football comes back for thrilling win over Western Kentucky
It looked bleak for a while, but the Hoosiers picked up a nail-biting overtime win against Western Kentucky to improve to 3-0 and get halfway to bowl eligibility. They also passed last season's total victories despite some ugliness in the first three weeks of the season.
Banner #6 – Hoosier Roundup
Football was not the only IU team to have a successful week as baseball, field hockey, men's soccer, volleyball, and women's soccer were also victorious in the last few days.
• Men's soccer got its first win at the Butler Bowl in Indianapolis in 11 years knocking off a ranked Bulldogs team 2-1. They also moved around a few contests later in the season to accommodate the rescheduling of a previously rained-out game against Notre Dame.  
• Women's soccer knocked off an overmatched squad Trine 5-0 and tied Memphis.
• Baseball brought back its dominating offense from last season to overwhelm Eastern Illinois in a fall exhibition game.
• Volleyball picked up victories in two of their three matches this week.
• Field hockey defeated Bellarmine and fell to Iowa.
• Cross Country competed at the Coaching Tree Invitational.
• Wrestling added a coach to the staff.
Thanks for your continued support for The Assembly Call and Inside the Hall. We'll be back next weekend with a new roundup.
Now go enjoy yourself a 6-banner Sunday.
Aaron (Ari) Shifron
Assembly Call Contributor
Filed to: