6-Banner Sunday: Freshmen meet the media, 2023 recruiting board released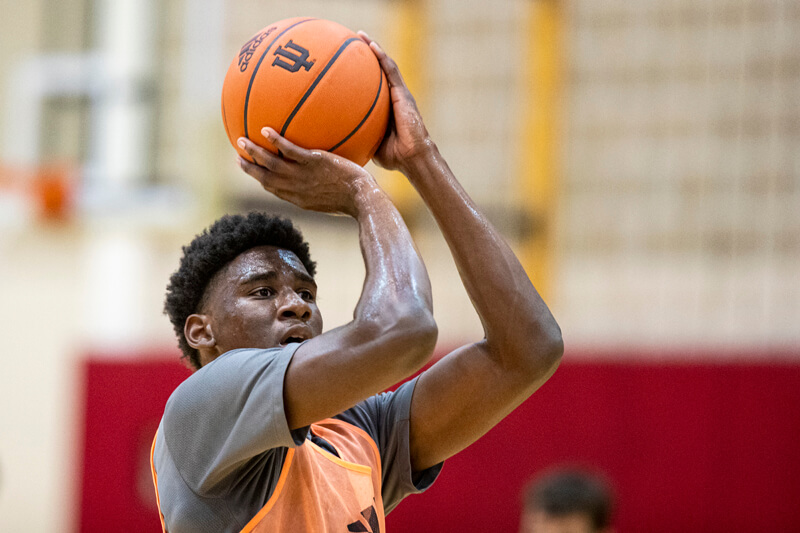 6-Banner Sunday is Inside the Hall's weekly newsletter in partnership with The Assembly Call. More than 9,000 Indiana fans receive the newsletter each week. In addition to appearing each week on the site, you can also opt to receive 6-Banner Sunday by email. A form to subscribe via email is available at the bottom of this week's 6-Banner Sunday.
Welcome to another edition of 6-Banner Sunday, a joint production between The Assembly Call and Inside the Hall where we highlight the five most essential IU basketball stories of the past week, plus take a look at how the other IU sports programs are doing.
After last week's flurry of conference realignment activity, the news slowed down a bit this week. There was still plenty of speculation about which schools may bolt their current conferences for greener pastures, but no moves have been officially announced yet.
Which made this a fairly typical quiet July week in the world of Indiana basketball, but with still enough headlines, links, news, and notes to fill an edition of 6-Banner Sunday.
• CJ Gunn and Kaleb Banks meet with the media
• IU coaches hit the road for another weekend of recruit evaluations
• Race and Trayce support the Turnstone Center's Push, Paddle, Pedal Challenge
• Crimson Cast's four episode deep dive on conference realignment
• Inside the Hall introduces its student interns for the 2022-23 season
• Hoosier Roundup
Banner #1 – CJ Gunn and Kaleb Banks meet with the media
While top-30 prospects Jalen Hood-Schifino and Malik Reneau have gotten most of the headlines and hype, and are assumed to be rotation players right away, the other two members of Indiana's 2022 recruiting class should not be slept on.
CJ Gunn and Kaleb Banks met with the media this week, sharing their early experiences and impressions as IU basketball players. Watch CJ here, and watch Kaleb here.
It's a lot of the stuff you'd expect, with both discussing the adjustment to college defense and conditioning as the biggest transitions, but also some other quotes and anecdotes that are pretty illuminating. CJ discussed the intensity of backyard hoops with his family, and Kaleb noted that he is still working as a 3, even though many project his future college role as a stretch 4.
CJ was also the subject of a couple feature stories worth your team this week, one from Inside the Hall and one from Dustin Dopirak of the Herald Times:
• ITH: CJ Gunn's two-way skill set makes him an intriguing part of Indiana's future
• HT: CJ Gunn has the skills IU needs in a shooting guard. Now he's working on his body.
Banner #2 – IU coaches hit the road for another weekend of recruit evaluations
This weekend marks the beginning of the July evaluation period, so as expected IU's coaches were out in full force making their presences felt and keeping a close eye on some of their top 2023 and 2024 prospects.
One such prospect is Jamie Kaiser, who Jeff Borzello noted was one of the early standouts at the adidas event. Indiana went three-deep for one of Kaiser's games, as reported and surreptitiously photographed by Jeff Goodman.
If you want to get up to speed on who Indiana's staff is targeting, here is the latest recruiting board from Inside the Hall.
Banner #3 – Race and Trayce support the Turnstone Center's Push, Paddle, Pedal Challenge
Race Thompson and Trayce Jackson-Davis are ambassadors for Turnstone Center as part of their NIL partnership with Hoosiers For Good. Turnstone Center, based in Fort Wayne, helps adults and children with disabilities. This summer, they are hosting their annual Push, Paddle, Peddle Challenge to raise money and help encourage participants to have an active summer outdoors.
On Saturday, Race and Trayce participated in a meet-and-greet at Turnstone. And their participation is what alerted us to the Push, Paddle, Pedal Challenge, which we decided to participate in as an Assembly Call community.
We set a goal of raising $2,334 — one dollar for each point that Race and Trayce have scored in their IU careers. And less than a month into our donation drive, we hit our goal! So far, we've raised $2,465 for Turnstone.
If you want to donate to support a great cause , click here.
Banner #4 – Crimson Cast's four episode deep dive on conference realignment
You may have noticed that we did not host an episode of Assembly Call Radio this week. With so little news, it seemed like a good week to take off. Plus, our partners at the Back Home Network produced plenty of content about conference realignment to keep everyone's ears busy through the weekend.
If you missed any of Galen Clavio's four episodes over at Crimson Cast examining the many different angles of conference alignment, get caught up now. The highlights are Galen's ability to provide the historical context for what we're seeing now, as well as some interesting ideas for the paths conference realignment may follow moving forward.
Banner #5 – Inside the Hall introduces its student writers for the 2022-23 season
It was also a big week at Inside the Hall, where Alex introduced the two student writers who will be helping him cover IU men's basketball this season. Every year it seems like ITH introduces us to at least one or two new, smart, and interesting voices on the IU beat, and I trust this year will be no different.
Meet the interns:
• Introducing William McDermott
• Introducing Amanda Foster
Banner #6 – Hoosier Roundup
• Robbie Bender earned medalist honors to lead U.S. Amateur qualifiers.
• Brendan Burns and Tarrin Gilliland were named IU Athletes of the Year.
• Men's golf unveiled its 2022-23 season slate.
• Wrestling added a new transfer.
• And perhaps most interestingly … IU athletics announced a partnership with Legends Global Merchandise to provide "a brand-new, world-class experience" and an expanded merchandise line for long-suffering IU fans who can never seem to find the gear we really want. Hopefully Legends can deliver on their bold promise.
Thanks for your continued support for The Assembly Call and Inside the Hall. We'll be back next weekend with a new roundup.
Now go enjoy yourself a 6-banner Sunday.
Jerod Morris
Filed to: