Introducing Amanda Foster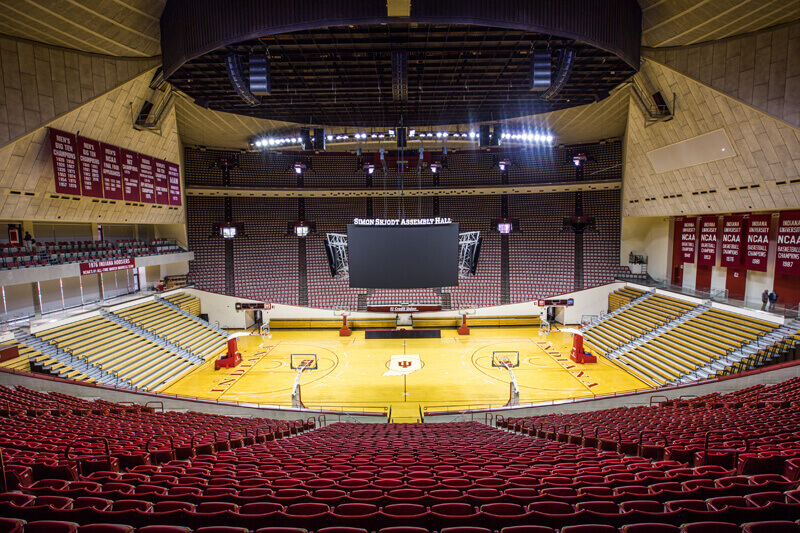 Editor's note: We're excited to announce that we've hired a new writer, Amanda Foster, to the Inside the Hall staff. Amanda is a junior at Indiana University at the media school. Amanda's work will begin appearing on Inside the Hall later this month.
I have a confession to make. Before I came to Bloomington, I had never watched an Indiana basketball game (unless you count Hoosiers).
My father grew up in Indiana and went to IU for graduate school, but has never stepped foot in Assembly Hall (I'm actively working on changing that). He's told me stories about the "glory days" of Hoosier basketball, reminiscing about Bob Knight and Mike Woodson, and I know all about his high school basketball team, but that's where the buck stops.
Now, don't get me wrong. I watched college basketball before I came to IU. I went to high school overseas, in Europe, and have vivid memories of staying up until all hours of the night to watch the NCAA tournament. But I didn't have a team I really connected with, and wasn't anything close to an avid fan.
Then, I touched down in Indiana, and we all know what basketball is in this state. Now, I'm entering my junior year and couldn't imagine not watching Indiana basketball.
My freshman year at IU was heavily impacted by COVID-19; all of my classes were online and no one could attend any sporting events. I joined the Indiana Daily Student over the summer, planning to cover volleyball, and then all sports got moved to the spring. With that, the volleyball schedule took up most of my time and I didn't think too much about the men's basketball team.
I started at the IDS with no prior reporting experience whatsoever and spent much of my freshman year simply learning how to navigate the sports media world. By the end of that first year, I knew I truly loved writing about sports and wanted to continue to push myself in the field.
I covered men's soccer in the fall of my sophomore year, quickly learning all of the intricacies of soccer that I wasn't aware of. I reported on the team through their postseason run, writing about stars like Victor Bezerra and Roman Celentano while also gaining insight into the team as a whole. In the process, I also became increasingly confident in my skills.
Through it all, however, my dream sport to cover was baseball — it has been since my junior year of high school, when I knew I wanted to go into sports media as a career. So when basketball beat reporter applications rolled around in the fall of my sophomore year, I hesitated. I wanted to report on the baseball team, with the idea of honing those skills for what I wanted my future career to be.
Luckily, I changed my mind. I applied for the women's basketball beat, got the position, and had some of the best experiences of my life. I reported on every single game, following the Hoosiers to Indianapolis for the Big Ten Tournament and Bridgeport, Connecticut for the Sweet Sixteen. I got to write about Ali Patberg's legacy, Aleksa Gulbe's breakout season, Mackenzie Holmes' return from injury and saw history made.
My family can attest to the fact that I lived and breathed that team, and I'm sure they quickly got tired of me turning every conversation into one about basketball.
My dad, forever a Hoosier at heart, was the one I could always have conversations with, and there was a good chance he would relate the topic back to the Indiana team he watched when he was younger and teach me something new.
The arrival of Mike Woodson sparked a newfound interest in Indiana basketball, men's and women's, for myself and my family last year. Watching his first year of coaching with my friends and family, alongside covering the women's team, was how I truly found my love for the sport and how I know as much as I do now.
If someone told me I would be reporting on Indiana basketball within two years of starting in the sports media world, I would have laughed and said there's no way I could do that. But now, I know I can — and I will, to the best of my ability. Along with reporting on the men's team, I'll also be publishing a weekly article about the women's team — a team of their caliber deserves just as much attention, and I intend to keep up the coverage I started last year. (You can follow along for any Indiana basketball news (and other sports news, from time to time) on my Twitter, @amandafoster_15!)
It's incredibly cliché to say Indiana basketball is just different from anything else, but I've seen firsthand that it is. And with the way this Indiana team is built for this season, I can't wait to show even more people that here, it's more than just basketball.
Filed to: