What to expect: Wyoming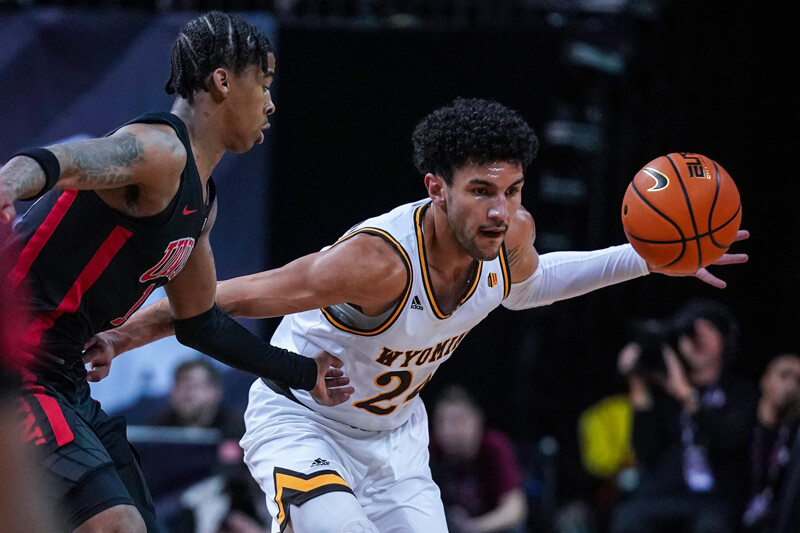 Indiana will open play in the 2022 NCAA tournament on Tuesday night against Wyoming at the University of Dayton Arena. 
The Cowboys are 25-8 under second-year coach Jeff Linder and have dropped five of their last nine games. Tuesday's game is scheduled to tip at approximately 9:10 p.m. ET on truTV.
Indiana's NCAA tournament drought is over. The Hoosiers were selected into the field of 68 as one of the last four teams in and are ticketed for a Tuesday game in Dayton.
To advance into a round of 64 game in Portland on Thursday against Saint Mary's, Indiana will have to get past Mountain West Conference foe Wyoming.
MEET THE COWBOYS
The 44-year old Linder, a native of Denver, has amassed a 39-19 record over his first two seasons in Laramie. In the season before he took over (2019-20), the Cowboys were just 9-24 overall and finished 246th in the KenPom ratings.
At the forefront of the turnaround has been the duo of Hunter Maldonado (pictured), a fifth-year senior point guard and Graham Ike, who like Linder is in his second season in Laramie.
As we mentioned in our first look at Wyoming, the Cowboys run a post-up heavy offense that revolves around Maldonado and Ike putting opposing defenses into mismatches.
While Ike is Wyoming's leading scorer, Maldonado makes things go for the Cowboys. A 6-foot-7 point guard, Maldonado averages 18.4 points, 6.3 assists and 5.8 rebounds in 37.2 minutes per game. He shoots 49.5 percent from the field and has the 10th highest assist rate in the country. Maldonado is great at getting to the free throw line and converts at a solid clip. His free throw rate (FTA/FGA) ranks 71st nationally and he's making 71.6 percent of his attempts from the stripe.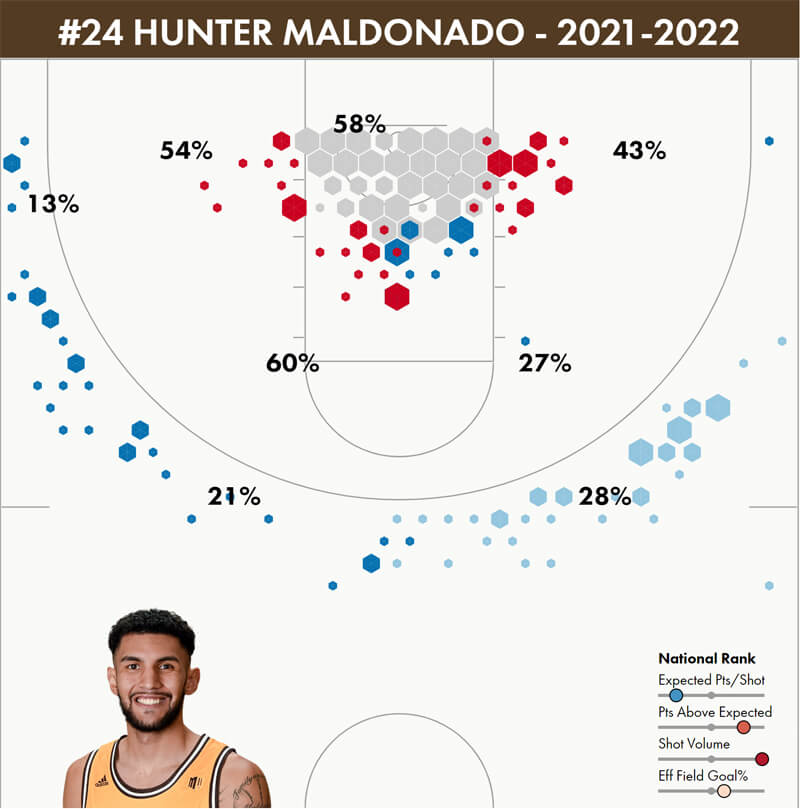 Ike, a native of Aurora, Colorado, is 6-foot-9 with a 7-foot-5 wingspan. He's not a shot blocker, but did finish second in the Mountain West in defensive rebounding percentage and third in the league in offensive rebounding percentage. Like Maldonado, he thrives in the post and is shooting 66.7 percent at the rim, per Hoop-Math. Ike's 19.6 points per game lead Wyoming, as do his 9.6 rebounds per game.
Wyoming only played six players double-figure minutes in its last game – a 68-61 loss to Boise State in the conference tournament in Las Vegas. Maldonado played all 40 minutes with Ike not far behind at 37 minutes logged. All three of Wyoming's other starters – Drake Jeffries (38 minutes), Xavier DuSell (34) and Jeremiah Oden (31) also logged heavy minutes in that game.
DuSell, a 6-foot-4 guard, was a terrific 3-point shooter last season but has regressed this season. In his first season, DuSell connected at a 45.6 percent clip from distance, but he's hitting just 31.2 percent from distance this season. He has, however, had some big games from distance. In a recent overtime win against Fresno State, he connected on 5-of-13 3-pointers. Earlier in the season, he made six 3s in a loss at Arizona. He's made at least three triples in 10 of Wyoming's games this season.
Jeffries, a 6-foot-5 guard, operates almost exclusively from the perimeter. Of his 222 field-goal attempts this season, 207 of them have been 3-pointers. He's shooting 40.1 percent from distance. Over his two seasons in Laramie, he's 135-of-348 on 3s, good for 38.8 percent. He's Wyoming's third-leading scorer at 10.5 points per game and is an 82 percent free-throw shooter.
Oden, a 6-foot-8 forward from Chicago, is a low usage, high-efficiency scorer in the paint. His 7.9 points per game are fourth on the team and he's making 68.3 percent of his 2s this season, which ranks 21st in the country. In Mountain West games, Oden shot 72.7 percent on 2s. That number led the conference. He's Wyoming's best shot blocker, but only recorded 25 blocks on the season and was the 14th best shot blocker in the conference.
Off the bench, look for Utah transfer Brandon Wenzel as another potential 3-point shooter on the perimeter. Wenzel has taken 98 of his 122 field goal attempts from distance and is shooting 36.7 percent from deep. At 6-foot-7, Wenzel plays the three and the four.
Freshman Noah Reynolds can back up both guard positions and averages 2.9 points on 37.3 percent shooting from the field in 11.2 minutes per game. The backup at the five is 6-foot-10 Hunter Thompson, a career 35.1 percent 3-point shooter.
TEMPO-FREE PREVIEW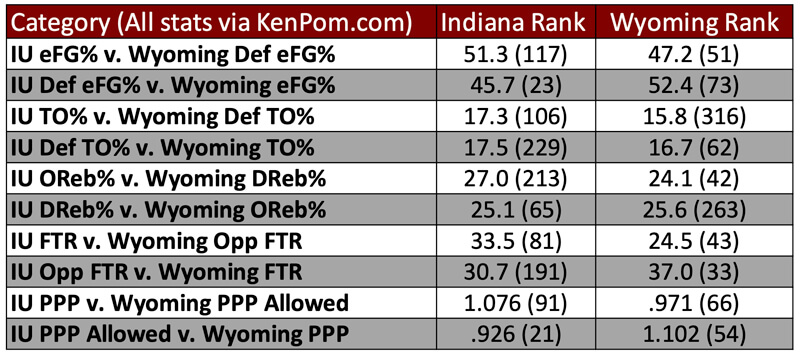 Indiana is the more talented, more athletic team, but Wyoming has been in every game it's played this season with the exception of a 94-65 loss at Arizona back on December 8.
Offensively, the Cowboys aren't a great 3-point shooting team at 33 percent overall, but do have guys like DuSell, Jeffries and Wenzel who are capable of getting hot from the perimeter. Wyoming is shooting 54.5 on 2s as a team and the duo of Maldonado and Ike are both good at using their size to finish at the rim. Maldonado is a particularly challenging matchup because of his ability to post up and find his teammates for scoring opportunities.
Wyoming also does a great job of taking care of the ball (16.7 TO%) and getting to the foul line with a free throw rate (FTA/FGA) of 37 percent. Defensively, the Cowboys don't turn their opponents over and don't gamble for steals. Wyoming's steal percent of 5.6 ranks just 355th nationally. Wyoming is a very good defensive rebounding team, ranking 42nd nationally in defensive rebounding percentage and also keeps its opponents from getting to the foul line. Its opponents have a free throw rate of just 24.5 percent this season. Wyoming has made more free throws (473) than its opponents have attempted (461).
WHAT IT COMES DOWN TO
Indiana is currently a four-point favorite against Wyoming, but the KenPom projection is just a one-point victory for the Hoosiers.
Neither team will be sending a thank you note to the NCAA tournament selection committee for the draw. Wyoming had to fly east to Dayton on a one-day prep and if it advances, will have to fly back west to play on Thursday in Portland. Indiana's reward for reaching the semifinals of the Big Ten tournament was a short prep to prepare for the Cowboys and if victorious, a trip west to play Saint Mary's on Thursday.
Defensively, Indiana should match up well against the frequent post-ups from Maldonado and Ike and the Cowboys are going to need to be able to make some perimeter shots to keep the defense from collapsing in the paint. Offensively, Indiana has been playing much better its past few games and seems to have found something in ball screen actions with Xavier Johnson and Trayce Jackson-Davis. Tuesday should be a pro-Indiana crowd at UD Arena, which puts the Hoosiers into a favorable position to advance into the round of 64 on Thursday.
(Photo credit: Wyoming Athletics)
Filed to: 2022 NCAA tournament, Wyoming Cowboys