2022 NCAA tournament first look: Wyoming Cowboys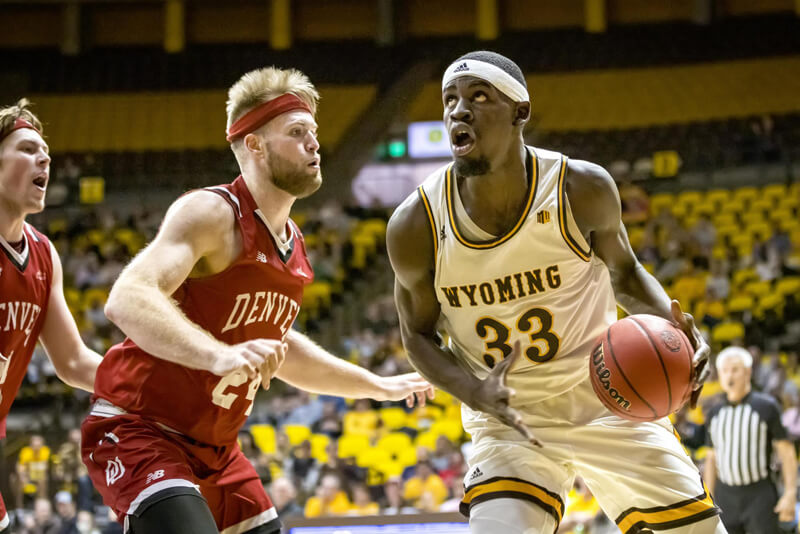 Indiana will face Wyoming in the First Four of the NCAA tournament on Tuesday in Dayton, Ohio at the University of Dayton Arena. We'll have our in-depth "What To Expect" preview on Tuesday, but here's a first look at the twelfth-seeded Cowboys.
Second-year coach Jeff Linder took over in Laramie in March of 2020 following four seasons at Northern Colorado. This will be Linder's first NCAA tournament as a head coach, but he was an assistant for two tournament appearances at Boise State. This is the 16th NCAA tournament appearance all-time for Wyoming and the first for the program since 2015.
In terms of the rankings, Wyoming currently checks in at No. 83 in the Sagarin ratings and No. 58 in the KenPom ratings. Wyoming was 14-1 at home this season and its arena (7,220 feet above sea level) is the highest elevation of any college basketball venue in the country. The Cowboys were 8-5 in road games and 3-2 in neutral court contests.
Wyoming enters Tuesday's game with a 25-8 mark and went 13-5 in Mountain West Conference play. In non-conference play, the best wins for Wyoming came at Grand Canyon and against Northern Iowa on a neutral floor. Their two non-conference losses came by 29 at Arizona and by three to Stanford on a neutral floor. Wyoming's non-conference strength of schedule was 178th nationally, according to KenPom.
What makes Wyoming a unique challenge for Indiana on Tuesday? A post-up heavy offense. According to HoopVision, the Cowboys "use the most post-ups of any team in the country. They directly shoot or assist off of 29 post-ups per game."
We'll dig into the remainder of the roster later in the week in What To Expect, but two players stand out above the rest on the Wyoming roster. The Cowboys feature two of the highest usage players in the country in 6-foot-7 point guard Hunter Maldonado and 6-foot-9 center Graham Ike.
Ike, who boasts a 7-foot-5 wingspan, was fifth nationally in percentage of possessions used and Maldonado wasn't far behind at 45th nationally in usage rate. According to Synergy Sports, Wyoming's offense in the halfcourt grades out in the 94th percentile nationally.
Offensively, Wyoming isn't a great 3-point shooting team at 33 percent, but the Cowboys make 54.2 percent of their 2s, good for 32nd in the country. Wyoming also ranks 33rd in the country in free throw rate (FTA/FGA) and 62nd in turnover percentage at 16.7.
Both Ike and Maldonado post-up often and Linder's offense is designed to create mismatches involving both players.
Ike's 19.6 points per game lead Wyoming and he's shooting 51 percent from the field. He's also pulling down 9.6 rebounds per game and is drawing 7.3 fouls per 40 minutes, according to KenPom. That number ranks fourth in the country.
Maldonado isn't far behind in terms of his production offensively. His 18.4 points per game lead the team as do his 6.3 assists per game. Maldonado's assist rate of 38.6 percent ranks 10th in the country. He's also a 71.6 percent free throw shooter and draws 6.3 fouls per 40 minutes, good for 27th nationally. As the video below shows, he loves to take defenders down into the post:
Defensively, Wyoming is stout on the defensive glass, ranking 42nd in the country in defensive rebounding percentage. The Cowboys, who don't play their bench a lot of minutes – just 20.9 percent of their minutes are from the bench – also do a good job at keeping their opponents from getting to the foul line. Wyoming's opponent free throw rate (FTA/FGA) of 24.5 percent ranks 43rd in the country.
After being projected to avoid the First Four by most of the bracketologists, Indiana now has the tall task of winning a game on a short prep against a quality opponent with a trip west to Portland if it can get past the Cowboys.
The early lines expect the Hoosiers to advance to a Thursday game against Saint Mary's in the round of 64 at the Moda Center on Thursday. KenPom projects Indiana to win by one with a 54 percent chance of a Hoosier victory. The Sagarin ratings also favor the Hoosiers but by a much more comfortable margin of 5.5 points. The initial Vegas lines favor Indiana by four.
(Photo credit: Wyoming Athletics)
Filed to: 2022 NCAA tournament, Wyoming Cowboys