What to expect: Ohio State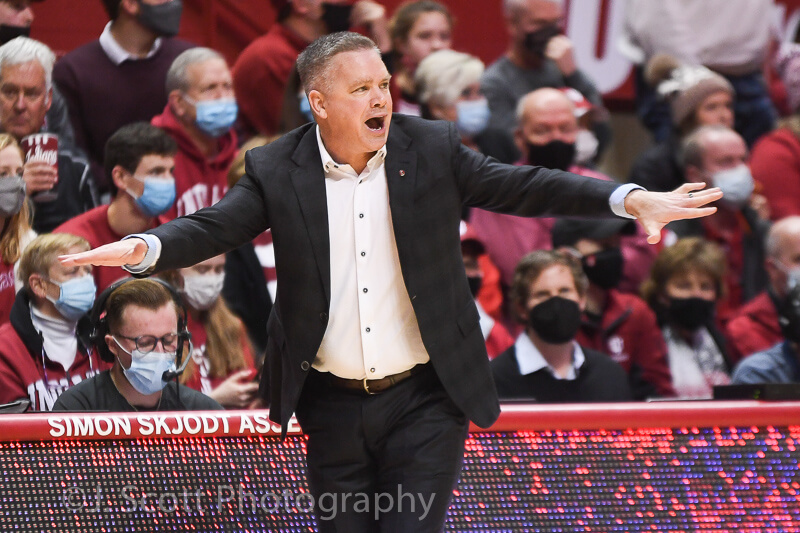 Indiana will look to snap a four-game losing streak when it takes on Ohio State on Monday evening at Value City Arena in Columbus. The Buckeyes are 16-7 overall and 9-5 in Big Ten play. Ohio State lost its most recent game 75-62 on Saturday to Iowa in Columbus.
Monday's game is scheduled for a 7 p.m. ET tip on FS1:
Indiana was 16-5 when it beat Maryland 68-55 on Jan. 29 in College Park. The Hoosiers looked primed for the program's first NCAA tournament appearance since 2016.
Indiana is now just 16-9 and is once again on the bubble. With just five regular season games to go, the Hoosiers no margin for error after suffering four straight losses.
And the remaining schedule is tough. Indiana's remaining road games are against Ohio State, Minnesota and Purdue with home games against Maryland and Rutgers. Three of those teams – Ohio State, Purdue and Rutgers – are currently in the top five of the Big Ten standings.
Up first is a trip to Columbus and a chance for a season sweep of Ohio State. Indiana won the first meeting between the two teams 67-51 back on Jan. 6 in Bloomington.
THE FIRST MEETING
Indiana beat Ohio State in early January with a terrific defensive performance. The Hoosiers held the Buckeyes to only 51 points (.75 PPP). It was Indiana's best defensive performance so far in league play. The performance was particularly notable because Ohio State entered the game with the nation's eighth-best offense according to KenPom.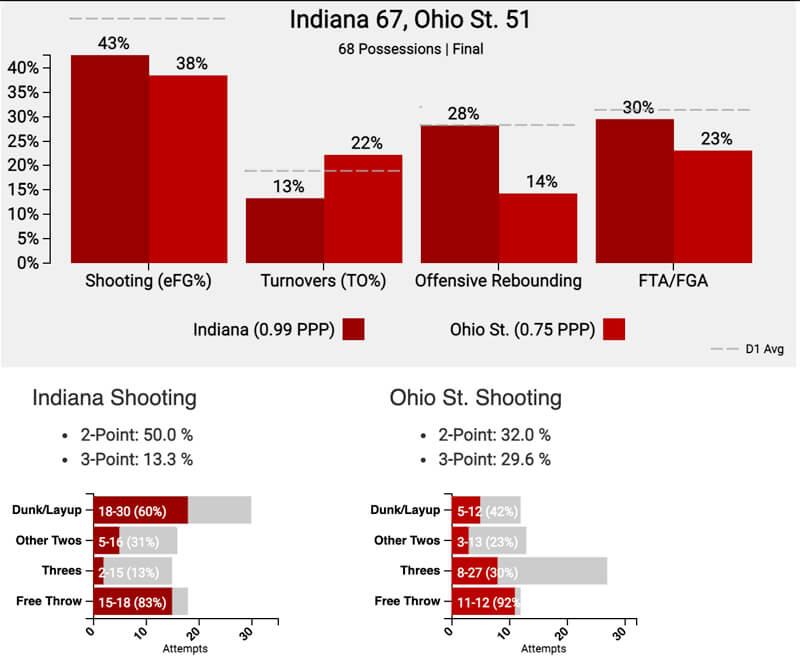 A big reason for Indiana's success in the first meeting was the defensive work Race Thompson did on EJ Liddell. The 6-foot-7 forward scored only 11 points, his second-lowest output of the season. He was just 3-of-12 from the field in 32 minutes.
Indiana also dominated the paint in the first matchup, scoring 38 points in the paint compared to just 10 for Ohio State.
"They certainly controlled the paint, both offensively and defensively, really," Chris Holtmann said following the game.
Indiana blocked six Ohio State shots – five of those blocks came from Trayce Jackson-Davis – and held Ohio State to just 32 percent shooting on 2-point field goals.
Unlike several games in recent weeks where it has been unable to close games, Indiana was terrific down the stretch against Ohio State at Assembly Hall. The Hoosiers used a 9-0 run late that turned a four-point lead to a 13-point cushion with just 3:20 to play.

TEMPO-FREE PREVIEW
(Stats are now for conference games only. Numbers are through Saturday's games.)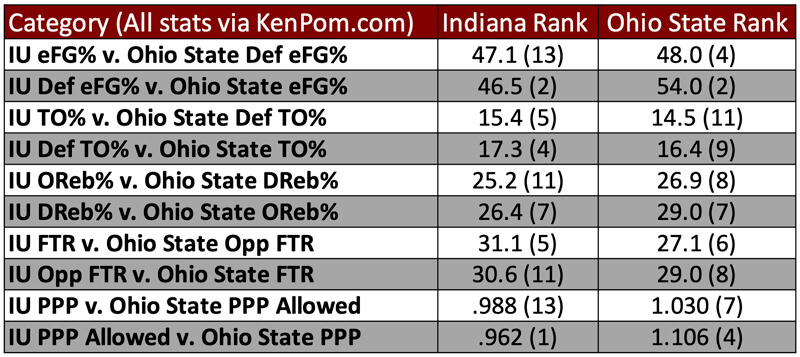 Ohio State enters Monday's game with the ninth-best offense in the country and 91st ranked defense, according to KenPom.
In Big Ten games, Ohio State leads the conference in 2-point field goal percentage (53.6), is fourth in 3-point shooting percentage (36.4) and is third in free throw percentage (75.2).
Indiana has the nation's 17th best defense, per KenPom, but ranks just 115th nationally in offensive efficiency.
As good as the defense has been for the Hoosiers – first in the league in conference play – the bottoming out of the offense has been a major reason Indiana has dropped four straight. Only Nebraska has a worse offense than IU in conference games. Indiana is 13th in the league in 3-point field goal percentage, 12th in 2-point field goal percentage and 13th in free throw percentage.
"We have been solid defensively, but lately we have not been able to make shots," Mike Woodson said Saturday. "We have to keep working at it. We have to keep shooting in practice and doing the things that can hopefully get us over the hump. That is the name of the game."
Indiana has not scored more than a point per possession in five straight games and the Hoosiers have scored .871 points per possession or fewer in three of their last four.
The recent struggles of Xavier Johnson (11-of-42 from the field over his last four games) coupled with the continued absence of Rob Phinisee have put continuous pressure on Jackson-Davis and Thompson to carry IU's offense. If Johnson doesn't break out of his slump or guys like Miller Kopp and Parker Stewart don't start making perimeter shots, Indiana is going to have to be perfect defensively to win games.
WHAT IT COMES DOWN TO
Ohio State hadn't lost at home all season until Saturday's game against Iowa. The Buckeyes are 11-1 at Value City Arena and are still just a game back in the loss column of the conference standings.
The Pomeroy projection is Ohio State by seven with just a 29 percent chance of an IU victory. The Sagarin numbers like Ohio State by 5.5.
Monday's game is pivotal for Indiana and if the Hoosiers can't pull off the upset, it'll turn the following three games (Maryland, at Minnesota, Rutgers) into must-haves for the program's NCAA tournament at-large hopes.
"We have five games to go and I think we still control our own destiny," Woodson said. "It is not like every game that we have played we have not competed in. We have been in every game. We just have not been able to close and that is kind of disturbing. I put that on myself as the coach because it is my job to get them over the hump."
Filed to: Ohio State Buckeyes