6-Banner Sunday: Hoosier Hysteria will tip off the 2021-22 season next weekend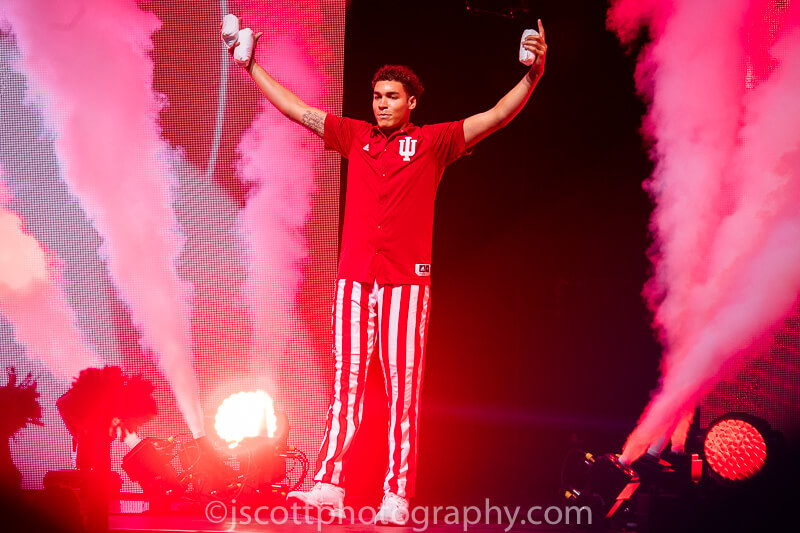 6-Banner Sunday is Inside the Hall's weekly newsletter in partnership with The Assembly Call. More than 8,000 Indiana fans receive the newsletter each week. In addition to appearing each week on the site, you can also opt to receive 6-Banner Sunday by email. A form to subscribe via email is available at the bottom of this week's 6-Banner Sunday.
Welcome to another edition of 6-Banner Sunday, a joint production between The Assembly Call and Inside the Hall where we highlight the five most essential IU basketball stories of the past week, plus take a look at how the other IU sports programs are doing.
The season is getting closer as is evident by Hoosier Hysteria being less than a week away and now the full details of the event are known. Also, a couple players were caught up with this week through a vlog and interview.
In addition to current players, some recruiting info came to light this week as well as ticket info and a ranking of non-conference opponents. As usual we will conclude our 6-Banner with a check-in on Football and other IU sports.
• Hoosier Hysteria set
• Rob Phinisee interview and Miller Kop vlog
• Recruiting and player info
• Mini-series tickets released for basketball
• Ranking non-conference opponents
• Hoosier roundup
Banner #1 – Hoosier Hysteria set for 4 p.m. start
While it has been known for days that Hoosier Hysteria would be next Saturday October 2, we now know the time and more info about the event. Before everything could be finalized, IU had to know when the football game in Happy Valley would be. With that set for 7:30 p.m. on ABC, Hoosier Hysteria will be at 4 p.m. so the two events do not conflict.
As many people as Assembly Hall can hold will be allowed in, but everyone will be required to wear a face mask in order to attend. This will be the first look at Mike Woodson's team for fans outside of the Bahamas trip this summer. The women's team will also be involved and has very high expectations coming off an Elite Eight appearance and returning their entire team from last season.
As a bonus for Hoosier fans, recent 2022 five-star commit Jalen Hood-Schifino will be in attendance.
Banner #2 – Rob Phinisee interview and Miller Kop vlog
Between Assembly Call and the IU Athletics itself, a couple of significant player interactions occurred this week.
First off Assembly Call had an exclusive interview with Rob Phinisee this week. As a result of this interview, Assembly Call radio broke down Phinisee's outlook for the season on their Thursday radio show.
Besides Phinisee, Miller Kopp also was heard from this week as he released the second part of his Vlog about the Bahamas trip.
Banner #3 – Recruiting and player info
Outside of current players, past and future ones made headlines as well this week.
First off, Hoosier fans got a dose of bad news when 2023 top target Kaleb Glenn announced he is staying home to play for Louisville. With Glenn out of the picture, Inside The Hall went a little closer in the future with a recap of where things stand for IU in the 2022 class as of this month.
While future IU players are always fun to look at, sometimes looking back at past players is necessary as well. In this case looking back involves former Hoosier Deron Davis. Davis is trying to continue his professional career and got good news as he inked a contract with a team in Cyprus this week.
Banner #4 – Mini-series tickets released for basketball
With the Hoosiers schedule now known, so is ticket information.
While games with the students in session are already sold out via season tickets, IU is releasing min-series packages for the six games when students are on Thanksgiving and Winter Break. These six games are Louisiana on November 21, Jackson State on November 23, Marshall on November 27, Northern Kentucky on December 22nd, UNC Asheville on December 29th and one Big Ten matchup with Ohio State on January 6th.
For the remaining games, IU has already sold out, Inside The Hall is partnering with secondary market site Vivid Seats for a deal if fans purchase by September 30.
Banner #5 – Ranking non-conference opponents
Inside The Hall did a post on IU's non-conference opponent rankings.
The entry looks at the opposing teams ranking from Bart Torvik's website. Torvik ranks the Hoosiers pre-conference schedule as the 298th toughest in the nation, but 35th overall when Big Ten opponents are factored in. IU's worst team in the non-conference is Northern Illinois at 317, while the best is Notre Dame at 29.
Banner #6 – Hoosier roundup
This week has gone better for the Hoosiers with victories in Volleyball, Men's and Women's Soccer, and Field Hockey. The big contest was Football where IU survived against Western Kentucky on the road.
• Football edged out the game against the Hilltoppers as starting QB Michael Penix had his best game of the season.
• Men's Soccer bounced back with their first Big Ten victory over Northwestern.
• Women's Soccer lost to Michigan State, but rebounded with a big victory against defending Big Ten Tournament Champion Iowa.
• Volleyball got on track after a rough non-conference season with a victory over a solid Michigan State team in their Big Ten opener.
• Men's Golf finished sixth at the Fighting Illini Invitational. As a result, sophomore Drew Salyers was named Big Ten Golfer of the Week.
• Women's Golf finished 10th at the Badger Invitational.
• Field Hockey beat Richmond, but then lost to Maryland.
• Women's Basketball put season tickets on sale this week.
• Men's Tennis named its captains for the season.
Finally it was a somber week for IU with the passing of Chief Medical Officer Dr. Andy Hipskind.
Thanks for your continued support for The Assembly Call and Inside the Hall. We'll be back next weekend with a new roundup.
Now go enjoy yourself a 6-banner Sunday.
Aaron (Ari) Shifron
Assembly Call Contributor
Filed to: