6-Banner Sunday: Indiana adds Jalen Hood-Schifino to its 2022 recruiting class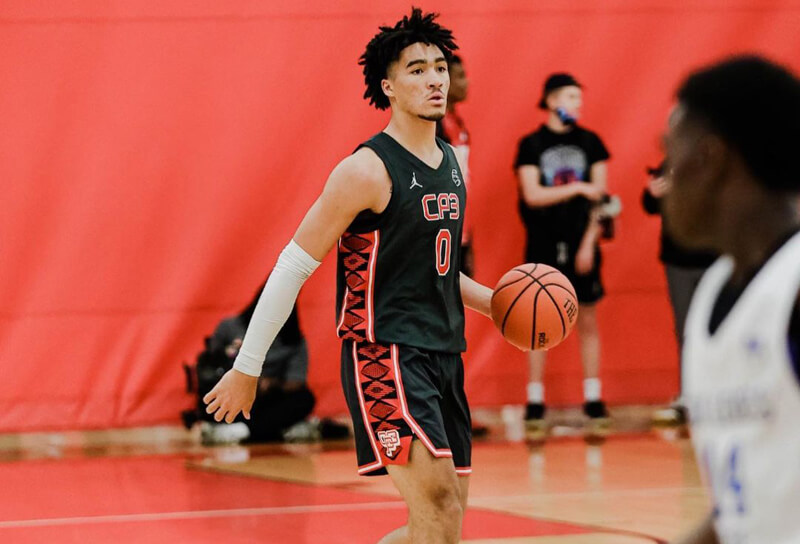 6-Banner Sunday is Inside the Hall's weekly newsletter in partnership with The Assembly Call. More than 8,000 Indiana fans receive the newsletter each week. In addition to appearing each week on the site, you can also opt to receive 6-Banner Sunday by email. A form to subscribe via email is available at the bottom of this week's 6-Banner Sunday.
Welcome to another edition of 6-Banner Sunday, a joint production between The Assembly Call and Inside the Hall where we highlight the five most essential IU basketball stories of the past week, plus take a look at how the other IU sports programs are doing.
Indiana added a significant piece to its 2022 recruiting class this week with the commitment of Jalen Hood-Schifino. Assembly Call did an Emergency episode to break down the commitment and then discussed it further on the normal Thursday Radio Show later in the week. This news highlighted a busy week in IU basketball overall.
Besides the recruiting victory, Miller Kopp took Hoosier fans inside the Bahamas Trip and Parker Stewart paid tribute to his late father. Also, some more NIL news came out and the Big Ten made headlines this week for a couple of reasons. As usual, 6-Banner Sunday will conclude with a Hoosier Roundup of other IU sports as several programs got competition underway this week.
This week's Podcast On The Brink featured former IU walk-on Johnny Jager.
• Jalen Hood-Schifino Commits to Hoosiers and Noah Clowney Visits
• Miller Kopp's Vlog
• Parker Stewart Honors His Father
• NIL News
• Big Ten's Alliance and Forfeit Policy
• Hoosier Roundup
Banner #1 – Jalen Hood-Schifino commits and Noah Clowney Visits
While the tea leaves were heading in this direction, IU officially got a major recruiting win this week when Jalen Hood Schifino committed to the Hoosiers on Tuesday. The 6-4 combo guard chose IU over Tennessee.
Hood-Schifino is the No. 24 player in the 247Composite rankings and is a 4 or 5-star recruit depending on the service. He is the third player for the 2022 recruiting class, joining CJ Gunn and Kaleb Banks.
After the commitment, Inside The Hall's Tyler Tachman did a feature story on the relentless influence and mindset Hood-Schifino's mother has had on him.
Hood-Schifino was not the only recruiting news for IU this week as another prime target, Noah Clowney took his official IU visit this weekend. Clowney is a power forward and the no. 65 player in the 247Composite rankings. Other schools he is considering are Alabama, Florida and Virginia Tech.
Banner #2 – Miller Kopp's Vlog
Miller Kopp continued his very popular Vlogs this last week. After opening the series on July 7 and following it up with it on Aug 1, Kopp put out a third video this week.
The latest Vlog is the longest yet and clocks in at almost 14 minutes and has nearly 4,800 views. It goes into detail about the recent trip to the Bahamas and gives Hoosier fans an inside look at the journey.
Banner #3 – Parker Stewart Honors His Father
As many Hoosier fans know, Parker Stewart came to IU following the death of his father Anthony Stewart who was his coach at Tennessee Martin.
This week the younger Stewart penned a touching tribute to his father that was released by Jeff Goodman.
The release by Goodman was noticed by Hoosier and college basketball fans as Goodman's tweet with the piece received 924 likes and 132 retweets. It also received a quote tweet from IU assistant coaches Dane Fife and Yasir Rosemond as well as Director of Athletic Performance Clif Marshall.
Banner #4 – NIL News
Another week and another Hoosier story involving NIL. This time it was the Brandr Group announcing a partnership with IU.
This joint effort allows Hoosier athletes to be paired with IU's official trademarks and logos. Items such as video games, jerseys and apparel are all things that could receive endorsements from players as part of the deal.
Banner #5 – Big Ten's Alliance and Forfeit Policy
At the same time Jalen Hood-Schifino committed to IU, The Big Ten, Pac 12 and ACC announced an alliance with a press conference. While the details were far from clear, the main idea seems to be to limit the SEC's powers after they were able to pull Oklahoma and Texas from the Big 12.
Also, this week the Big Ten joined the other Power five conferences and announced a forfeit policy for teams unable to compete as a result of a COVID outbreak.
Banner #6 – Hoosier Roundup
Several IU teams got underway this weekend as the fall season opened up. Men's Soccer, Field Hockey and Volleyball all had their first competition of the season and it ended up being a rousing success for all three programs.
• Men's Soccer was named the Big Ten favorite. The Hoosiers proceeded to open up their season with a thrilling victory over Notre Dame in South Bend. Assembly Call was the only IU media at the match and a feature story is available in the Community of the website for those who subscribe.
• Volleyball swept three matches this weekend to win the Top Dawg Challenge in Indianapolis hosted by Butler. Like with Men's Soccer, Assembly Call was on site and had an exclusive interview with IU coach Steve Aird following the tournament.
• Women's Soccer had a draw with Notre Dame before beating Tennessee-Martin.
• Field Hockey had three players tabbed Big Ten Honorees. They then opened the season with victories over Central Michigan and Davidson.
• Baseball announced their new volunteer assistant coach.
• Softball announced their fall schedule.
• Swimming and Diving added an assistant coach.
Thanks for your continued support for The Assembly Call and Inside the Hall. We'll be back next weekend with a new roundup.
Now go enjoy yourself a 6-banner Sunday.
Filed to: