Class of 2022 four-star combo guard Jalen Hood-Schifino commits to Indiana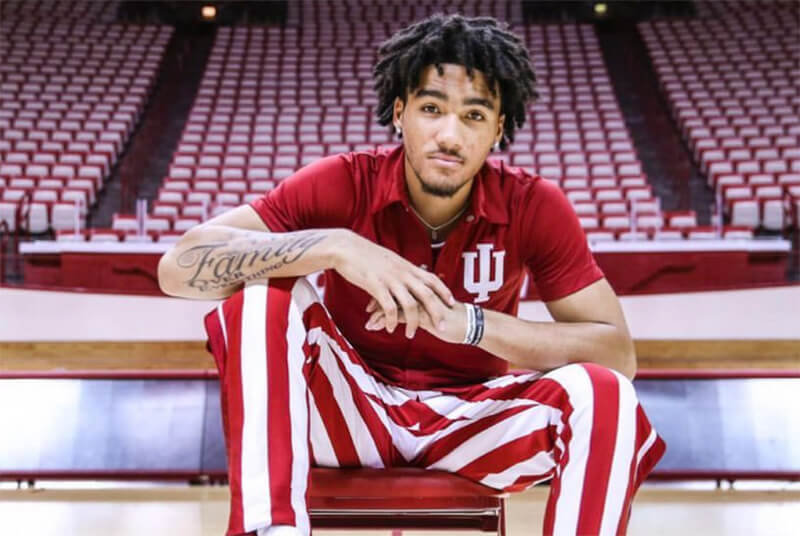 Class of 2022 four-star combo guard Jalen Hood-Schifino announced his commitment to Indiana on Tuesday afternoon.
Hood-Schifino, who plays at Montverde Academy (Fla.) is the third commitment in Indiana's 2022 recruiting class, joining Lawrence North guard CJ Gunn and Fayetteville (Ga.) forward Kaleb Banks.
The 6-foot-4 guard chose the Hoosiers over Tennessee and also had scholarship offers from Pittsburgh, Georgetown, Illinois, Kansas, Memphis, Texas and several others.
Here's everything you need to know about Hood-Schifino including scouting notes, videos, roster fit and other insights.
National Rankings
A four-star prospect nationally, Hood-Schifino is considered one of the top guards in the class of 2022. He's ranked No. 24 in the latest 247Composite rankings.
Rankings:
• 247Composite: 24th
• 247Sports: 25th
• ESPN: 32nd
• Rivals: 32nd
• On3: 27th
Hood-Schifino took official visits to Indiana, Tennessee and Georgetown in June along with an unofficial visit to Wake Forest. Originally a Pittsburgh commit, Hood-Schifino chose to reopen the recruiting process in July of 2020.
The new Indiana coaching staff quickly made him a priority in March and tracked him diligently during the April and July evaluation periods. That persistence paid off on Tuesday with a commitment to the Hoosiers. Hood-Schifino had a strong July, but had it cut short after he tested positive for COVID-19 at the Peach Jam in North Augusta, South Carolina.
Video
Scouting Notes
A physical guard who is capable of playing all three positions on the perimeter, Hood-Schifino is among the best two way players in the country. He makes winning plays as either a scorer or distributor when he has the ball in his hands and on the defensive end his toughness and high basketball IQ allow him to be one of the very best perimeter defenders in the class of 2022.
Hood-Schifino looked comfortable while being aggressive in looking for his shot. The 6-foot-6, strong bodied lead guard finished with 19 points, six assists, and three steals in the nightcap against Team Durant. Hood-Schifino finished with an assortment of pull-up jumpers and paint touches using his strong frame and great understanding of pace.
Schifino possesses very good size and physical tools for the position and his frame has filled out well as he has continued to mature since our last viewings of him.

He impacts the game both on and off the ball given his innate ability to function both as a scorer and facilitator. As a scorer, Schifino connected on several mid-range pull-ups and as a facilitator he was most impactful in the pick-and-roll.
"He's a great player worker and leader. I think he is the nation's best on-ball defender and has become outstanding at making decisions using a ball screen. He will immediately impact winning where ever he goes."
Where there has always been skill and IQ, Hood-Schifino has been playing with incredible confidence and loose nature. Hood-Schifino has a college-ready frame, already. He plays the game at a great pace, he is never rushed and sees the floor at a high level.

In January, Hood-Schifino has aggressively looked to score the ball. As he touched the paint, he has shown his full arsenal, at each level. Playing off two feet, he finished at the rim as well as knocked down the pull up. He even showcased soft touch from 3. The consistent Team USA invitee star is clearly on the rise.

He is a well-spoken young man, very polite, very cordial and says all the right things when interviewed or even talking with him, polish is a good word used to describe his demeanor.
Roster Fit and other insights
Indiana's guard play has been substandard in recent seasons, but Mike Woodson and the IU staff have already started to change that. In the 2021 recruiting cycle, Woodson was able to grab Tamar Bates after Shaka Smart left Texas and now the Hoosiers have again benefited from a de-commitment situation in landing Hood-Schifino.
While recruiting is typically an "all hands on deck" situation, Hood-Schifino has spoken about his strong relationship with assistant coach Kenya Hunter and there's no doubt that relationship was a major factor in this decision.
Given his size, physicality and his prowess as a defender, Hood-Schifino should be a contender for major minutes from day one in Bloomington. At this point, however, it's difficult to know who his competition will be for minutes next fall. The COVID-19 pandemic allowed for an extra year of eligibility and it's unclear whether guys like Parker Stewart, Rob Phinisee and Xavier Johnson are hoping to take advantage of it.
Indiana's 2022 class now has three members and Hood-Schifino is the clear centerpiece in terms of his national ranking. One of the notable developments here is that in Bates and Hood-Schifino, the new Indiana staff has been able to go outside of its home recruiting area to land a highly coveted prospect.
Archie Miller certainly had success recruiting in the state of Indiana and reeled in five-star guard Romeo Langford, but his inability to land prospects outside of the state was a major weakness. With Woodson's NBA pedigree and a coaching staff that has ties all around the country in Dane Fife, Hunter and Yasir Rosemond, Indiana has already gone into two of the nation's most visible basketball prep schools to land commitments. Hood-Schifino plays at Montverde Academy and the Hoosiers were able to nab Bates out of IMG Academy, which is also in Florida.
With three commitments in hand for the 2022 class, Indiana can now shift its focus to the recruitment of Dorman (S.C.) forward Noah Clowney, who will be on campus this weekend for an official visit. Given the unknowns about potential returnees and the prospect of adding an impact player next spring out of the transfer portal, it's unlikely Indiana would want to sign more than four high school players in the fall for this class.
Filed to: Jalen Hood-Schifino