Jalen Hood-Schifino: A commitment to Indiana and the relentless mindset he learned from his mother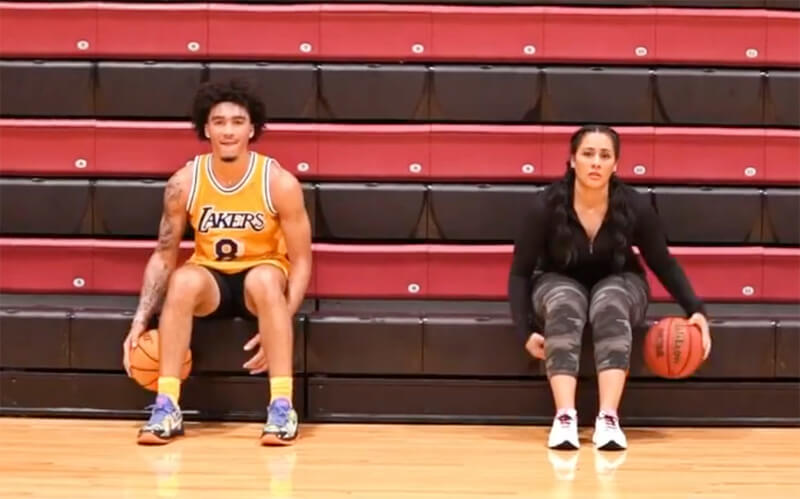 Jalen Hood-Schifino, IU basketball's newest commit, lives by a simple acronym, which also happens to be the last four letters of his last name: F.I.N.O. — failure is no option.
It's a large part of how Jalen has gotten to where he is today. It led him to become a top-25 player in the 2022 class. It led him to Montverde Academy, a prestigious basketball school in Florida. It led him to earn more than 20 scholarship offers. It led him to Tuesday, where he announced his commitment to be a Hoosier in a Kobe Bryant jersey.
Jalen made the decision because he feels like Mike Woodson, a former NBA coach, can help him reach his professional aspirations. He also has a strong relationship with Kenya Hunter, who, as it turns out, recruited Jalen's uncle when he was in high school two decades ago. Indiana's playing style, which largely mirrors one of the NBA, was also an alluring aspect.
Plus, as Jalen put in his post commitment interview with CBS, there's this: "Bringing the Indiana program back on track for the fans."
But to really understand what type of player Indiana will be getting, you have to understand the four-letter acronym and the mother that instilled it in him. The slogan was officially created when Jalen was a freshman and his mother, Angel Schifino, wanted something to represent the family's mindset.
But as it turns out, there's a larger story behind it. And it's one worth telling.
For as long as Angel can remember, she lived by the "failure is no option mentality," even before it was an official acronym. It was evident back when she was a kid, where Angel was frequently on the move because her father was in the military. She was born in Germany and, after several moves, her home eventually became Pittsburgh.
Basketball was Angel's dream and she earned a scholarship to play at Lock Haven University in Pennsylvania. She played half a season, but things, for one reason or another, didn't work out. She left school and went back to Pittsburgh. Around the same time, at age 19, she and her high school sweetheart got pregnant with Jalen.
After Jalen was born, Angel went back to school, this time at Carlow University, where she did all that she could to provide for Jalen. She was a full-time student. She worked part-time at the mall. Jalen's father Glennard dropped out of school to bring in more money.
There were times that they had trouble paying bills. They received public assistance funds. Angel didn't have a car so she took public transit. Sometimes, if her parents couldn't babysit, Jalen would accompany her to class. All the while, she wanted to ensure Jalen was in a good school district. In 2008, she graduated with a Bachelor's degree in Communications.
"I always had that tough – failure is no option – mentality," Angel said.
Angel got a job at UPMC in Pittsburgh, but decided that she didn't want to be stuck on the corporate ladder. She left for Charlotte, North Carolina, where she stayed with one of her best friends from high school. Jalen stayed with his father while Angel came up and down the East Coast to visit. For four months, she worked at a furniture store to save enough money to move into her own place. Eventually, she did and Jalen came down to live with her.
Angel's singular goal was to provide for her children.
"To keep pushing," Angel said. "To be the best version of yourself. At the end of the day, the best project we can work on is ourselves."
The mentality isn't just about pushing through adversity, but also how you live, how you treat others. Angel instilled this wisdom into Jalen and, eventually, his younger sister.
Those characteristics are apparent in Jalen, who Angel describes as "different" and an "old soul." When Jalen wakes up every morning, he prays and makes his bed. He likes to keep everything neat and "organized." He asks Angel if she needs help around the house. One time, one of Jalen's AAU teammates was down, so he messaged him "your time is coming, keep working." During the recruiting process, he documented all of the pros and cons of each school.
The summer going into his freshman year of high school, Jalen attended a CP3 basketball camp. On the way to the event, he watched items fly off the bed of a man's pickup truck. It was mostly junk, a bunch of aluminum. But Jalen insisted on stopping to help. So Angel pulled the car over. They helped the man organize his belongings.
Another time, Jalen and Angel were at a red light when they saw a woman standing on the side of the road. Her legs and feet were swollen. Jalen asked Angel to wait. He went into the trunk and got out his new pair of Kobe's. He then handed them to the woman. She cried.
Jalen carried that same level of maturity on the court. He doesn't like to party. He'd rather work out three times a day, to which Angel has to remind him to rest. During Peach Jam this summer, Jalen caught COVID-19. He was mentally and physically drained. He lost 13 pounds. But he wasn't looking forward to eating again, instead, he was asking his mom to get a COVID-19 test, so he could get back on the court. He was already scheduling workouts with his trainer.
In June, Jalen and Angel visited Bloomington. They loved the campus. They loved the academics. As for the staff, "we just hit it off," Angel said. "It felt really good."
In his commitment video, Jalen said that he wants to "give his sister the world." There have also been times where he tells Angel the same, saying "I want to pay you back for the sacrifices." It's all a part of his mindset, which is why he wore the Bryant jersey and embraces a similar "Mamba Mentality."
"He deserves everything that he's getting," Angel said.
And now, Angel is asked about something else, an angle of thinking she may not have thought about before. How much of "F.I.N.O." could relate to the energy they got from Indiana?
"Indiana basketball is not where it used to be, but we are ready to turn this program around and bring that good type of energy back," Angel said. "I think it can all tie in together."
Sometimes, it takes a while to get where you're supposed to be. Angel lived in Germany and Pittsburgh and Charlotte, among a variety of other stops. Jalen was originally committed to Pittsburgh before choosing Indiana. But maybe that's what makes it all so rewarding. Finally ending up where you're supposed to be.
Filed to: Jalen Hood-Schifino