6-Banner Sunday: Mike Woodson speaks as IU prepares for trip to the Bahamas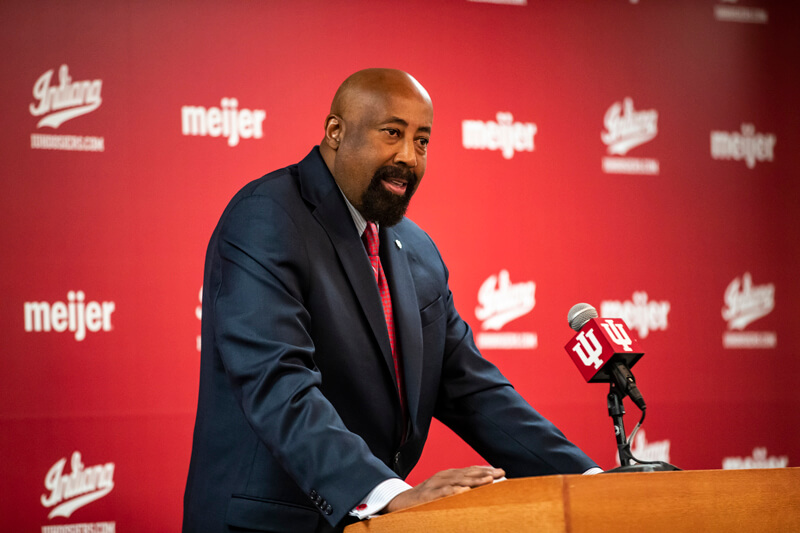 6-Banner Sunday is Inside the Hall's weekly newsletter in partnership with The Assembly Call. More than 8,000 Indiana fans receive the newsletter each week. In addition to appearing each week on the site, you can also opt to receive 6-Banner Sunday by email. A form to subscribe via email is available at the bottom of this week's 6-Banner Sunday.
Welcome to another edition of 6-Banner Sunday, a joint production between The Assembly Call and Inside the Hall where we highlight the five most essential IU basketball stories of the past week, plus take a look at how the other IU sports programs are doing.
As IU's time in the Bahamas nears, several stories occurred both related and unrelated. The program had media availability with IU coach Mike Woodson before the trip. Also, some roster, recruiting and COVID info came out this week. Finally, we had former Hoosiers make news and as usual will conclude our sixth banner with other IU sports stories.
Here is this week's Assembly Call radio discussing IU recruit Kaleb Banks.
• Media Availability: Woodson, Phinisee and Kopp
• Roster Changes: Three Managers and a Walk on
• Recruiting News: Hood-Schifino and 2024 offers
• COVID News: Masks at IU, But No Changes to Attendance and NCAA Releases Policy
• Former Hoosier Contracts: Oladipo and Zeller
• Hoosier Roundup
Banner #1 – Media availability: Woodson, Phinisee and Kopp
As the Bahamas trip approaches, several members of the team spoke out this week. First and foremost, IU coach Mike Woodson had both media availability over zoom and appeared with Andy Katz over the last few days. Inside The Hall's Tyler Tachman wrote a feature story about Woodson's first summer on the job following his media appearence.
Outside of Woodson, a couple players were written about or heard from this week. iuhoosiers.com Pete DiPrimio had an in-depth look at senior Rob Phinisee and Northwestern transfer Miller Kopp released a second vlog.
Banner #2 – Roster changes: Three graduate managers and a walk-on
Some information on who would be part of this year's team came out this week. While the contributions of all of these individuals will no doubt fly under the radar, they will nonetheless be valued members.
First, the addition of three graduate managers came to light this week. Also, while next year's roster is basically complete, Shaan Burke, a walk-on from San Diego was given a spot on the squad.
Banner #3 – Recruiting News: Hood-Schifino and 2024 offers
Recruiting was a topic of interest this week, as a top player had IU in his final five schools he will pick from.
Jalen Hood-Schifino who is the no. 26 player in the 2022 class according to the 247Composite rankings, included the Hoosiers along with Florida, Memphis, Tennessee and Texas as the places he will choose between.
Also, while it is a long way off, two 2024 players were given scholarship offers from IU in William Jobe and Cooper Koch.
Banner #4 – COVID News: Masks at IU, but no changes to attendance and NCAA releases policy
As COVID cases rise with the new Delta variant, some fans may be wondering if full attendance will still happen as planned. Just this week, Bloomington announced a mask requirement indoors for all people regardless of vaccination status.
While IU intends to follow this new rule, per the Indy Star's Zach Osterman attendance in the stands will not be affected as of now.
Also, the NCAA released COVID protocols for this fall.
Banner #5 – Former Hoosier contracts: Oladipo and Zeller
The two most decorated IU players of the last decade received new contracts this week.
Victor Oladipo signed for the veterans minimum in Miami as he continues to try to rehab from injury, while Cody Zeller was given a similar deal and is headed west to Portland.
Banner #6 – Hoosier Roundup
• IU revealed an NIL Directory.
• Zach Apple helped the US Swimming team win the 400-meter relay in record time. Also, diver Andrew Capobianco finished 10th in the three meter springboard in Tokyo and was named a CoSIDA All-American. Meanwhile, Carson Tyler had two wins at the USA Diver Junior National Championships.
• Women's Golfer Valerie Clancy won the 49th Hermitage Ladies Scratch Cup.
• Football's AJ Barner was awarded Scholar Athlete of the Month. Also, a new premium section will be added to Memorial Stadium this year. Meanwhile, star linebacker Micah McFadden was named to the Lombardi Award Watch List and WR Cameron Buckley was named to the Earl Campbell Tyler Rose Award Watch List.
• Former softball player Gabbi Jenkins will join the coaching staff as a volunteer assistant.
• Water Polo had 14 Hoosiers receive academic awards.
• Soccer assistant coach Kevin Robson was elevated to associate head coach.
• Baseball will take part in the Round Rock Classic next season featuring several elite teams.
• Women's Basketball will host NC State in a Sweet 16 rematch for the Big Ten/ACC Challenge.
• Field Hockey had an incoming freshman named to the New Zealand U-18 National Camp.
• Track and Field signed 18 athletes for the incoming class.
Thanks for your continued support for The Assembly Call. We'll be back next weekend with a new roundup.
Now go enjoy yourself a 6-banner Sunday.
Aaron Shifron
Assembly Call Contributor
Filed to: