Behind Mike Woodson's first summer as Indiana's head coach, where a foundation is being built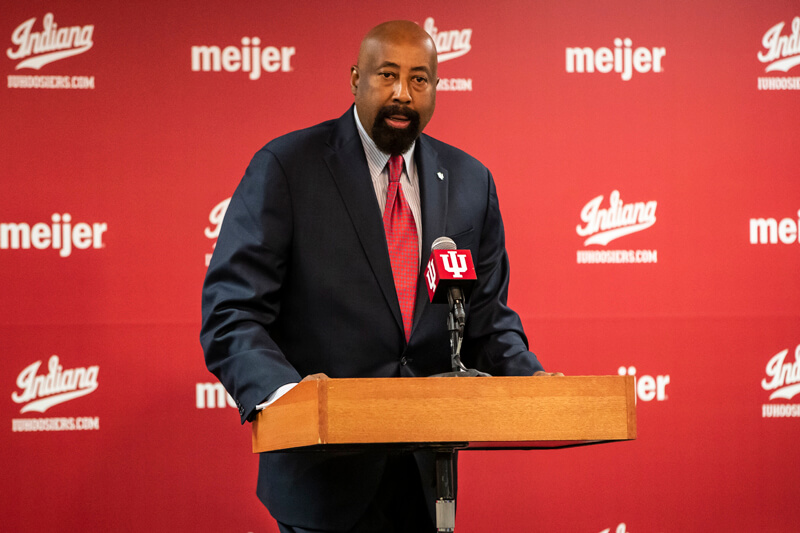 Since Mike Woodson took over as Indiana's head coach this spring, it became clear that a newfound culture would be one of the driving forces of the program. The first few months of Woodson's transition to Indiana were nearly seamless, one in which he quickly established his easy-going nature and upbeat personality, a contrast to the recent past of the program.
It was again displayed during Friday's Zoom call. Some soundbites:
"Opening statement?" Woodson said with a pause. "I don't need to introduce myself."
Later, after noting that freshman Tamar Bates has added 12 pounds this summer: "That's a bonus because he was still real light in the butt."
Indiana was often criticized last season for playing without enough energy and sometimes slogging through games. "I feel like we've been in the dark for a while," Trayce Jackson-Davis said in a revealing comment at the end of last season. "There wasn't any energy."
While this offseason is extremely important for Woodson to implement his schemes, it has also served as an opportunity to revitalize the culture and steer the program in the right direction. And now, it already seems that Woodson's energy is being mirrored by his players, ushering in a different vibe from the program as a whole.
Following a workout with Clif Marshall in July, the entire team jumped around in mosh of jubilation. Then Marshall dropped into a squat and began clapping his hands, to which the rest followed.
One day, inside the locker room, Miller Kopp was showing off a magic trick to Parker Stewart. After Stewart picked out and put back a card, Kopp blindly dug through the deck. In the end, Stewart flipped over a card, which was indeed in the one he picked, and there was a yell of "oh hell nah," as players exploded in a mixture of excitement and disbelief.
Then during Friday's Zoom, Jackson-Davis put bunny ears behind Race Thompson as he answered a question.
"That's all you can ask for from a coaching standpoint is players that come to the gym with energy and happy about being there and putting in the work," Woodson said. "Because that's what it's going to take to get back to the top."
Besides asserting his coaching style, it has been a busy summer for Woodson in other aspects.
For the first time in his career, he was recruiting on the grassroots recruiting circuit. Some days, he was at the gym from 8 a.m. to 1 p.m. and then jumping on a plane to get to the next destination, one that ultimately paid off with the commitment of Kaleb Banks. At one point in the summer, Woodson saw his former player Carmelo Anthony.
"I had a great time being out there," Woodson said.
There was also plenty of work done on the court with his team in Bloomington. For all the talk of the free-flowing offense this offseason, Woodson placed most of the emphasis this summer on defense and conditioning. He coached players up on defensive rotations, how to play pick-and-rolls aggressively and applying pressure on the ball.
"I truly believe if we can rest our hat on the defensive end and rebounding the ball, we'll give ourselves a chance to win every game," Woodson said.
Woodson offered his evaluation on how a variety of players performed over the summer. On Parker Stewart, Woodson said, at one point, "he was probably the best player in the gym." He praised Kopp's shooting.
But the two players mentioned most frequently were Jackson-Davis and Rob Phinisee.
Woodson said he's seen much more confidence out of Phinisee, who looks more "relaxed" and "comfortable." In the offseason, Phinisee began reading "Intentional Mindset – Developing Mental Toughness and a Killer Instinct" by Dave Anderson. He said he feels comfortable in Woodson's system, with the ability to create for others in a more spread out scheme.
"I feel like a lot of people counted me out and forgot about how good I was," Phinisee said about his inconsistent junior season. "Just being able to be confident, having the open floor, I can play my game. Show my talents like I did earlier in my career."
In the broader picture, Woodson has been working with the point guard room of Phinisee, Pittsburgh transfer Xavier Johnson and sophomore Khristian Lander with a focus on the mental aspect, in hopes of teaching them how to effectively run a team.
"The new coaching staff has really instilled the confidence for me," Phinisee said. "Just to continue to be a leader."
And then there's Jackson-Davis, last season's All-American, who is the headliner for Indiana heading into this year and, according to Woodson, the only lock in the starting lineup. Woodson said he's seen Jackson-Davis play more aggressively than in the past. Plus, Jackson-Davis said he's in much better condition than last season.
The addition of 7-foot USF transfer Michael Durr has also pushed Jackson-Davis in the paint, something that Indiana wasn't able to do with frequency last season due to a depleted frontcourt.
"I got to really work on my jump hooks and getting the ball up and touch around the rim, not being able to just force things up," Jackson-Davis said. "I think it's been really good for both of us."
Indiana's first official test will come next week with two exhibition games against BC Mega in the Bahamas. As the summer has worn on, Woodson feels like the team has made progress in a short period of time. Whether it be on or off the court, Woodson's foundation is starting to show.
"From the moment he got here, just bringing the family aspect and that's the big thing with him, he's a family guy," Jackson-Davis said. "He loves all of us… He truly means it."
Filed to: Mike Woodson, Robert Phinisee, Trayce Jackson-Davis