6-Banner Sunday: Miller Kopp's vlog debut and Indiana lands in one preseason top 25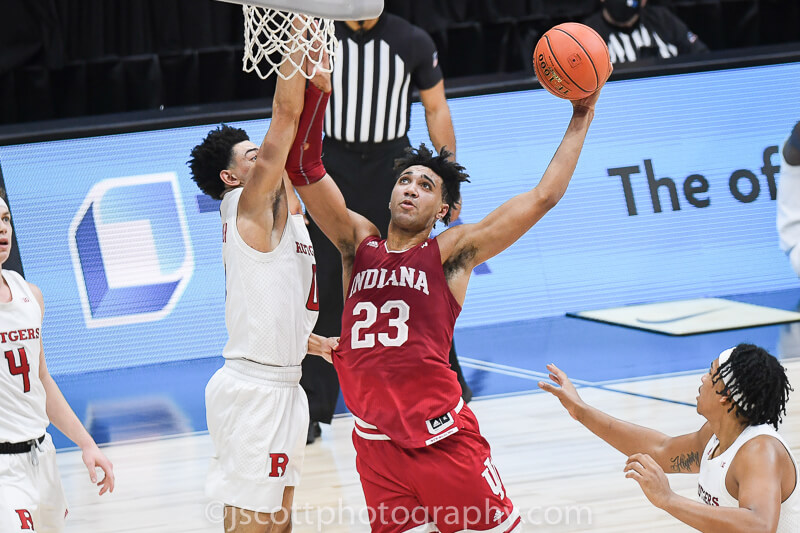 6-Banner Sunday is Inside the Hall's weekly newsletter in partnership with The Assembly Call. Nearly 8,000 Indiana fans receive the newsletter each week. In addition to appearing each week on the site, you can also opt to receive 6-Banner Sunday by email. A form to subscribe via email is available at the bottom of this week's 6-Banner Sunday.
Welcome to another edition of 6-Banner Sunday, a joint production between The Assembly Call and Inside the Hall where we highlight the five most essential IU basketball stories of the past week, plus take a look at how the other IU sports programs are doing.
We're just a little over a month away from Indiana's two-game exhibition trip to the Bahamas, but the primary news of the last week was centered on recruiting and Big Ten rosters continuing to take shape.
This week marked the first of three July evaluation periods for college coaches to evaluate prospects with their grassroots teams. The Indiana coaching staff was out in full force at events in Atlantic City, Birmingham and Atlanta.
In addition, the week brought a new scholarship offer in the 2023 class, updated preseason rankings for the 2021-22 season and an IU player debuted his vlog featuring some behind-the-scenes looks at the program.
On this week's episode of Podcast on the Brink, Alex Bozich was joined by Kyle Neddenriep of The Indianapolis Star to discuss CJ Gunn's development and the in-state talent in the 2022 and 2023 classes. On this week's Assembly Call Radio, Coach Tonsoni and Andy Bottoms broke down all of the name, image and likeness madness.
All of that, and more, in this week's edition of 6-Banner Sunday.
• Miller Kopp debuts his IU basketball vlog
• Indiana in top 25 in one preseason ranking
• 2023 guard Gabe Cupps earns IU offer
• In-state Five-star prospect Jalen Washington picks North Carolina
• Big Ten rosters continue to take shape
• Hoosier Roundup
Banner #1 – Miller Kopp debuts his IU basketball vlog
While he's a newcomer to the program, Northwestern transfer Miller Kopp is already embracing being a part of Mike Woodson's first team in Bloomington.
Kopp, who played for three seasons under Chris Collins at Northwestern, recently teased that he would be publishing his own vlog featuring behind-the-scenes content from IU's summer workouts.
This week, Kopp delivered the first episode of the vlog via his Twitter and Instagram accounts. The first installment, which is a little under four minutes long, features appearances from several IU players and also shows a Kopp shooting workout.
Given the strong response from Indiana fans, it'll be interesting to see where Kopp decides to take the vlog in the coming weeks and months.
Banner #2 – Indiana in top 25 in one preseason ranking
The deadline to withdraw from the NBA draft passed this week and in the aftermath, several way-too-early preseason rankings for next season were updated.
The most notable of those rankings from an IU perspective came from Andy Katz of NCAA.com and BTN, who placed the Hoosiers at No. 22 in his power 36 rankings.
According to Katz, "Trayce Jackson-Davis should flourish under Mike Woodson. IU is my sleeper pick for a deep run."
Jon Rothstein also updated his preseason top 45 and included Indiana at No. 33. Other Big Ten programs in Rothstein's ratings include Purdue (6), Michigan (7), Maryland (16), Ohio State (19), Michigan State (27), Illinois (34) and Rutgers (36).
In addition, ESPN.com and CBSSports.com updated their preseason ratings, which did not include Indiana. Bart Torvik's computer ratings currently have the Hoosiers No. 30 nationally.
Banner #3 – 2023 guard Gabe Cupps earns IU offer
Indiana jumped into the recruitment of Centerville (Ohio) guard Gabe Cupps this week with a scholarship offer.
As a sophomore, Cupps led Centerville to a state championship and averaged 15.2 points, 4.9 assists and 1.7 steals per game. He made 35 percent of his 3s and shot 82 percent from the free throw line.
His father, Brooks Cupps, is the coach at Centerville. Highlights from his performance in the state championship game are definitely worth checking out.
Banner #4 – In-state five-star prospect Jalen Washington picks North Carolina
The best in-state prospect in the class of 2022 made his college decision on Friday evening.
Jalen Washington of Gary West chose North Carolina and became the first five-star commitment for new coach Hubert Davis.
Indiana recruited Washington under Archie Miller, but wasn't ever able to get him on campus since the coaching change from Miller to Mike Woodson. Washington took official visits to North Carolina and Stanford in June after the moratorium on visits was lifted.
With Washington's commitment to North Carolina, four top 150 players from Indiana have now made college commitments.
Banner #5 – Big Ten rosters continue to take shape
It may be July, but Big Ten roster movement continues to happen on almost a daily basis.
This past week, we learned the following:
• Marcus Carr (Minnesota) is in the transfer portal and is considering Louisville, Kentucky, Kansas and Texas.
• Kofi Cockburn (Illinois) is also in the transfer portal and could return to Champaign but is also considering other options.
• Ohio State landed Louisiana transfer Cedric Russell to help fill the departure of Duane Washington Jr.
• Nebraska added Arizona State transfer Alonzo Verge.
• Geo Baker and Ron Harper Jr. are returning to Rutgers.
While Big Ten rosters have mostly taken shape for the 2021-22, there are likely to be a few more twists and turns before the start of the fall semester next month.
Banner #6 – Hoosier Roundup
• Tom Allen got another big commitment this week
• Highly touted WR looking to make his mark in Bloomington
• IU Cross Country Announces 2021 Schedule
• Incoming freshman earns Gatorade Illinois Girls Track & Field Player of the Year honors
• Nine IU Swimmers on Rosters Following ISL Draft
• A total of 20 Indiana University baseball players from the 2021 team will participate in summer collegiate baseball leagues
• Clancy, Dabagia Named WGCA All-American Scholars
Thanks for your continued support for The Assembly Call. We'll be back next weekend with a new roundup.
Now go enjoy yourself a 6-banner Sunday.
— Jerod Morris and Alex Bozich … co-writers this week!
Filed to: